Sunrace BBS18 68 mm Shell English Thread Sealed Cartridge Taper Bottom Bracket
Size
Manufacturer :
SJS Cycles part number :
Manufacturer part number :
Details
- Quality cartridge bottom bracket
- Sealed bearings
- Steel cups
- BC 1.37 x 24T

Requires a Shimano type splined bottom bracket removal tool. (Shimano's own is SJSC part #858)

Please Note: Colour may vary
Related products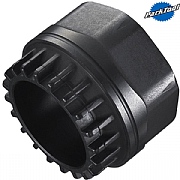 Shimano TL-UN74S Bottom Bracket Removal Tool Modern Splined Type Fitting
£18.99 Inc VAT
Quick view
Product Reviews (5)
Overall Product Rating 5 / 5
Just what I wanted
06 Apr 2021
I recommend this product
Pros
Reliable performance at the right price
SJS reliably stock precisely this the bottm bracket in the right size that I repquired to replace the similar one originally fitted to my bicycle. The original one had performed well over 12,000 miles of energetic hybrid style cycling before its bearings went which seems to me a good recommendation. The result of fitting the new one is excellent.
Good value product.
30 Apr 2020
I recommend this product
Pros
Good value, does the job well.
Good snug fit in the frame, smooth running bearings and after a couple of fairly hard rides cranks have kept tight on the tapers.
Not used yet due to technicality
21 Mar 2020
I recommend this product
Not used yet as the chainset is an old 23.3 thread and trying to locate removal tool looks good and comes with crank bolts
It looks good
08 Feb 2020
I recommend this product
Replacing a Shimano BB-UN52 which has lasted 22 years on my MTB through all sorts of riding. I hope this lasts as long! It has alloy cups, one is fixed to the shell and the loose one has a thin plastic insert which is designed to take up the last bit of play between the shell and the cup. If this fails after a while, I have found that Loctite 641 bearing fit retaining compound stops it creaking. If not, then it's your knees! Trust SJSC to have the less common axle lengths. It comes with normal black axle bolts. The 107 length weighs 250g without the bolts.
Good BB
14 Dec 2019
I recommend this product
Pros
Very good quality for the price, trusted brand, quality of manufacture
Looks and feels well engineered. Certainly better than the unbranded one it's replaced. Fitted very easily and looks like it should give long service.
do these sunrace bottom brackets come with crank bolts?
24 Nov 2020
No, they are sold without crank bolts.

JK 25.11.20
Hi, both BBS18 and BBS15 have JIS taper?
14 Sep 2020
Hello, Yes both the Sunrace BBS15 and the Sunrace BBS18 use JIS taper.
What is the loose plastic washer for?
22 May 2020
Dear SJS,
I just purchased a BBS18 103 from you and there is a loose plastic washer included in the bag, I looked at the Sunrace website and drawings, but it is not clear what this washer is for.
I'm guessing it is intended to go over the spindle on the non-drive side, perhaps as a bit of dirt ingress protection?
thanks

Hi, I think the washer may be an error. I have checked some of our other stock and there is no washer. There is not normally a washer with bottom brackets so I think you should keep it as a spare. Thanks
sunrace bbs 18 bottom bracket
14 May 2020
my old one r
reads 1.37 x 24T 68 x 116L

Which model would replace this please
Hi, either the 115 or 118 depending on how your chain line looks. Thanks
68 x 103 ?
11 Feb 2020
Hi, I am about to purchase the this product, I just would like to confirm the measurements please. 68 x 103 right?
Yes, you simply need to choose 103mm from the drop down.

Thanks - 11/02/20
Is this lighter than the BBS 15?
06 Oct 2019
Compared with the BBS 15 does this use aluminium cups & sleeve (compared with steel) and is it "78g" lighter?

http://www.sunrace.com/files/catalog/files/450/Specifications%20-%20Bottom%20Brackets.pdf

BBS15 has steel cups and weighs - 342grams including bolts.
BBS18 has aluminium cups and weighs- 282grams including bolts.

Thanks - 08/10/19
What is a BBS18?
20 Jun 2019
What is a BBS18 and what is the difference between your BBS15 and BBS18 Sunrace bottom brackets?
Hi,

the BBS15 is longer than the BBS18 and has a JIS taper.
What single chain set can I use form this BB with a 107 spindle
28 Feb 2018
I bought the Sturmey Archer FCS603 Single Chainset - Silver - 170mm - 33T for an 8 speed without realising it would not go with this BB. The previous BB had a 107 spindle, so I replaced that like for like. I have installed the BB and have decided that I do not like the chain set anyway. cheers
Tom
Hi,

We would always recommend choosing your chainset first and then getting a bottom bracket to suit, trying to work backwards does not usually work as you still need to achieve your desired chainline.

Thanks.
Hi Have The Box To My Bottom Bracket, Could You Tell Me If This Bb Is The Same.? Thank You
22 Feb 2017
This is what is says on the SunRace BB Box

ITEM: BBS18 BSA0 SS0.BX
DESC: Bottom Bracket S18(Silver
SPEC: Square, 68/103,BC1.37, w/o Bolt

BBS18
BC1.37
68/103
Hi,

This would be the correct replacement bottom bracket from your old one (in the 103 option).

Thanks.
What Taper Is This Bb Please? Jis Or Iso?
19 Mar 2016
I'm looking for a narrow (102/103mm) axle length for an English threaded BB shell, And a JIS square taper.
Thank you.
Hi,

This bottom bracket uses a JIS taper. All of our square taper bottom brackets will be JIS unless they clearly state otherwise.

Thanks.