Threadless 70 mm Sealed Bearing Bottom Bracket for Frames with Damaged Threads
Size
Manufacturer :
SJS Cycles part number :
Manufacturer part number :
Details
Fits to frames with damaged threads, the bottom bracket screws together ignoring the threads and clamping the frame. The frame requires no preparation other than the removal of paint on flat faces of the frame.

You should also regularly check and tighten the cups. The bracket is best fitted with 2 x UN74-S style bottom bracket tools and two people.

Requires a Shimano type splined bottom bracket removal tool. (Shimano's own is SJSC part #858)
Related products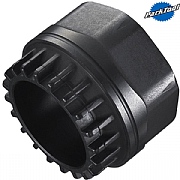 Shimano TL-UN74S Bottom Bracket Removal Tool Modern Splined Type Fitting
£14.99 Inc VAT
Quick view
Be the first to write a review
Feel free to leave a review of this product, good or bad it helps other customers with their buying decision.
Can I us it with 68 mm broken frame?
04 Aug 2018
I have a alu frame with damaged threads. The old bottom bracket is 68 mm Shimano BB UN55 (BC1.37x24) length 122.5mm. Can this replace the broken bottom bracket?
Abnd how much does it cost to deliver to Netherlands, Amsterdam? How long does it take to get it?
Thank you

You require - SJS Cycles part number : 34896L122

All the shipping prices / details are found in the basket.

Thanks
Hi there, is there any shorter axle lengths available than 121mm? Thanks
04 Jul 2018
Hi

Thank you for your enquiry, unfortunately 121mm is the shortest axle length that we have available in the 70mm bottom bracket shell version.

Regards
French Bottom Bracket..
21 Feb 2018
I have a frame with french threads and the current bb is a cheap bsa with 2 non-drive side cups, should I buy a french one or is it possible to use this bb?

Note: the threads are still present but I think they might be a tad damaged.
Hi there,

I would have your local bike shop to check the threads and go from there, if they are damaged you could fit a threadless bb, but ideally one suited to thread in correctly.

Thanks
What material are the cups made of?
19 Dec 2017
Hi,

The cups are made from steel.

Thanks
Can This Replace The Bottom Bracket In My Frame
29 Mar 2016
I have a alu frame with damaged threads. The old bottom bracket is a BB UN52 70 mm (36x24T). Can this replace the broken bottom bracket, and wich size should I choose if so?

Thanks.
Hi,

As your previous bottom bracket is 70mm then this is the correct replacement to go for. You will need to measure the overall length of your current bottom bracket as you will need to match that to one of the options from the drop down menu.

Thanks.
Will It Fit A Bottom Bracket Shell With A 36Mm Diameter?
30 Mar 2015
Hi,

I'm afraid not, this bottom bracket has a diameter of 33.3mm.

Thanks.
Is This Intended For Italian Bottom Bracket Shells?
30 Mar 2015
Hi,

This bottom bracket is for use with any bike that has a 70mm bottom bracket shell, which may well include a number of Italian frames.

Thanks.