Ti Parts Workshop Sealed Titanium Bottom Bracket w/ Japanese Bearings - 118.5 mm - Black
Manufacturer :
SJS Cycles part number :
Manufacturer part number :
Details
Suitable for use with Brompton Bikes. Can be used in place of Brompton BB Cartridge JIS for Spider Crankset - 119mm (Brompton Part # 9044016 / QBBCART-119-JIS).

Make your Brompton lighter with Ti Parts Workshop titanium components. This Titanium Bottom Bracket saves approximately 103.2g over the original Brompton component.

CNC Produced from Ti-6AL-4V

Weight:
- Original Brompton Component: 249g
- Ti Parts Workshop Component: 145.8g
- Weight Saving: 103.2g

Requires a Fag specific bottom bracket removal tool. (Park Tool's is SJSC part #839)

Please Note - to ensure perfect alignment it is recommended to have the bottom bracket shell faced by a local bike shop.
Related products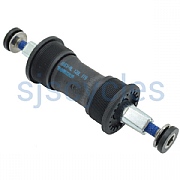 Brompton Bottom Bracket Cartridge JIS - 119mm - QBBCART-119-JIS
£20 Inc VAT
Quick view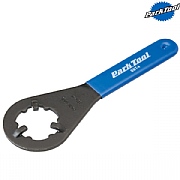 Park Tool BBT-4 FAG Bottom Bracket Tool
£12.99 Inc VAT
Quick view
Product Reviews (1)
Overall Product Rating 5 / 5
Great product and great service...just one thing I wish I had switched on to...
01 Jan 2019
I recommend this product
Cons
The need to change to the JIS spider chainwheel may lose some people the weight savings
Pros
Quality product and easy to fit if one has the right tools and attention to cleaning frame threads
A really good quality product, easy to fit with some attention to cleaning old threads thoroughly and using the right tools, and a joyously welcome bottom bracket weight saving of 105g. But.....and I offer this only so that others don't miss a detail that may be significant....my Brompton is 2010 so I needed to change the chainwheel from the original ISO compatible 50T fixed chainwheel to the new JIS compatible spider chainwheel. The new one is 430g. My old one was 342g. There goes the weight saving. Heigh ho. Should be good for the next ten years though so all is well.
Compatible?
31 Oct 2021
Is this compatible with the standard Brompton cranksrt?
Thank you for your enquiry, yes it fits a standard crankset all fine

WD 01/11/21
Frame Facing Question
05 Feb 2021
I've ordered and received one of these today. I note that you 100% recommend the frame to be faced and the threads chased.

My query is that the min. gap between the bottom bracket lock rings is 68mm, which is the bottom bracket width. If getting the frame faced reduces this by say 0.5mm, then there will be a 0.5mm gap between one of the lock rings and the bottom bracket...

What should be done about this....washers? Do you sell them if so?

Thanks
Hi there,

Firstly take a measurement across and see exactly how wide the frame is, if after facing its 67.5mm, in reality this will not make any difference to the BB fitting, except that it will actually be going into a straight frame!

Thanks
Is this a home fit...
18 Aug 2019
Or does it require frame facing, thread chasing etc.? This to fit a 2019 Ti Brompton. Many thanks,
These will 100% require the frame to be faced, the threads chased and properly preparing.

Thanks - 19/08/19
Does this fit perfectly into the frame?
18 Dec 2018
Hi, I had this installed into a shop and while it is straight on one side, the other side goes from straight into a gap, so it is misaligned - have you ever experienced this with these brackets, or is it safe to assume it hasn't been installed correctly?

Many thanks
Yes we have fitted many. It is likely the frame needs facing.

Thanks - 18/12/18