SJSC Twin Cable Pull Brake Lever for Straight Bars - Right
Manufacturer :
SJS Cycles part number :
Manufacturer part number :
Details
Complete twin lever assembly, supplied with cables, + 4 x cable crimps with cross end screw in brass fit 1.8mm or smaller cables, 1x cable tidy. Accepts 2 barrel brake cables, reach adjuster, silver blade and black hinged clamp for 22.2mm bar, with integral barrel cable adjuster. NOTE can be used upside down on the left OR the matching left can be purchased and the blades and adjuster swapped over so as to make a twin pull left and single right lever
Related products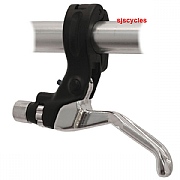 SJSC Brake Lever for Straight Bars - 22.2mm Clamp - Silver - Left Hand
£14.99 Inc VAT
Quick view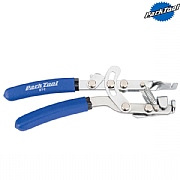 Park Tool BT-2 Fourth Hand Cable Stretcher
£47.99 Inc VAT
Quick view
Product Reviews (1)
Overall Product Rating 3 / 5
OK
13 Sep 2017
SJSC Twin Cable Pull Brake Lever for Straight Bars - Right
I recommend this product
For what it is it's quite expensive, but obviously the market for products such as these is quite limited and as a consequence manufacturers can name their price.
Quality and finish are best described as 'agricultural' and it's appearance is reminiscent of cheap MTB levers from the 80's/90's however it works and hopefully will last a few years.
Hybrid, flat bar and v-brakes
17 Aug 2018
Can one lever control both brakes or am I looking for a different product please? Because my left hand is not as strong as my right hand I am effectively braking right handed and I think I am looking for a double brake solution. All suggestions greatly appreciated, thanks Tony
Yes this will operate both brakes.

Thanks
? Suitable For Dawes Tandem
11 Jul 2015
Hi SJS, I am looking to change from drop to flat bars on a dawes super galaxy 1990s. it has cantis.

It has a double cable into one lever and the hub brake in the other.

would a set of these work?

Thanks MarkO
Hi,

Although these levers are a step in the right direction for what you're looking for, these levers are not compatible with cantilever brakes as they pull too much cable. These levers are designed to be used with V-brakes only. This leaves you with 3 main options; you can fit a Paul Duplex double lever SJSC part 27276 which can be converted between the different cable pulls, you can switch to V-brakes all round (which are more powerful than cantilever brakes anyway) allowing you to use one of these levers or finally you could run a set of standard flat bar road/cantilever brake levers and fit a cable doubler system to split it into two separate cables like the Problem Solvers 1.2 which is SJSC part 18243.

Thanks.
Hi, Is This Lever Suitable For Road Caliper Brakes? Ta
05 Feb 2015
Hi,

Unfortunately not, this brake lever has a cable pull suited to use with V-brakes.

Thanks.