Brompton Caliper Brake - Black - Front or Rear - QBRCAL
Manufacturer :
SJS Cycles part number :
Manufacturer part number :
Details
Now with 5mm allen key cable clamping, and backing bolt of the front caliper.

For front or rear use. - PRE 2018 bikes will need the rear hole of the fork drilling to 8mm from 6mm. - Please ask our sales team about this.

Drop 54-68mm

Weight: 220g

Single caliper brake.

Please note Brompton have selling restrictions to some countries who have their own dealers. If you are unsure please contact our sales team.
Related products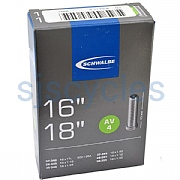 Schwalbe AV4 Schrader Tube - 400a/16"/18" Tyres - 37-340 28-349 to 37-349 & 28-355 to 35-355
£7.99 Inc VAT
Quick view
Be the first to write a review
Feel free to leave a review of this product, good or bad it helps other customers with their buying decision.
Hi, are these discontinued?
29 Jan 2022
Will you be restocking? I don't need brake block so cheaper better!
Yes, but stock is not due until around the middle of 2022.

JK 31.01.22
Are these a straight swap on a B75
11 Nov 2020
Hi, just wondering if these would go on a 2020 B75 without any drilling of the fork as per the listing as the B75 uses the older calipers but didn't know if the fork was also the older design too? Many thanks.
Yes, you can use these on the 2020 B75 without the need to fill the fork.

JK 11.11.20
i need 5 of this items, do you have?
09 Nov 2020
Hello, we only have one in stock.

JK 09.11.20
Do you ship to jakarta indonesia
27 Jun 2020
Brompton parts have specific regulations on shipping, Indonesia is one of those we cannot ship to.

Thanks - 29/06/20
Will this fit Moulton F-Frame Series 2 rear forks running 16" Brompton Wheels?
27 May 2020
Also, can the cable be fed from the top, or must it come from below?
Hi, sorry we don't know if it will fit your Moulton frame. The cable must come from below because the pinch bolt is at the top. Thanks
Contradictory Info regarding models this fits
28 Jan 2019
I asked a question regarding brake performance, but you replied by saying this is not compatible with a 2016 model. Yet reading both the description and an answer to another question this appears to be incorrect. According to your description they WILL fit the 2016 model front and rear but the frame would require drilling for the rear to fit.

So again I ask the question is this a cosmetic change or is there improved performance.
Hi there,

This will fit any age of Brompton, the main changes are that the cable stop bolt is now a 5mm allen key not 10mm hex. The shape has had a small change but the performance is similar.

To fit to a pre 2018 bike you will need to increase the hole in the REAR fork 8mm from 6mm - not the front.

The rear fitting is the same.

Thanks - 29/01/19
Are these new calipers lighter
05 Jan 2019
Are these new calipers lighter than the old pre pre 2018? What is the weight including the brake pads etc?
Please see the weights here-

Front brake caliper - 2017 - 185 grams
Rear brake caliper - 2017 - 182 grams
Front brake caliper - 2018 - 188 grams
Rear brake caliper 2018 - 183 grams
Brake pad - pair - 2017 - 44 grams
Brake pad - pair - 2018 - 34 grams

2018 calipers are the same front/rear but have different fittings.

Thanks - 07/01/19
Can I use this on a normal ladies bike frame?
02 Oct 2018
I've been looking everywhere for a bottom entry rear caliper (or fixings to change a normal caliper to bottom entry) for a vintage mixte frame. Thank you.
We would not know without seeing the bike, if the drop length is correct etc. then it will probably work.
Fits this brake on a bernds folding bike? It needs around 73mm in leg length.
02 Aug 2018
no, the drop is 54-68, I suggest our part # 23355 (if nutted) or # 23357 (if c/sunk allen key)
Can I use the 2018 black brake caliper on a 2011 Brompton?
30 Apr 2018
Hi,

I have a black M3R Brompton purchased in 2011. I would like to replace the brake calipers with the new, 2018 black ones (https://www.sjscycles.co.uk/brakes/brompton-caliper-brake-black/). Please advise (use simple words please :):

1. Can I use the 2018 brake caliper on my 2011 Brompton front wheel without any modification? I assume this is supposed to work on both front and back wheel of the 2018 model.
2. I need to understand how can I fit this on the back wheel as well (on the 2011 M3R Brompton). What drilling are you talking about? Any details would help.
3. Do you have the pre-2018 back wheel black brake caliper that would (I assume) work on my 2011 Brompton without modifications? I mean this - https://brilliantbikes.co.uk/brompton-brake-parts-and-cables/2389-brompton-black-brake-caliper-rear-dual-pivot.html


Thank you!
Cristian.
Hi there,

Yes you can fit these to your 2011 Brompton.

The back of the fork simply needs drilling from 6mm to 8mm. NOT the whole way through, just the back. The rear brake fits as normal.
There are graphics/instructions in the packaging, if you are not confident to drill the fork, simply take the bike to your local Brompton dealer.
These are now the only Brompton brakes, the older ones have been discontinued. We, at the time of writing, have the odd rear caliper left.

Thanks