Hope Tech 3 X2 Front Right Disc Brake - Caliper Lever & Braided Hose
Manufacturer :
SJS Cycles part number :
Manufacturer part number :
Details
Tech 3 X2:

Hope have kept the key features of the Tech Evo master cylinder and worked to improve the ergonomics and integration on the handlebars. The Tech 3 master cylinder can operate all the calipers from their range and offers a slight increase of power of about 5% over the Tech Evo. Popular design features of Tech Evo remain the same, such as the reach and bite point control (BPC) adjustability. The piston is actuated by a cam and a roller system to eliminate any free play and initial friction.

The classic split clamp design makes the master cylinder easy to install on the handlebars without having to remove anything else.

Hope Tech 3 - Some riders have previously commented on the relative bulkiness of the Tech and Tech Evo master cylinders, sometimes making it hard to fit the master cylinder around already clogged up handlebars (shifters, fork and shock lockouts, telescopic seat post contros etc). Hope have worked hard to make the new Tech 3 master cylinder easier to integrate on the bars although it does entail losing the ambidextrous design. The Tech 3 master cylinder is now directly compatible with any Shimano I-Spec type shifter meaning no extra mount is required to attach the shifter to the master cylinder. For those using SRAM shifters Hope have designed a slick and minimalistic direct mount adaptor.

X2 Caliper:

This neat, slimline caliper optimises the very latest COSMOSWorks FEA (Finite Element Analysis) software to reduce unnecessary weight, improve aesthetics and create a high performance partnership with the Tech Evo Lever. The caliper is machined from a solid billet of 2014 T6 aircraft spec aluminium alloy and an increased piston diameter, generating more usable braking force on the rotor.

A drip free bleed nipple and wide angle orientation of the fluid inlet connector have also been added, allowing for neater hose routing and cleaner servicing.

Tech Spec:
- 'On the fly' BPC (bite point control) and Reach adjustment
- Direct compatibility with Shimano I-Spec shifter
- Direct mount available for SRAM shifters
- 5% power increase over Tech Evo master cylinder
- Handed master cylinders for better integration on the handlebars
- New piston dust cover design
- New reservoir diaphragm design
- CNC Machined in Barnoldswick, England
- 9.74 caliper with all mount options
- 2014 T6 aluminium alloy
- Wide angle hose connector mount
- Top entry pad fitting
- Weight: from 340g

The Tech 3 X2 - perfect for all XC and light freeride applications, this brake is a perfect blend of power, low weight and adjustability.
Related products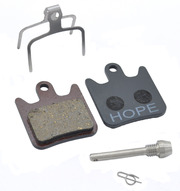 Hope X2 Standard Disc Brake Pads
£15 Inc VAT
Quick view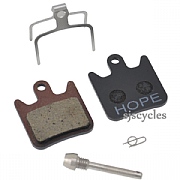 Hope Race X2 Standard Alu Disc Brake Pads
£16.50 Inc VAT
Quick view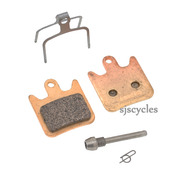 Hope X2 Sintered Disc Brake Pads
£20 Inc VAT
Quick view
Be the first to write a review
Feel free to leave a review of this product, good or bad it helps other customers with their buying decision.
Can I use this on the rear of the Nomad Mk2? Can I still use the Thorn rack?
21 Dec 2017
I can't see how this will fit the rear mount on the Nomad? Does it fit, or is there another version with a different fitting?

Will this interfere with the rear rack or not?

Can you list disc brakes that will fit the rear of the Nomad and which will not interfere with the rear rack fitting?
Hi!

You can fit pretty much any disc brake with the use of - SJS Cycles part number : 11703
You will need to file a notch out of the NDS adaptor to allow room for the brake bolt.

Thanks