Jagwire Mini In-Line Cable Adjusters for 4mm shift housing
Manufacturer :
SJS Cycles part number :
Manufacturer part number :
Details
Jagwire code CM093J, Alloy, Anodized Titanium Finish.
Supplied as a pair.
Related products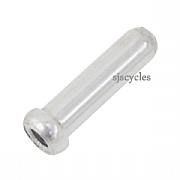 Shimano Anti Fray End for 1.2 mm Inner Gear Cable - Each
£0.20 Inc VAT
Quick view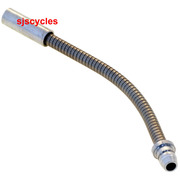 Flexible V Brake Guide Pipe 90mm long
£1.99 Inc VAT
Quick view
Tektro Front Brake Cable Hanger with Adjuster - Silver
£5.99 Inc VAT
Quick view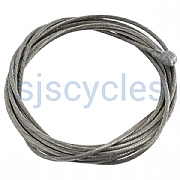 Shimano Pear Nipple Brake Inner Cable Wire - ROAD
£1.99 Inc VAT
Quick view
Product Reviews (8)
Overall Product Rating 4.5 / 5
Does the job
17 Nov 2019
I recommend this product
Bought for use on drop handle bar road bike to add fine tuning to front mech. Used metal ferrules on 4mm cable outer ends which are a very snug fit into what seems to be splined innards to the cable adjuster. All works very well. Great solution to the problem.
Very good!
20 Feb 2018
I recommend this product
Cons
Fits also 5mm cables, so a bit loose with 4mm.
Pros
Good value, easy operating, robust (and good looking).
These worked very well for me. I was originally only using them to connect separate 4mm gear cables together end-to-end, but they actually turned out to be very good in trimming-out cable tension issues. They are all metal, so the body is strong and additional ferrules may not be necessary, but I used them anyway. The rotation is very smooth (no problem with the thickest gloves) and so far has not slipped back. One issue is that these do not have 4mm inside diameters, they are 5mm in fact. So there is some extra cable movement side to side. However, that's just a small issue.
05 Feb 2017
I recommend this product
Pros
Easy to fit, easy to use
Good product at a good price. Delivered by SJS Cycles in record time as always!
Inline Adjusters
27 Nov 2012
I recommend this product
Great product from Jagwire, but SJS price is unbeatable.

The main reason I use these is because they make front mech setup from new instalation so easy.

They also allow me to swap road and tri bars over without having to reroute brake and gear wires.

The certainly look good too and allow for adjustement on the move too if required.
Brake Adjustment For Bike With Drop Bar Brake Levers And Mini V Brakes
01 May 2012
I recommend this product
Cons
No grip on screw in part
Pros
Resolved lack of brake adjustment
Fitted together with flexible V brake guide pipes to a bike with drop bar brake levers and mini V brakes these have provided useful brake adjustment without sharp bends in the cable.
In Line Cable Adjusters
05 Apr 2012
I recommend this product
crucial for gear adjusting on the move
In-Line Adjustment
12 Nov 2011
An excellent product at a good price. I used them when changing my handlebars from one bike to another so I do not have to fit new bar tape which I always find a bit of a faff, especially when you have bar padding under the tape. Using these you just have to renew the inner cable plus you have the benefit of having on the fly gear and brake adjustment.
In Line Cable Adjusters
19 Aug 2011
I recommend this product
Pros
Look good, work well, cheap
Essential bit of kit if you're using aero levers with V brakes. They're nicely made and easy to install if you're making up new cables. They work really well. Wish I'd used a pair when I fitted new gear change cables.
How much adjustment in terms of cable length?
14 Mar 2019
I need a cable adjust to go with an Alfine 11 speed and a JTex shifter.
Roughly 5.5mm

Thanks - 19/03/19
Will This Adjuster Work On Brake Cables?
09 Jun 2015
Hi,

I'm afraid not, this in-line adjuster is designed to be used with 4mm outer cables which are gear cables, brake outer cables use a wider 5mm size. All of the in-line cable adjusters we have are for gear use only.

Thanks.
Please Can You Tell Me The Outside Diameter Of This Unit.
27 Oct 2013
Please can you supply 2 measurements: one over the smooth narrrower end and one over the the larger knurled end. Thanks
Hi,

The measurements are as follows: 8mm for the smaller smooth surface and 10mm for the larger knurled end.

Thanks.