Shimano 105 FC-5703 130mm BCD 5 Arm Outer Chainring - Silver - 50T-D
Manufacturer :
SJS Cycles part number :
Manufacturer part number :
Details
This outer chainring can only be used with Shimano 105 FC-5703 10 speed triple chainsets with a 50-39-30T set up.

Genuine Shimano replacement part.
Associated Components
Part Number
Description
Availability
Related products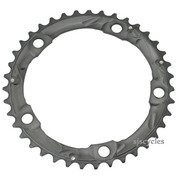 Shimano 105 FC-5703 130mm BCD 5 Arm Middle Chainring - Silver - 39T-D
£20.99 Inc VAT
Quick view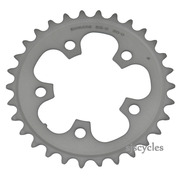 Shimano 105 FC-5703 74mm BCD 5 Arm Inner Chainring - Silver - 30T
£12.99 Inc VAT
Quick view
Shimano 105 FC-5700 Chainring Fixing Bolt & Nut Set - M8 x 8.5mm - Y1M398170
£14.99 Inc VAT
Quick view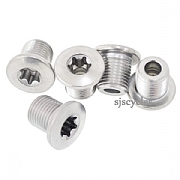 Shimano 105 FC-5703 Inner Gear Fixing Bolt Set - M8 x 8.5mm - Y1M498050
£12.99 Inc VAT
Quick view
Be the first to write a review
Feel free to leave a review of this product, good or bad it helps other customers with their buying decision.
Bolts for use with FC6703
18 Jul 2023
I too have an FC6703 crankset in need of a new outer ring, can you advise on which bolts would be needed to make this fit?
Hello & thank you for your enquiry.
you will require the follow bolt & nut set for the outer ring - Shimano 105 FC-5700 Chainring Fixing Bolt & Nut Set - M8 x 8.5mm - Y1M398170, SJS part number 37123.
Kind regards, pc 19/7/23.
Would this work with FC 6703 cranset? I do appreciate that it would look pug ugly!
09 Feb 2021
Thank your enquiry, yes it will fit but you would need different bolts.

Regards: WD 09/02/2021
FSA Gossamer continued..
10 Dec 2019
Sorry, I did´nt know there was a load of Gossamer versions, my version is the older 3 chainring road looking like this
https://cdn.shopify.com/s/files/1/0799/5585/products/6808_NEW_Take_Off_FSA_Gossamer_170mm_50-39-30T_Mega_EXO_Aluminum_Crankset_Silver_1024x1024.jpg?v=1532649227
Hi, both rings are 130 BCD 5 arm so they are going to be close. We don't have a chain set to try here so we can't be absolutely sure the rings are interchangeable without so filing or minor modification. Sometimes the castings between different crank sets vary interfering with the ring fit, the holes should be the same being 130mm bolt circle diameter. Thanks 10/12/19
Would this chaingring fit FSA Gossamer?
09 Dec 2019
The Gossamer appears to be 110 BCD 4 Arm but all the 50T rings WE stock don't have normal bolt holes. I expect we could SPECIAL ORDER the rings for you, drop an email to
[email protected]
with exact details RT 10/12/19
Chain guard
02 Nov 2019
Hi. Do you have a chain guard that I can use with the Shimano FC-5703?

Thanks.
There are no suitable bolt on chainguards and no means of fitting one. You would need to modify a bash ring, but being a triple this may cause more issues.

Thanks - 04/11/19
Is this chainring compatible with Shimano FC-1050 Double crank arm
04 Jul 2018
Im looking for new chairings for my old FC-1050 Double crank arm. Would prefer outer 50T and inner 39-40T.
Is the above compatible in a 10 speed setup?
Kind regards
Niels
This should fit on no problem, we cannot comment on whether the shifting pattern will suit though.

Thanks
Is This Chainring Compatible With Shimano Double Sora Crank Arm?
07 Nov 2013
I have measured it and it's 130 PCD

What does the 'D' refer to for this product?

My 5 bolt holes on the chainwheel don't have a step.

Please might you link me to the correct replacement cheinwheel if this one is unsuitable?

Thank you in anticipation
Hi,

If your Sora is 10 spd then there shouldn't be any problems with you fitting this. The D refers to the fact it was originally designed for a 105 triple chainset, but the outer rings for triple and double rings are usually very similar, so should work fine.

Thanks.