KMC X1 Rohloff Compatible 3/32 Inch Chain 110 Links
Manufacturer :
SJS Cycles part number :
Manufacturer part number :
Details
You may wonder: "what is so special about a single speed chain?" Indeed, most manufacturers offer one model only. KMC disagrees. A chain for a Rohloff internal gear has totally different requirements compared to a chain fitted on a children's bike. That's why KMC has put a lot of effort into research - and development of these chains, solely for single speed or internal gear bikes.

KMC's latest innovation is the X1, the first chain to be developed specifically for top quality internal gear hubs, like Rohloff. The X1 is unique. It has a specific single speed character and is extremely durable.

- For internal gear hub / single speed
- Narrow: 3/32" Nickel Plated
- High performance
- Double X-Durability
- Includes missing links
Related products
KMC Rohloff X1 MissingLink 1 Silver 2pcs
£2.49 Inc VAT
Quick view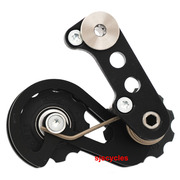 Rohloff Chain Tensioner - 8250
£59.99 Inc VAT
Quick view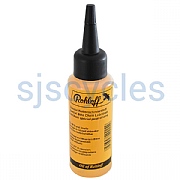 Rohloff Special Chain Lubricant 50ml Bottle - 4200
£5.99 Inc VAT
Quick view
Rohloff Stories Book - By Barbara Rohloff
Now from

£0.99

Inc VAT
Typical RRP: £12.99
Quick view
Product Reviews (5)
Overall Product Rating 4.6 / 5
Brilliant
10 Apr 2019
I recommend this product
My X1 chain has lasted 19,000 miles 2 years. I use it on a Rohloff hub with full chain guard so it does not get covered with crud and crap. Will replace with another. The Rohloff sprocket and front SJS chain ring show little signs of wear. Well impressed.
Perfect
02 May 2018
I recommend this product
Pros
Does exactly what it should
Another perfectly functional chain, does everything you'd expect a chain to do, lasts well, rolls smoothly, plus there is an included single use connector pin.
Good
28 Apr 2017
I recommend this product
Standard with Rohloff to get excellent efficiency, reliability and durability.
Lasting Well
10 Dec 2016
I recommend this product
Pros
Long lasting, stays rust free
After over 5000km with this chain I thought it was time to review it! Fitted to a Thorn Raven Tour Rohloff. The eccentric bottom bracket has been adjusted 3 times. However measuring with a chain tool there is not even 0.5% of wear yet. Should be good for another 5000km I hope. More expensive than other chains but worth it.
Kmc X1 For Rohloff Hub
20 Apr 2014
I recommend this product
Just replaced my last KMC X1 chain with another one having done 4100 miles with I hate to say it, little care from me, cycling in all weathers and sea spray. Expensive but you get what you pay for. Comes with missing link. Would buy again.
Alternative to chain KMC X1 Rollhof gear
26 Apr 2019
Hi
I will start my next trip on coming Friday but can't find in Israel the KMC X1 chain for my touring bike , please advise on 2-3 other heavy duty chains which will fit the Rohllof
Thanks
Ishay
Hi, the X1 chain has now been replaced by the KMC e1 series, the e means it is rated for eBikes. Any 3/32 chain will fit. Thanks 29/04/2019
With rohllof gear how I can be sure the chain tension is correct
26 Apr 2019
Hi, the chain tension does not have to be very tight. Just enough to stop it falling of the chainring or the sprocket. Thanks 29/04/2019
Is the Park Tool Master Link Pliers compatible with this chain?
01 Feb 2019
Yes, these will be suitable pliers.

Thanks - 04/02/19
Is this chain suitable to be used with a Shimano Alfine 8 hub gear
24 Jun 2018
Yes this will be suitable.

Thanks
Is this suitable to use on a Thorn Raven Sport Tourer with Rohloff hub gear?
22 Aug 2017
Hi,

This chain is fine for use on your Raven Sport Tour and would actually be the chain that we recommend for it.

Thanks.
KMC X1 chain Query
19 Jul 2017
I am enquiring about the KMC X1 chain , besides the Rohloff hub my bike also has a chain tensioner , will the KMC X1 be long enough to accommodate this. Thanks
Hi,

The chain should be long enough to accommodate the chain tensioner as well but it is hard to say for definite as chainring sizes and chainstay length can effect the number of links a chain requires.

Thanks.
Usage Compared To Sram Pc890
21 Jun 2014
How many km would you expect to get from this chain in comparison to a Sram PC 890 chain which originally came with our Thorn Raven Tour bikes.
Hi,

It is very hard to give any estimation of mileage from a chain because there are so many variables that can affect wear life on them. The KMC x1 is now our go to chain as we have found it to be the most stretch resistant chain available. Also being a single speed chain as apposed to the Sram which is an 8spd chain it means that in theory there is less to wear allowing for longer life than the Sram.

Thanks.