Shimano FC-CX50 10 Speed HollowTech II Double Chainset - 46/36T
Colour/Size
Manufacturer :
SJS Cycles part number :
Manufacturer part number :
Details
- The 10-speed CX50 cyclo-cross chainset is the perfect choice for enthusiast riders
- Alloy chainrings are both rigid and lightweight
- The chainring teeth have been developed to work in conjunction with the 10-speed directional HG road chains for increased contact to provide greater efficiency and improved power transfer
- Industry leading cold forged crank arms have been evolved to increase rigidity, reduce weight and improve strength
- 2-piece cap-free design is quick and easy to install whilst being lighter and stiffer than a traditional crank / bottom bracket assembly
- Integrated bottom bracket seal design has minimal bearing interface ensuring smooth rolling and increased durability
- 46 / 36T chainrings using 110 mm bolt circle diameter
Related products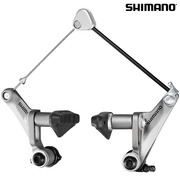 Shimano BR-CX50 Cantilever Brake - Front or Rear
£37.99 Inc VAT
Quick view
Product Reviews (1)
Overall Product Rating 5 / 5
Very good
22 Mar 2018
I recommend this product
Cons
36 should be replaced with a 34 or 33.
Pros
Gives a more user friendly top gear.
I bought this to replace 50/34 Shimano set with a 11/34 cassette. The 50/11 combo was hardly ever used. A lot of my friends are now thinking of changing to the 46/3? as it gives a more useable set up. Shimano has missed a trick by discontinuing this set.
Can I use this as a replacement for FC5700 chain set. I still have the 5700 shifters and derailleur
27 Oct 2020
Yes this should be fine, however, make sure your front derailleur can work with the new gear ratios of this chainset.

JK 28.10.20
34T chainring?
08 Jun 2018
I just bought this from you but I'd like to have a 46/34 set up instead. I'm just struggling to find a 34T chainring that's compatible. Could you please point me in the right direction?
On paper, the rings will work with 36/46 as that is how they have been designed to shift correctly. You may be able to get the 34t to shift fine, and we would recommend using - SJS Cycles part number : 32728

Thanks
Hi there, I was wondering if this chainset is compatible with a 9 speed road bike.
30 May 2018
I have a 9 speed Pinarello FP2 road bike with a Hallowtech2 bottom bracket.
Hello,

Yes this would be compatible but shifting will not be as smooth as it would be with a dedicated 9 speed chainset.

Thanks.
Can i fit a 34 tooth small chainring to this chainset please.
01 Mar 2018
Hi there,

Yes you could fit a 34t chainring.

Thanks
Can i use this with praxis 52/36 chainrings?
19 Feb 2018
Thanks!
Hi there,

Yes, as long as the BCD is correct.

Thanks
Can I use this on a Genesis Croix de fer?
07 Sep 2017
I currently have the standard 50/34 crankset but I'm looking to ride some big mountains and would like lower gearing. Would it fit my bike?
Hi,

It will depend upon what bottom bracket you have fitted to your bike, but If you have a normal Shimano type road bottom bracket fitted then this chainset will fit fine. You will need to adjust your front derailleur and possible shorten the chain though as well. It is also worth mentioning that although this chainset has a smaller outer ring, the inner ring is larger than your current chainset so you will actually give yourself a harder bottom gear.

Thanks.
Can I Use This Chainset With An 8 Speed Set, As I Wish Only To Change The Chainset?
03 Aug 2016
Compatiblity
Hi,

In theory you'd be able to use this chainset with an 8spd chain, the shifting won't be as good as with a dedicated 8spd chainset though. We do offer the 8spd Claris FC-2450 in a close ratio to this chainset (46/34T) and this one would be more suited to an 8spd drivetrain.

Thanks.