Thorn 110/74 PCD Triple Solo Alloy Crankset - Silver
Size
Manufacturer :
SJS Cycles part number :
Manufacturer part number :
Details
Takes 110 / 74 pcd rings, needs 113mm bottom bracket.
Related products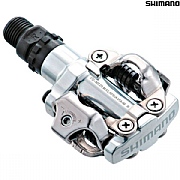 Shimano PD-M520 SPD Pedals - Silver
£36.99 Inc VAT
Quick view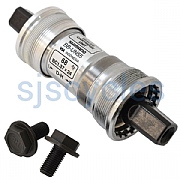 Shimano UN55 68mm Shell English Thread Sealed Cartridge Taper Bottom Bracket
Now from

£24.99

Inc VAT
Typical RRP: £29.99
Quick view
Product Reviews (1)
Overall Product Rating 2 / 5
A Bit Rough But Usable
25 Jun 2017
Cons
Low performance 8/9 speed crankset
Pros
Finish was good. Precision not so good
The chainring mounts on the spider and for the inner ring needed to be ground down before the crankset would work with a 10 speed chain. The bolt holes for the inner chainring were not concentric so the chainring moved up and down during pedaling.
How Much Do These Weigh?
17 Jan 2017
Can you tell me the weight (in grams) of either the 140 or 145mm crankset?

Thanks.
Hi,

The 140mm crankset weighs 484grams on our scales.

Thanks.
Looking For Small Rings 34T/22T
15 Aug 2016
I'd like to bike this crank with rings ideally 22T & 34T so I wonder which will fit into it?
Thanks
Hi,

This chainset would not be suitable for those sized chainrings I'm afraid. The inner ring fitting uses a 74mm PCD spacing which can only allow 24T or larger rings. The 110mm PCD spaced middle and outer positions can be used with a 34T chainring though, but this would be the smallest size that would fit.

Thanks.
Is The Spacing Correct For 10 Speed Indexed Shifting (Shimano)
15 Dec 2015
Will this triple crankset have the right spacing for indexed 10 speed shifting? I know I need to change the bottom bracket, and I am planning on putting on 10 speed ramped/pinned rings (assuming I can find some), but is that all I need for it to work with a 10 speed indexed Shimano front derailleur?
Hi,

These crank arms can indeed work with a set of 10spd chainrings so you shouldn't need anything else to make it work.

Thanks.
Jis Or Iso
03 Sep 2015
So from the description I would need a 113mm spindle length bottom bracket with 68mm shell (bike is 68mm) BSA, but would I get JIS or ISO taper? Thanks


Hi,

It would be a JIS taper that you would need for use with these crank arms.

Thanks.
Replacing 175Mm With 140Mm Thorn Cranksets On Nomad Mk2
25 Dec 2014
Other than ordering the 140mm cranksets will anything else be required to fit them onto my Nomad?
Hi,

Nothing else should be required providing it is the silver Thorn cranks you're replacing as the bottom bracket spacing and chin rings will be correct.

Thanks.
Shimano Tiagra Compatability ?
28 Jun 2014
Hi there,
We're considering this (140 mm) crankset to fit onto a Shimano Tiagra 4600 68 Bottom Bracket and then to fit with Tiagra 30/39/50 chainrings. This will be part of a new Bike Friday (folding bike) that will be assembled in the USA.
Can you foresee any issues?

Thanks.
Hi,

These cranks are designed for Square taper bottom brackets where as a the Tiagra 4600 uses a Hollowtech 2 bottom bracket which is a completely different incompatible option. The triple ring Tiagra chainrings also mount to a chainset with a 130mm BCD rather than this chainset that requires 110mm BCD chainrings. So unfortunately this crankset is not compatible for what you're looking for.

Thanks.
What Speed Drivetrains Are These Cranks Designed For?
28 Jun 2014
Hi,

As these cranks do not come with any chainrings, you can fit any 11omm BCD chainrings for any speed drivetrain you wish.

Thanks.
How Are These Cranks Manufactured?
27 May 2014
Hi. Are the Thorn 110/74 PCD Triple Solo Alloy cranks cold forged or melt forged? Thanks, Steve
Hi,

These cranks are at the lower end of the price spectrum and would have been manufactured in a more cost effective way than cold forging.

Thanks.
Replacement Of Shimano Stx Rc 170
04 Apr 2014
Is it possible to replace Shimano with Thorn 110/74 PCD Triple Solo Alloy Crankset ?
I need 145mm , Shimano is too long, 170mm
Regards Peter
Hi,

Providing your using a standard square taper bottom bracket with your Shimano cranks then these Thorn cranks will work as suitable replacements.

Thanks.