Shun Alloy 104 PCD 4-Arm Freewheeling Cranks - 170 mm - Silver
Manufacturer :
SJS Cycles part number :
Manufacturer part number :
Details
We stock this for tandems (although there may well be other applications), this can only be used on tandems with hub gears and straight through drive, allows the rider (front or rear or both) to independently freewheel. Requires a very long bottom bracket, when fitted to a Thorn Raven Twin tandem (these use 73mm bottom bracket shells) the only bracket we've found to use is a cup and cone type. Bracket, item # 22175, cups item # 22176. Please note, this adaption is a great low cost improvised solution to allow people who may otherwise not still be able to cycle to get out on a bike.

- Freewheeling crank is on the RIGHT side - only suitable for 'Through-drive' (timing chain on right side of bike). Therefore best suited to tandems running hub gears.
- Fits JIS taper bottom brackets, it takes 9/16" pedals.
Related products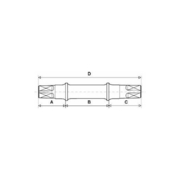 Cotterless Axle 7R - 134mm
$7.53 Inc VAT
Quick view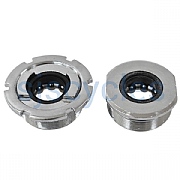 YST Sealed Bottom Bracket 5 Piece Cup Set - 6 Notch Lockring
$8.79 Inc VAT
Quick view
Product Reviews (3)
Overall Product Rating 4 / 5
Has refused to stop working!
09 Jun 2023
I recommend this product
Cons
Replacement crank arms for this unit would be great
Having to place my order for a second one of these as my first 7 yrs old was vandalized.
its ok
01 Mar 2023
I recommend this product
Cons
it wables quite a bit
Pros
enables my motor to speen freely without me pedaling
when it arrived i installed it and noticed that it was a little bit wabley but now it has gotten worse to the point that the chain doesnt stay on if you go to fast i think its just my unit but i am not sure becase i use it on an electric bike so i dont really know
05 Mar 2021
I recommend this product
Pros
Enables stoker to rest and gives her time to get her feet in the toeclips
We bought a new Thorn Raven Twin in 2013 after my wife broke her hip which still means that she likes a break from pedalling from time to time. The Shun cranks have been great. The added bonus is that when bystanders shout
Is the thread for the freewheel a standard 1.37" 24 TPI?
04 Mar 2023
Yes the chain set is a standard Freewheel thread, but uses it's own freewheel allowing attachment of the spider. SK 06/03/23
Would this work with a Circe Helios with alfine hub gear? Thanks
04 Jul 2022
We have not yet tested this to confirm compatibility.

JK 05.07.22
Spare freewheels?
23 Mar 2022
Hi. Do you stock spare freewheels for these cranks?
Sadly we do not.

JK 23.03.22
Would this fit in a fat bike?
By
GUILHERME HENRIQUE DE LIMA E SILVA
10 Dec 2019
Would this fit in a mangoose fat tire bike?
yes, provided you had the correct length and fitting axle RT 11/12/19
Use as free wheel for co pilot
04 Oct 2019
I want to put The synchronisation chaîn on my tandem on the right to put kid auxiliary cranks set, if I put this crank with freewheel on pilot position My son will be able to not pedal when I am? While I am pedaling with the current synchronization chain on left side to transmission

You will need all of the drive to be on the right hand side and will be able to have only a rear derailleur. This allows the stoker to stop pedalling yes.

Thanks - 08/10/19
Bosch motor fit
26 Sep 2019
hallo, i bought one some weeks ago. I need to fix it on a doublee chainring do I need some special bolts or adaptive ring?
I own also a Bosch motored e-tandem, and It would be a great improuvement for that bike If they could mount your freewheeling system. would it be possible to have it with a standard Bosch crank ? I guess they'd be very interested on your system, since they actually don't have any installed
You would have to have the manufacturer of the bike decide to use it etc. There are many EU legalities it would need to pass and obviously different interfaces to work with.

The chainring bolts are just standard double ring bolts.

Thanks - 30/09/19
1.) can I use any 4-arm chainring with BCD 104? Thanks, Wolfgang
18 Mar 2019
Hi
Most 104mm BCD chainrings will fit to this however its impossible to list which ones do or dont, we would say however that some of the newer Shimano options wont due to have the chainring is shaped around the bolt hole.
Regards. 25/03/19
ss-7002-f4
01 Mar 2019
Hello
i'm interested in a double freewheel for tandem.
Do you have more than 2 of these in stock? Do you send products to belgium?
thanks
Kris
We currently have 2 in stock, with a large delivery due in April. Please contact our sales team directly if you wish to pre order some!

Thanks - 01/03/19
Can i use this on a cube sl 29"?
16 Jul 2018
As we do not sell Cube, or have your bicycle here, we do not know the spec and could not advise on replacement parts.

Thanks
How many days is the usual delivery time?
01 Jul 2018
All of the delivery information can be found here - https://www.sjscycles.co.uk/delivery-information/, please use the checkout system to create a postage quote and delivery times.

Thanks
Follow up Q's...
21 May 2018
Thanks for that. A couple of follow up Q's.

1. Do you have any 30T chainwheels that are tapped to allow installation of a granny gear? - that way I could attach a 26T to the 30T...

2. Will these cranks accept the Thorn Crank Shorteners?

Cheers
We do not currently have any chainrings suitable to piggy back a 26t sprocket onto.

The Thorn shorteners should fit no problem.

Thanks
26T chainwheel to match?
19 May 2018
Hi, I'm wanting to fit this to an early (steel framed) Hase Pino to replace the original stoker freewheel crank. Do you have a 26T chainring that would fit? Incidentally, is it always recommended that the pilot/stoker drive ratio be 1:1 or might using, say, a 28 and 26 in combination be ok? Cheers
Hi there,

The BCD is 104mm, the smallest chainring we do is 30t so you would need to source a 26t or change both to slightly larger sizes.

Thanks
hi , can you send me link for the axel to put in pls,
09 May 2018
If you have a 68mm b/b shell then our part # 25225L131 if 73mm then you need the 2 items shown below the product marked "Similar products"
Can I install this freewheel crankset on a Gepida Thoris XT10 tandem?
16 Apr 2018
Hello,

I recently bought this e-tandem : http://www.gepida.com/CA-en/Bicycles/E-bikes/THORIS/30182550-53A

... and I am considering installing your freewheel crankset in order to have the stoker having a rest while the captain and the electric motor do the job.
Would I be able to do it, considering that the current crankset has two chainrings attached to it? As you can see from the link above both cranksets have the chains on the right side!

Look forward to hearing from you... ciao!
Hi there,

Unfortunately we are not aware of the capability of fitting these to other bikes than our own Thorn bikes. We would recommend discussing this with the manufacturer.

Thanks
Is this freewheel crankset compatible with this kiddy crank?
22 Mar 2018
See https://www.sjscycles.co.uk/componentstandem-specific-parts/kiddy-crank-seat-tube-attachment-block-286mm-black/

The tandem in question will have a Rohloff fitted to it and is a full size adult-adult tandem.
Hi there,

Yes this will be suitable, if you change the BB on the Kiddy crank attachment.

Thanks
Crank shortening
06 Mar 2018
Hi
I want to get these shortened to 120 or 125mm

Please can you tell me the crank thickness at say 125mm.

Many thanks




Hi

Thank you for your enquiry, at the 125mm point the crank thickness is approximately 13.5mm.

Kind Regards
What is the weight of the crank and freewheel? Is it possible to purchase the freewheel on it's own?
01 Jan 2018
How does the freewheel attach to the crank arm. Is it a standard freewhee thread?

Hi there,

The freewheel comes attached to the cranks but can be replaced. The freewheel is a BMX style with standard threading, there is possibility to change/upgrade it but we have not tested this and imagine it may be designed around that specific product.

The weight is 760 grams.

Thanks
Use with Schwinn Tango tandem
14 Nov 2017
Tandem has both chainwheel sets on drive side, 7 speed freewheel only no front derailleur. Your description reads "only for use with hub gears" . does this mean internal geared hub or can this be used with a rear derailleur mech?
will crank spider accept two chainrings?
Hello,

This would be only suitable for an internal geared hub.

Thanks.
E bike conversion
30 Sep 2017
Im looking to attach a small mid mount and chain driven motor to my downhill bike. Are you able to tell me if these would allow me (stoker)to freewheel while the motor (pilot) drives?
Yes provided of course you're only running single rings on your tandem and that the motor is at the front. cheers Robin
What Extra Components Are Neesws To Make This Into A Double Chain Ring
08 Feb 2017
I have a shimano front freewheel system that I need to replace but cannot find any at all. I found this and looks like something could be cobled together to make something equivalent. Thanks for your help. Still loving my club tour seven years on.
Hi,

Other than the two chainrings and a set of double chainring bolts you shouldn't require any extra components.

Thanks.
Shun 2X9 Crankset Q-Factor?
05 Jan 2017
I can't find nowhere the q-factor.
Hi,

We have only ever fitted this crankset with a long 134mm bottom so with these cranks fitted to a bottom bracket of this length it gives a Q-factor measurement of 185mm.

Thanks.
If Fitted This Way The Stoker Cannot Freewheel
22 Nov 2016
Hi
Thanks for your reply. I think if you fit it as the stokers chainset driving backwards as you descibe the stoker will not be able to free wheel if the pilot is pedaling. If you fit it on the pilot right it would be difficult if not impossible to get a chain line back to the rear wheel. I think that the only option is to fit it to the left front with the stoker driving forward. The only problem is the threads on the crank which are not to difficult to sort. Please see http://www.akweb.org.uk/northern/part10.html which shows how I did it with a Thorn tandem and parts supplied by SJSC
Hi,

If you're looking to allow the stoker to freewheel, then it would be possible to fit two chainrings to this crankset. It is not a neat solution as spacers are required but this way should allow the stoker to freewheel without causing too many chainline issues.

Thanks.
Why Will It Not Work On The Left?
21 Nov 2016
Hi, Robin helped me put a crank freewheel on the left of my tandem. It works fine though I had to have the crank helicoiled for a left hand thread.

How did you actually get it to work on the right? To do this the stoker has to drive forward to the freewheeling pilot's crank on the right. But if you do this how do you get a clean chain line to the Rohloff? Seems impossible to me, has anyone actually done it and do you have any pics? Thanks Ken
Hi,

The way the freewheel is set up means that it can only be fitted on the right hand side. This chainset is normally fitted as the pilots chainset and the stoker chainset is usually one that can accept two chainrings allowing for suitable chainline for both on the right hand side.

Thanks.
Just Wondering Why These Can Only Be Used For Hub Gears?
02 Dec 2015
Hi,

We're only referring to tandems with hub gears, as this normally allows for a through drive system. A solo bike normally has a much higher quality freewheel as part of the hub and only the one set of cranks so does not normally require a second freewheel. That said, there is nothing stopping you fitting these to a normal bike if you wanted to.

Thanks.
Can These Cranks Be Made Up As A Tripple Chain Ring
25 Feb 2015
Hi

This can only be used on a double or single chainring set up, unfortunately there is no way that it can be used for a triple chainring set up.

Regards, Jamie
Shun Freewheelng Crank
07 Jan 2015
Is this only available for right side installation, our tandem has left side timing cranks so would not work unless made for that side.

Thanks
Ed


Hi,

Unfortunately these freewheeling cranks will only work on the right hand side of the bike.

Thanks.
What Is The Specification Of The Freewheel Used?
15 Jun 2014
BCD of the bolts?
What bolts/thread ?
Do you sell the freewhells separately too.
I need this crank + 3 freewheels

Hi,

These cranks take 104mm BCD chainrings. Any standard chainring bolts can be used with these cranks. Unfortunately the freewheels are not available separately.

Thanks.