Shimano Deore RD-M591 9 Speed Top Normal Rear Derailleur - Black - SGS / Long Cage
Manufacturer :
SJS Cycles part number :
Manufacturer part number :
Details
Available in black or silver. Deore rear derailleurs are offered in Shadow for off-road MTB and Double-Panto (conventional) which are best suited to Trekking.
- Precise chain movement
- Changes gears smoothly
- Light shift effort
- Using Shimano's classic Double Servo-Panta mechanism
- Versatile design (on/off road)
- Compatible with 28-34T low sprocket
- Maximum Sprocket: 34T
- Minimum Sprocket: 28T
- Aluminium bracket body
- Aluminium plate body
- Steel plate pivot bolt
- Aluminium outer link
- Steel inner link
- Steel inner and outer plate
Related products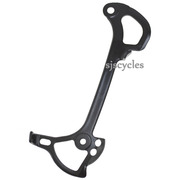 Shimano Deore RD-M591 Inner Plate - SGS Cage - Y5X810000
£4.99 Inc VAT
Quick view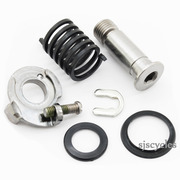 Shimano Deore RD-M530 B-Axle Assembly - Y5VM98010
£9.99 Inc VAT
Quick view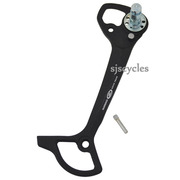 Shimano Deore RD-M591 Outer Plate Assembly - SGS Cage - Y5X898010
£7.99 Inc VAT
Quick view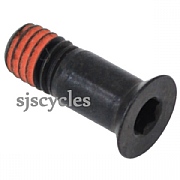 Shimano Deore LX RD-T661 Tension Pulley Bolt - M5 x 12.45mm - Y53M24500
£2.99 Inc VAT
Quick view
Product Reviews (3)
Overall Product Rating 5 / 5
Excellent workhorse
04 Aug 2021
I recommend this product
Pros
It does exactly what Shimano claims it can.
Bought to replace a worn out rear mech, like-for like. Still hard to fault after all these years.
Once the H/L/B/Cable adjusters are properly set up, the indexed changes on, for example, a 9 speed 11-34 cassette X 22/32/44 rings, are faultless.
A really solid MTB workhorse.
Good piece of kit
23 Apr 2021
I recommend this product
Had this fitted as standard on my Thorn Club Tour which is my favourite bike, been riding Thorn bikes for about 15 years and their quality and general 'feel good' is spot-on.
Great for larger cassettes
13 Oct 2020
I recommend this product
Pros
Quiet, Smooth, allows a large cassette to be used
I wanted a long cage rear Derailleur, for my Cycle,. This worked well, allowing use with Shimano 105, 10 speed shifters, compatibility is good, which as allowed me to use a 34/11 rear cassette with ease, I could even use a larger cassette later if I want to.
I now have a very wide range of gearing which has perfect gear spacing for me. combined with the 105 shifter this deraileur, makes shifts accurately, quietly and smoothly.
Can I use this with Shimano CS-HG400-9 cassette (11-28T)?
15 Jan 2022
Thank you for enquiry, yes it will be fine

WD 17/01/22
Would this be a suitable replacement for my Deore XT M750? Thanks!
21 Aug 2021
Thank you for your enquiry, yes will be fine

WD 23/08/21
Shimano 8 speed set up
21 Jun 2021
Can I replace 8 speed Alivio mech with this unit keeping existing cassette and shifters
Thank you for your enquiry, yes will be fine if adjusted correctly

WD 21/06/21
I had a Shimano Acera RD-M3000 9 speed Rear Derailleur for an MTB...
15 Apr 2021
These are no longer available. Would this derailleur be a suitable replacement for an MTB?
Thank you for your enquiry, yes will be fine

WD 16/04/21
Would this be compatible with Dura Ace bar end shifters 9 speed?
10 Jan 2021
Yes as 9-speed indexing is the same both road and mountain.

Thanks, 11.01.21
Can I use this product with Tiagra 4600 10-speed shifters?
06 Dec 2020
No, as your mixing 9 speed and 10-speed road and mtb systems.

JK 07.12.20


States min 28t sprocket but could you get away with a 25 or lower rear spocket.
11 Nov 2020
NO, please stay within Shimano's minimum sprocket value for optimum performance.

JK 12.11.20
Replacement rear derailleur advice required please
05 Oct 2020
I need to replace my rear derailleur which is a Shimano Deore XT 9 speed (very old), can you please suggest any alternative options
Many thanks
David
Hello, yes this would be a suitable replacement.

JK 08.10.20
Will this shift well with Sora ST-R3000 levers?`
23 Sep 2020
I'm concerned that this may be a less than optimal combination as I am not sure of the amount of cable pulled through for each shift is the same. If not can you recommend something that will work for my 48/36/26 13/11 touring set up?

Thanks.
Hi
Thank you for your enquiry. These 9 speed derailleur will work fine with the Sora shifters as 9 speed Road & MTB are cross compatible & pull the same amount of cable. We often pair up a combination like this on our own touring bikes.
Kind Regards. JP 24/09/20
Is this ok for 24 speed MTB
08 Jul 2020
8 speed cassette 32-11. 3 speed chainwheel 42-22
You will need to match 8 to 8, 9 speed derailleur will not be suitable, look at - https://www.sjscycles.co.uk/derailleurs-rear-mtb/?speed=8

Thanks - 09/07/20
Will this rear derailleur be any good for a 11-36 rear cassette
28 May 2020
I have a old Marin wolf ridge which have a 9 speed Shimano deore I purchased this Shimano 11-36 cassette but the old derailleur won't clear the largest cog.do you think if I had a longer chain and this rear derailleur it would work.i have three rings on the front.thanks for your help
Hi, it is unlikely as Shimano say max 34 tooth sprocket. Thanks
Replacement for Shimano 105
27 Apr 2020
Hi, just getting back into cycling with my old bike Specialized Sirrus Expert 2009. The rear mech needs replacing, currently Shimano 105 9 speed with 11-28 cassette and 30-42-52 front. Will this model be compatible.

Cheers
Andy
Hi
Thank you for you enquiry. Yes this 9 speed rear derailleur will work with the set up that you currently have.
Kind Regards. 27/04/20
10 speed compatible?
01 Feb 2020
I see a previous answer is that this is not 10 peed compatible BUT you have a bike on your website that includes this item as part of a 10-speed set up - Im confused if it whippoorwill 10 speed to not.

The bike I refer to on your site is: Thorn Audax Mk3 555S - Black - Touring/Audax Bike - EX DEMO and the description is

Transmission : Shimano Deore FC-T611 10 Speed Triple Chainset - Black - 48/36/26T - 170mm, Shimano Deore RD-M591 9 Speed Top Normal Rear Derailleur - Black - SGS / Long Cage
The 9 speed Shimano MTB mechs will work with Road 10 (except Tiagra 4700), by the text book, you would match 9-9 and 10-10.

Thanks - 04/02/20
Can I use this with 50/34 chainring & 11/40 cassette?
29 Jul 2019
I need to replace a 9 speed Shimano Sora rear derailleur to accommodate a 50/34 chainring & 11/40 cassette. Will this work, with or without a Wolf Tooth Roadlink?
Hi, we think you will need a derailleur hanger extender to make this work. Try our part 46570. Thanks 30/07/19
Would this be a suitable replacement for my elderly RD-M570?
23 Jun 2019
Hi,

this will be fine.

Thanks.
Will this mech work with SRAM attack shorty shifter and HG 400 12-36 cassette?
17 May 2019
Yes this would be suitable.

Thanks - 17/05/19
will it work with sora 9 speed sti levers?
02 May 2018
Thanks
Hi there,

Yes these are compatible with 9 speed Sora levers.

Thanks
What is the maximum cassette with a triple?
02 Jan 2018
Hi,

With a triple, as suggested the maximum would be 34T.

Thanks
What is the maximum size cassette this can work with?
01 Jan 2018
The maximum according to shimano is 34t, but with 36t and 40t cassettes out there for 9 speed setups - is this the mech for the job?
Hi there,

It normally depends on the set up of the front chainset, with a single ring this should be fine to be used on a 36-40T - just adjust the B tension screw.

Thanks
Spare Pulley Wheels
20 Jul 2016
Could you please indicate which replacement jockey wheels are used for this derailleur.
Many Thanks.
Hi,

The original replacements for this rear derailleur are no longer available but there are a few compatible alternatives. The best match of these would be the jockey wheels from the Altus RD-M370 which are SJS Cycles part 34586.

Thanks.