Shimano Deore XT RD-M771 9 Speed Top Normal Rear Derailleur - SGS / Long Cage
Manufacturer :
SJS Cycles part number :
Manufacturer part number :
Details
- Deore XT rear derailleur delivers reliable and precise shifting with a stiff and lightweight open design.
- All-alloy construction leads to lower weight without compromising strength and durability.
- Four fluorine-coated link pinbushings make this one of the slickest shifting derailleurs on the trails.
- High rigidity wide outer link braces the pulley body to increase pivot joint rigidity.
- Mega9 compatible for use with 9-speed drivetrains.
- Durable sealed bearing tension pulley for low friction and smooth running of the drivetrain.
- Top normal spring uses the spring to select higher gears, best suited to use with Rapidfire shifters.
- Can be combined with Dual Control levers.
- Rubber bumper reduces noise when used on non-conventional frame designs.
- Weight: 239 grams SGS.

Note: Mech can also be used along with Shimano Road 10-speed STI levers for a wide-range 10 speed cassette.
Related products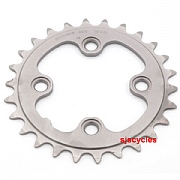 Shimano Deore XT FC-M771-K 64mm BCD 4 Arm Inner Chainring - 26T
£14.99 Inc VAT
Quick view
Product Reviews (1)
Overall Product Rating 4 / 5
Works with 10spd Ultegra!
11 Jul 2017
I recommend this product
Cons
Wide range leads to less slick changes
Pros
Works with 10spd road groupsets
I bought this to allow me to fit a large rear cassette to my Ultegra 10spd. Following other recommendations, I pushed the spec and got a 12-36 tooth (despite the stated maximum being 34 tooth).

This resulted in the cage riding noisily on the 36-tooth sprocket, until I reversed the B-screw to give it a bit more clearance.

Now, it's not bad. The shifts aren't as slick as they were before, but the indexing does work after some careful setup.

No regrets, and looking forward to twiddling up the Alpe d'Huez next week!
Jockey Wheels
07 Mar 2020
Hello, do you have the jockey wheels available for the Shimano Deore Shadow XT rear mech? ( 9 speed)
Thank you - Guy
Hi, the guide and pulley tension set Y-5W7 98080 for this derailleur is no longer available. The XTR set 36958 might work but Shimano don't list it as an alternative. Thanks 12/03/20
is this a reverse pull mech
27 Feb 2020
Hi, I have an orange 5 with a reverse pull deore XT 9 speed ( I think an M770) with integrated brake/shifter. Is the 771 also reverse pull and compatible? - if not do you sell the parts to replace the cage on the M770?
Rapid rise, No this is the standard version.

SGS inner - SJS Cycles part number : 34521
SGS outer - SJS Cycles part number : 34518
GS inner - SJS Cycles part number : 34522
GS outer - SJS Cycles part number : 43347

Thanks - 28/02/20
Will this work with Sora 9 speed road shifters
26 Aug 2019
My bike came with Sora 9 speed shifters and Tiagra RD 4601 rear derailer, will this derailer work with my setup
Yes, 9 speed shimano is compatible road or mountain bike.

Thanks - 27/08/19
Can i use this with flat bar shifter 10sp SL-R780 ?
21 Mar 2019
The shimano compatibility page appears to show ST-5703 and SL-R780 falling into the same compatibility group, but i can't be sure.
Hi There,

Yes that will work fine,
Many thanks.
Can I use with Tiagra 4600 10 Speed STI's
15 Aug 2018
I have a Tiagra 4600 Triple and want to increase the ratio on the back . I therefore wanted to check that it would work .

Thanks
Hi

Thank you for your enquiry. You can use this rear derailleur with your Shimano Tiagra ST-4600 shifters, it should work with no problems.

Thanks
Aside from cost, what are the pros and cons compared to Deore M591?
08 Jun 2018
When used with 9 speed 12-36 cassette
Hi there,

The overall quality of the item produced is a higher lever, the weight will generally be slightly less and in some cases you will see new features introduced at the higher levels.

Thanks
Capacity
15 Apr 2018
What is the overall capacity of this mech?

Thanks
Hi

Thank you for your enquiry, the Total Capacity for this derailleur is 45T.

Kind Regards
can I use this with Tiagra 4600 2x10 speed sti levers?
21 Jan 2018
I read everywhere about road levers no longer matching mtb rear mechs, because cable pull is now different with 10 speed, but Tiagra seems to have changed again when moving from 4600 [already 10 speed] to 4700. Is that right?
My present setup is all Tiagra 4600 10 speed and I want some lower gears [better than 36/30]
Hi there,

4600 and 4700 have different pull ratios, 4700 only works with 4700 to date.

The width of the 10speed Shimano cassette is the same between road and mountain bike. So an option you have would be to use a derailleur hanger extender with a larger cassette. - SJS Cycles part number : 46570


Thanks
Will this work with Shimano M765 shifters on a 3x9?
06 Dec 2017
Hi,

Yes that set up should work with no issues.

Thanks
Will Deore Xt Rd-M771 Rear Derailleur Work On A 7 Speed Freewheel (32-11)?
05 Jun 2016
the bike is a schwinn passage touring bike circa 1983 with friction shifter
Hi,

As you are using a friction shifter you should be fine to use this derailleur on your bike.

Thanks.
Xt M771 Long Cage, Will It Work With 36T Rear Cassette?
03 Jun 2015
I know it's only spec.ed to 34t by Shimano, but is anyone successfully using it with 36t without problems?
Bike: Giant TCR Advanced 1 2009
Hi,

These rear derailleurs should be absolutely fine being used with a 36T bottom cog on a cassette, when Shimano first brought these derailleurs out, 34T was the previous widest range cassettes so they just listed the max as that.

Thanks.
Replacement Rear Derailleur
16 Mar 2015
I bought a Thorn Expedition in 2001. It had a Shimano XT M750 SGS rear derailleur fitted. It needs to be replaced and you kindly suggested the Deore XT RDM771 as being suitable. The cage on the latter is slightly longer than on the former by about 1cm. My question is, do I also need to lengthen the chain to account for that difference? I usually take a couple of links out of a standard chain in order to match the length of chain that was on the bike when I bought it with the XT M750 cage fitted.
Hi,

Although the new derailleur is slightly longer than the original you should not need to change the length of the chain. There is no exact science to chain length so if the length is working well now it should be fine with the new derailleur fitted.

Thanks.
Would This Work With An Shimano 8 Speed Cassette?
23 Jan 2014
Looking to replace a worn STX RC 8 speed rear mech on a old style Klein MTB.

Any other suitable options would be appreciated.

Cheers, Ross.
Hi,

This is a very hard one to judge, there is no definite reason as to why it wouldn't work on an 8spd system but there are a number of possible reasons that may prevent it. On top of the fact that it will be harder to set up correctly because of the different gear ratios and the gaps between the gears being greater it may also not be possible to set it up correctly at all. There is also a chance that the wider gauge 8spd chain will rub on the sides of the "cage" as it's pulled through and when the angle changes slightly with the gears. Other than these factors which are only possible problems anyway there is no reason as to why it couldn't work.

Thanks.