SON delux 12 Disc Dynamo Front Hub - Black Anodised
Holes
Manufacturer :
SJS Cycles part number :
Manufacturer part number :
Details
Many fast 700c bicycles with dropped handlebars and disc brakes are equipped with 12 mm thru axle forks. If you want to run lights or use a charging device on such a bike, the SON delux dynamo is your best choice. The SON delux is specifically designed for prolonged use at high speeds and does not compromise the smoothness of your ride.

- Weight: 400g
- Guarantee Period: 5 Years
- Included in Delivery: Connectors for the headlight

Please note this hub requires a bolt through type lock ring for the fitting of the disc rotor. Shimano produce two which are SJSC part numbers 35943 and 40310.
Related products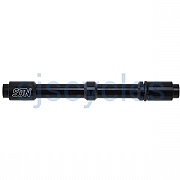 SON Front Axle Adapter - 12 mm to QR 9 mm
£15.99 Inc VAT
Quick view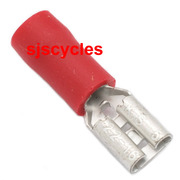 Wurth Cable Connector Red Insulated 4.8mm x 0.5mm Female x 1 - Fits SON Dyno Hubs
£0.20 Inc VAT
Quick view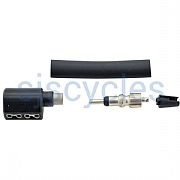 SON Coaxial Adapter w/ Male Connection
£21.99 Inc VAT
Quick view
Be the first to write a review
Feel free to leave a review of this product, good or bad it helps other customers with their buying decision.
swapping out hubs
16 Aug 2019
new bike new forks..

Can I replace my current SP Dynamo PD8 QR 100mm 6 Bolt hub with this hub using the same spokes? Or are the flanges different sizes? So will cause problems.. spokes are Sapim cx Ray so not keen on forking out loads more for spokes when hub is £250. Cheers!
this has Flange Diameter of 54 mm, the PD8 has unequal flange diameters of Left Flange Diameter 58 mm Right Flange Diameter, 52 mm, 54 is between the diameters you have currently, it will depend on the actual spoke lengths you have. measure your actual spokes, left and right the go to a spoke calculator (DT or Sapim) and see what is needed for your rim and tis hub, you can find the figure you need to input from Google.
What connectors are best to fit with B&M Luxos IQ2?
10 Nov 2018
The hub is provided with 2 wiring connectors.

Thanks - 12/11/18
Son deluxe dynamo hub
25 Oct 2018
Hi This Son deluxe dynamo hub I want to use with standard q/r I see another question about this do you supply the sleeve please?
Hi there,

You could use - SJS Cycles part number : 24239H32

Thanks - 29/10/18
Hi What bearing are used in the SON delux dynamo hub please?
23 Oct 2018
SON use sealed SKF grooved ball bearings made in Italy on all hubs.

Thanks - 23/10/18
What about 6-bolt rotor fixing?
25 Apr 2018
Hi there,

The Delux 12mm through options only come in center lock mounting, you can just use a CL-6B adapter though. We can offer a Son 28 12mm 6 bolt though.

Thanks
Can I use a QR adapter to fit this to my non-12mm forks?
14 Sep 2017
Hi,

We don't stock these, but it is possible that a slide in QR adaptor will work with this hub.

Thanks.
Hi. Is It Possible To Convert A 9Mm Qr To A 12Mm Thru Axle With New End Caps?
29 Apr 2017
Hi,

Unfortunately not, these 12mm hubs have to use completely different internals to cope with the larger axle diameter.

Thanks.
External Diameter Of End Caps?
24 Apr 2017
Hello

I wonder if you could measure the external diameter of the end caps of the SONdelux 12 hub axle? I need to be sure that it fits the dropout of my fork.

Regards
Magnus
Hi,

The end caps on these hubs have an external diameter of 19mm.

Thanks.
15Mm Version
04 Feb 2017
Do you know if there are any plans to release these for 15mm thru axles.
Im looking for a 24H 15mm dynohub.
Hi,

There are no plans at the moment unfortunately. For 15mm bolt through forks they already offer the SON 28 with this axle configuration but unfortunately they only available in 32 and 36 hole drilling.

Thanks.
Is There A Special Disc Brake Center Lock Ring?
04 Dec 2016
Hi I have tried fitting a center lock disk brake but the lock ring and tool do not fit over the axle. is here a special lockring and mounting tool?
Hi,

You'll need a lock ring designed for use with bolt through axles, Schmidt themselves don't produce one but the Shimano made ones are compatible. These are SJSC part number 40310 or 35943, these require a Shimano Hollowtech bottom bracket tool for fitting and removal.

Thanks.
Bearings
19 Oct 2016
Hi - what are the bearings like on these hubs? Have heard nightmares about the SP 12mm thru axle dynamo (although I'm well aware that it's a more cheaply made version). Is the bearing quality/life commensurate with the QR version (which I currently own)?
Hi,

These hubs are made to the same standards and with the same quality of bearings as the QR versions so bearing life and quality should be equal.

Thanks.
Schmidt Son Delux 12 Disc Dynamo Front Hub
14 Sep 2016
Hi, I see you have the 12mm thru-axle SON Dynamo listed now - does it only come in black? I was hoping to get a red one. Paul
Hi,

At this time they have only been made available in black, I'm sure if they sell well Schmidt may add additional colours but at the moment there are no plans.

Thanks.