SON 28 12 6-Bolt Disc Dynamo Front Hub - Black Anodised
Holes
Manufacturer :
SJS Cycles part number :
Manufacturer part number :
Details
SON 28 is a hub dynamo universally approved for all wheel sizes from 16" to 29". The rated output is achieved in the 700c (622)-wheel at approx. 16 km/h (SONdelux at 19 km/h). Thus, SON 28 is recommended if a lot of light is required at low speed or when either devices are to be operated or their batteries charged.

The new SON 28 is reminiscent of the SONdelux. Disc version are available as 6-hole and as center lock.

Compared to the SON 28 klassik (model years 2000 to 2011), the power consumption when no load applied is reduced by approx. 15% and the weight by 140g.

- For 12mm thru axle
- For rotors with robust 6-bolt mount
- For lots of light even at low riding speed
- Also for various charging tasks using a charger
- Weight: 440g
- 6 Volts / 3 Watts conforming to German legal regulations
- Includes connections for the headlight
Related products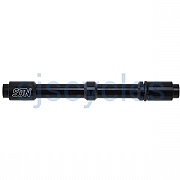 SON Front Axle Adapter - 12 mm to QR 9 mm
£15.99 Inc VAT
Quick view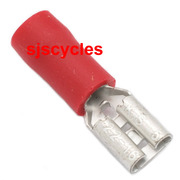 Wurth Cable Connector Red Insulated 4.8mm x 0.5mm Female x 1 - Fits SON Dyno Hubs
£0.20 Inc VAT
Quick view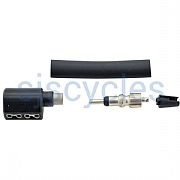 SON Coaxial Adapter w/ Male Connection
£21.99 Inc VAT
Quick view
Be the first to write a review
Feel free to leave a review of this product, good or bad it helps other customers with their buying decision.
Can I use this with a Hope RD40 rim? I need 24 hole, 6 bolt thru axle
23 Oct 2021
thank you for your enquiry, yes it should be fine
SON 28 12 6-Bolt Disc Dynamo Front Hub - Black Anodised
04 Nov 2019
Manufacturer : SON
SJS Cycles part number : 48211H24
Manufacturer part number : 412410
24 Spoke

Hi Are you able to supply the conversion kit/insert for traditional quick release use please?
These are not made to be convertible, they are designed as 12mm only.

Companies such as Nukeproof do make a 12mm - QR adapter but we have no real world experience of these.

Thanks - 04/11/19
can I run a son edelux 11 light as well as the sinewave revolution charger
01 Sep 2019
Yes, this will cope with both.

Thanks - 02/09/19
Hi does this come with 32 holes-say 28 on spec
17 Jun 2019
On the drop down menu you can select 28/32/36h options.

Thanks - 18/06/19
son 28 12 6 bolt polished ?
18 Oct 2018
Unfortunately this option is not offered in polished silver, you could get the center lock version in anodised silver and use an adapter to 6 bolt.

Thanks - 19/10/18
Can you add a invoice i send in the packag?
11 Sep 2018
This part is for a wheel builder. And they need the incoice with the package.
The invoice will be sent via email as a PDF document.

Thanks