SON 28 12 Centre Lock Disc Dynamo Front Hub - Black Anodised
Holes
Manufacturer :
SJS Cycles part number :
Manufacturer part number :
Details
SON 28 is a hub dynamo universally approved for all wheel sizes from 16" to 29". The rated output is achieved in the 700c (622)-wheel at approx. 16 km/h (SONdelux at 19 km/h). Thus, SON 28 is recommended if a lot of light is required at low speed or when either devices are to be operated or their batteries charged.

The new SON 28 is reminiscent of the SONdelux. Disc version are available as 6-hole and as center lock.

Compared to the SON 28 klassik (model years 2000 to 2011), the power consumption when no load applied is reduced by approx. 15% and the weight by 140g.

- For 12mm thru axle
- For rotors with robust Centerlock Mounting.
- For lots of light even at low riding speed
- Also for various charging tasks using a charger
- Weight: 440g
- 6 Volts / 3 Watts conforming to German legal regulations
- Includes connections for the headlight
Related products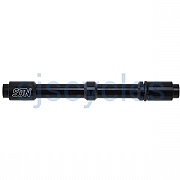 SON Front Axle Adapter - 12 mm to QR 9 mm
£15.99 Inc VAT
Quick view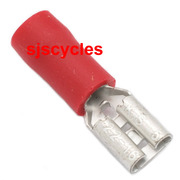 Wurth Cable Connector Red Insulated 4.8mm x 0.5mm Female x 1 - Fits SON Dyno Hubs
£0.20 Inc VAT
Quick view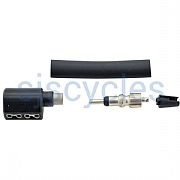 SON Coaxial Adapter w/ Male Connection
£21.99 Inc VAT
Quick view
Product Reviews (2)
Overall Product Rating 5 / 5
Great bit of kit.
07 Mar 2023
I recommend this product
Cons
You have to build your own splitter cable.
Pros
Runs very free when not delivering power.
This is my third SON dynamo. Bought it for an indurance event. It charges my iPhone (using Sinewave Revolution) at a speed of 6mph. This is an improvement on the SON Deluxe.
I also use it to power my Dynamo light. If you're thinking of using this setup get a light with an on/off button. Don't change phone and use light at the same time.
Reliable and work well
20 Jan 2021
I recommend this product
Cons
Cost more but worth it in the long term
Pros
Performance and reliability
We have been using SON dynamo hubs in customer wheelbuilds for the last five years. All the customers have been pleased with the performance and none have required any attention as far as we know.
Is this hub centre lock or 6-bolt?
10 Aug 2022
The title says this is a centre lock hub, and the image is of a centre lock hub AFAICT, but the description says 6-bolt.
Thanks for spotting this, this will be corrected on our next website update :)

JK 10.08.22
Can a SON dynamo support dual connection to front light and to charger at the same time?
20 Mar 2021
Does the charger have to be connected permanently to the bike, or can it be easily moved from one bike dynamo to another? Which charger would you recommend to work in this way with SON Hub and Light.
Yes, the SON 28 can support lights and USB charging at the same time- the charger isn't permanently connected to the hub nor bike. Take a look at the Klite range of lights and USB chargers!

JK 22.03.21