SON 28 12 Centre Lock Disc Dynamo Front Hub - Red Anodised
Holes
Manufacturer :
SJS Cycles part number :
Manufacturer part number :
Details
SON 28 is a hub dynamo universally approved for all wheel sizes from 16" to 29". The rated output is achieved in the 700c (622)-wheel at approx. 16 km/h (SONdelux at 19 km/h). Thus, SON 28 is recommended if a lot of light is required at low speed or when either devices are to be operated or their batteries charged.

The new SON 28 is reminiscent of the SONdelux. Disc version are available as 6-hole and as center lock.

Compared to the SON 28 klassik (model years 2000 to 2011), the power consumption when no load applied is reduced by approx. 15% and the weight by 140g.

- For 12mm thru axle
- For rotors with robust 6-bolt mount
- For lots of light even at low riding speed
- Also for various charging tasks using a charger
- Weight: 440g
- 6 Volts / 3 Watts conforming to German legal regulations
- Includes connections for the headlight
Related products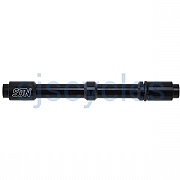 SON Front Axle Adapter - 12 mm to QR 9 mm
£15.99 Inc VAT
Quick view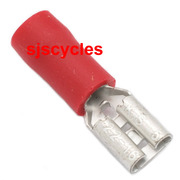 Wurth Cable Connector Red Insulated 4.8mm x 0.5mm Female x 1 - Fits SON Dyno Hubs
£0.20 Inc VAT
Quick view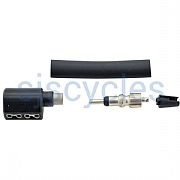 SON Coaxial Adapter w/ Male Connection
£21.99 Inc VAT
Quick view
Be the first to write a review
Feel free to leave a review of this product, good or bad it helps other customers with their buying decision.
Does this hub require a lock ring
20 Nov 2020
Thank you for your response, my question was whether this hub requires a lock ring or not? The deluxe version specifically mentions that it does, where as there is no mention of needing one on the 28.
I appreciate I would have to buy one if it is needed.
The SON 28 does not include a lock ring- however, as its centerlock disk you do need to use a lockring.

Please note this hub requires a bolt through type lock ring for the fitting of the disc rotor. Shimano produces two which are SJSC part numbers 35943 and 40310.

JK 20.11.20
Does this hub require lock ring?
19 Nov 2020
Does this hub requires a bolt through type lock ring for the fitting of the disc rotor. like the deluxe does?
Hi, neither the 28 nor Delux hubs are provided with lockrings.


JK 20.11.20