Thorn Sherpa MK3 Frame - Red
Size
Manufacturer :
SJS Cycles part number :
Manufacturer part number :
Details
You may like to add out item # 23407 Frame Workshop Prep (Includes all threads tapped and stainless bolts fitted for racks, mudguards and bottle bosses).
Recommended Fork Options
For frame sizes 530L / 565L / 600S / 600L please use fork with 46 mm offset
For frame sizes 475M / 500S / 500L / 530S / 565S please use fork with 52 mm offset
For a quote, specification, or advice on sizing, please call Sarah on 01278 441521 or send an email to
[email protected]
.
Related products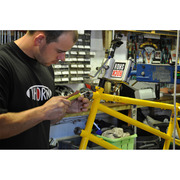 Frame Workshop Prep
£31.99 Inc VAT
Quick view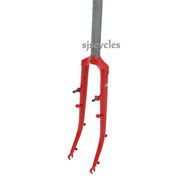 26 inch Thorn ST26 Steel Fork - Red
£120 Inc VAT
Quick view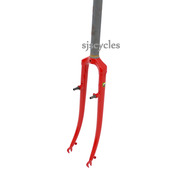 26 inch Thorn RAV853VC Steel Fork - Red
£270 Inc VAT
Quick view
Product Reviews (4)
Overall Product Rating 5 / 5
Thorn Sherpa
05 Dec 2019
I recommend this product
Just received mine today looks nice lovely finish glad I chose this over the LHT now hopefully I will have it all built up by spring to put it through it's paces
Great bike
10 Jul 2019
I recommend this product
Shipment to Canada was very fast and reasonably priced. Frame and fork were beautifully packed for shipment, and shop prep was very good. The crown race and headset cups are installed but the fork is uncut, and you need to set the star nut. The Sherpa built up quickly and easily, and it's a great all round bike. As you'd expect, it carries weight really well. A big surprise is how well it climbs, seated or standing. One caveat - Thorn has a strong preference for an upright riding position, so the top of the head tube is higher than you might expect. If you prefer a long and low position, you might want to think about this - or better yet go to Bridgwater and see what the options are.
Red Sherpa 600L Frame And St Fork
28 Jul 2015
I recommend this product
In a word, delighted.

I had originally intended to rebuild my beloved but inexcusably abandoned late 80s mountain bike, lost the battle to rust, then in frustration searched for the best modern replacement.

I couldn't be happier. The frame and fork built into a brilliant, incredibly enjoyable bike. I was worried that the extra weight I'd accumulated over the years would become a factor, but with 26x2.0 tires the frame and fork seem to laugh off any such concerns (and are actively conspiring to eliminate that weight). I couldn't help choosing some 'retroish' parts, like canti brakes, as a tribute to my old bike. And if anyone's wondering, the red frame combines really well with silver coloured components!

I've been asking myself if, money no object, I could have bought something better. It's been almost a year now, and the answer is still 'NO'.
Sherpa Mk3 Frame With St1 Fork
19 Aug 2012
I recommend this product
Pros
excellent build quality
I ordered this frame and fork set as soon as they became available. They arrived quickly here in the USA and there was no damage during transit. The folks at SJS Cycles did a great job prepping it for shipment. I transferred all of the components off my old bike to this new frame, and I couldn't be happier with the results. Since my old frame was a hardtail alluminum mountain bike, it's not fair to compare handling, since the two frames are designed for different types of riding. I notice a big difference, however, in the way the Sherpa feels when speeding down a long hill. It is smooth and steady, not twitchy. The Sherpa's welds and finish are beautiful. Lots of attachment points for racks, fenders, etc. The only problem I've encountered so far is that with 26x2.0 tires, there is not enough clearance on the front fork to remove the wheel without first loosening and rotating the brake shoes so the calipers can swing out of the way. It's just a minor inconvenience. Other than that, I expect to enjoy this bike for many years and many miles to come.
Bottom bracket
05 Dec 2019
What size bottom bracket does this take? I'll be using a UN55 square taper with triple chainset is it a 68-113 or 68-115 or 68-118 or 68-127?
The frame is 68mm shell, the bottom bracket will be determined by WHICH triple chainset you intend to fit. RT 10/12/19
S&S couplers
09 Sep 2018
Is it possible to have an S&S coupler fitted to a new Sherpa frame? If so, what is the price? Thanks
Hi,
For any information or advice on any of Thorns bikes, frames or forks please contact out dedicated Thorn bikes sales team either on 01278 441505 or at
[email protected]
and they'll be able to provide you with all of the information you need.
Thanks.
Which BB and rear hub ?
19 May 2018
Is it 135mm or 130mm at the rear ?
And is the BB 68mm or 73mm ?
Hi there,

The rear spacing is 135mm, the bb is 68mm.

Thanks
Thorn Sherpa +St26 Steel Fork
28 Oct 2015
Hello
Is the crown race include when purchasing a shepa frame and fork or do i have to order it seperatly?
Kind regards
Hi,

All of the headset including the crown race is supplied with the Sherpa frame.

Thanks.
Matching Frame And Fork For Red Sherpa
15 Jan 2015
If I purchase a red Sherpa frame, will the 46mm offset fork I order alongside it also be red to suit, or will it end up being black?
Thanks,
Alex.
Hi,

This is the frame only, the forks need to be purchased separately. The correct forks for the Sherpa frame are the ST26's which are available in either black or red.

Thanks.
What Is The Maximum Width Of Tyre That Will Fit Frame?
15 Jan 2015
Hi,

You can fit up to 2" tyres with a smoother tread pattern with 55mm mudguards and obviously larger tyres without mudguards.

Thanks.
This Price $738.88 For Thorn Sherpa Mk3 Frame Only.
02 Aug 2014
This price $738.88 for Thorn Sherpa MK3 Frame set(Thorn Frame, Thorn Seat posts and FSA Orbit XL 2 1 1/8 Inch Aheadset) not include Thorn Sherpa Forks, thank you.
Hi,

This price only includes the frame, seatpost and headset. The forks are NOT included.

Thanks.