Brompton Eazy Wheel Set R Version Only - Rear Rack
Manufacturer :
SJS Cycles part number :
Manufacturer part number :
Details
Compatible with Pre-2016 bikes/racks only. 2016 onwards bikes now take M6 bolts on the frame and rack, pre-2016 racks take M5 bolts.

x2 wheels with 5mm ID
x2 wheels with 6mm ID

These tyred rollers with industrial bearings fit to the rear rack, and in place of the rollers attached to the rear frame, allowing the folded bike to be smoothly pushed/pulled around. A rubber bung, fitted to the bottom of the seat post, can be used as a brake to prevent unwanted rolling. Fits any pre-2016 Brompton ever made.

Please note Brompton have selling restrictions to some countries who have their own dealers. If you are unsure please contact our sales team.
Similar products
Brompton Front Carrier Frame Alone Standard
£20 Inc VAT
Quick view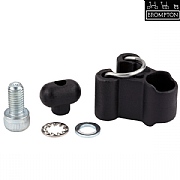 Brompton Handlebar Catch
£5 Inc VAT
Quick view
Brompton/Zefal HP pump
£15 Inc VAT
Quick view
Brompton Suspension Block Only - Firm
£7.50 Inc VAT
Quick view
Product Reviews (6)
Overall Product Rating 4.7 / 5
Easy Wheel Set
15 Dec 2016
Brompton Eazy Wheel Set R Version Only - Rear Rack
I recommend this product
Easy (if a wee bit fiddly) to fit, they work very well indeed. When you take the old parts off, don't throw anything away until you're done!
Good Decision
11 Feb 2013
Brompton Eazy Wheel Set R Version Only - Rear Rack
I recommend this product
Cons
Hard to see before you buy
Pros
Excellent Fit and Function
I deliberated for over buying these or a 3rd party solutions using skate board wheels. 3rd party stuff offers greater ground clearance and robust looking wheels/bearings and colour choice

However, like the rest of my 12 year old Brompton, functionality is key and I thought the Brompton team would have gone through the options more carefully than i could with a solution as robust as the parts I would be taking off (my original cups and wheels have been all over Europe/USA with loads of life left).

"Good to Knows" :

1. A lot of the original parts are reused and have to go back with the new in original positions.

2. Carefully remove the original pieces one by one. In other words, only remove the bit you replace. Don't take everything off and have a pile of washers, bearing sleeves and wheels which are no longer identifiable in terms of which of the 4 positions they belong.

3. The front cup screws are hard to remove. This is not because they are rusted and need WD40 (or similar), it is because when assembled a locking adhesive is used to stop the screw from tending to remove itself with rotation of the cup. You need a really big screwdriver with a tip that fits excellently so that the screw head is not mashed up. Once the adhesive is "cracked" the screw comes out easily.

4. The left hand rear wheel DOES fit inside the rack frame while the rear right fits outside. This is so the left wheel is away from the "fold" action. It is why the rear lamp is offset to the right of centre too....

5. Pay careful attention to the (very good) assembly diagram so you can see what goes where. The Brompton team has done a careful job counting how many washers go where so everything lines up without rubbing etc (one of the benefits of getting the OEM solution).

6. Pay attention to the bushing and plastic washer assembly for the shock cord eyelets. It looks strange but it goes together and works well.

Good decision indeed.....
Love These
12 Sep 2012
Brompton Eazy Wheel Set R Version Only - Rear Rack
They make a great update to my Brompton and it's fantastically easy to roll around.

It's worth adding that the kit requires the screw and some of the washers and spacers from the existing rollers. I'd lost one of my rear rollers and its bits, so had to order a new one before I could fit a wheel to that corner, adding to the already quite high cost.

Instructions easy to follow, although the arrangement of the two rear wheels threw me a bit and had me searching the internet to check that you really do install one on the inside and one on the outside (You do although I thought it looked odd so I put them both on the outside)
Easy Wheels For Brompton - Work Great!
23 Aug 2012
Brompton Eazy Wheel Set R Version Only - Rear Rack
I recommend this product
Pros
Easy fitting, bike rolls well
Delivered to the US promptly, without excessive delivery fees. The wheels installed easily the exploded diagrams make it simple. The Brompton rolls very well with its new Easy Wheels.
Clear Instructions
18 Aug 2012
Brompton Eazy Wheel Set R Version Only - Rear Rack
I recommend this product
Very clear Instructions,.
Eazy Wheels For Brompton With Rear Rack
07 May 2011
Brompton Eazy Wheel Set R Version Only - Rear Rack
I recommend this product
Cons
initially, tricky, to, fit
Pros
facilitates, movement, of, folded, bike
Delivered from SJS promptly, the wheels were tricky to fit because the existing bolts were set hard in the frame. Used WD40 and let the bike stand for a couple of days. This worked and fitting was completed in minutes using exploded diagram provided. The product seems to work very well and I'm pleased with the result.
Is The Size Of These Eazy Wheel Different From The 19423 ?
12 Aug 2016
Is the inside diameter (of the hole) 5mm ?
SJS Customer Service:
Two of the wheels are for M5 bolts and two are for M6.
# 19423 are both M6.

Brompton Eazy Wheel Set
20 Jan 2014
Dear Sir,

Can I order these parts ? Why is there a selling restriction indicated?

Thanks
SJS Customer Service:
Hi,

I'm afraid Brompton has set their own selling restrictions in which all European dealers cannot send any parts to any countries outside of the EU.

Thanks.