Thorn Voyager Tandem Frame - Yellow
Size
Manufacturer :
SJS Cycles part number :
Manufacturer part number :
Details
Frame features:
Mudguard eyes and mounts, front lowrider mounts, rear rack mounts, 2 x bottle bosses and a rear ISO disc mount.
These frames are made to a price, finish is not perfect but completely functional. They use the same tubing as on our first generation Voyagers, complete bike could weigh around 38lb.

Does not include: forks, eccentric, fixing screws, down tube cable stops or bottom brackets

Sizing / Dimensions

Size: M / XXS
Virtual Seat Tube: (P) 540 mm / (R) 420 mm
Actual Seat Tube: (P) 430 mm / (R) 295 mm
Standover Behind Headset: (P) 850 mm
Standover at Mid-Tube: (P) 780 mm / (R) 610 mm
Virtual front top tube 57.2cm

Size: S / XXS
Actual Seat Tube: (P) 400 mm / (R) 295 mm
Virtual front top tube 53.3cm

Overall Length: 1.8 m (fork & frame - excludes wheels)

You may like to add out item # 23407 Frame Workshop Prep (Includes all threads tapped and stainless bolts fitted for racks, mudguards and bottle bosses.)
Related products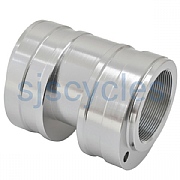 Eccentric Bottom Bracket Insert Taiwanese - Fits Thorn Voyager / Explorer tandems etc
£29.99 Inc VAT
Quick view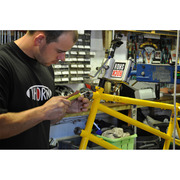 Frame Workshop Prep
£31.99 Inc VAT
Quick view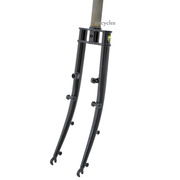 Thorn Raven Twin Tandem Fork Twin Plate 1 1/8inch Ahead Gloss Black - Front Boss
£99.99 Inc VAT
Quick view
Product Reviews (2)
Overall Product Rating 5 / 5
Very good value for money
09 Feb 2020
I recommend this product
Excellent packaging and shipping. I'm very pleased with the frame, very neat welds and well finished. It is to be the base of our airline portable tourer and will be converted into a 3 part machine as soon as I have made the 6 couplings, being quite unable to afford the £1500 for S&S conversion.
Curate'S Egg
10 Feb 2017
I recommend this product
Cons
Cannot use a coaster rear brake on this frame.
Pros
Surprisingly inexpensive to fit out
Nice strong frame but the rear bottom bracket does not have an eccentric bottom bracket which could pose problems. I set it up with a 7 speed shimano nexus hub gear.
What material is the thorn tandem frame?
30 Jan 2020
Hi
Thank you for your enquiry, this frame is 4130 Chromoly.
Regards. 30/01/20
What diameter is the eccentric required to fit this?
19 Jun 2018
The required eccentric is - SJS Cycles part number : 3798

Thanks
Re Thorn Tandem Frame Small/Xx Small
25 Nov 2013
what height range would the stoker position accommodate. As the captain I ride a 52 to 54cm size frame, but am not sure if the stoker would fit a 5' 6" female stoker, thanks
Hi,
For any sizing advice please contact out dedicated Thorn bikes sales team either on 01278 441505 or
[email protected]
and they'll be able to provide you with all of the information you need.
Thanks.