700c Singlespeed Steel Frame - Raw Finish
Size
Manufacturer :
SJS Cycles part number :
Manufacturer part number :
Details
- Raw, phosphated
- Gusset at the down tube
- With cable stopper at the top tube for road brake at the back
- Horizontal dropout
- Seat Tube Diameter: 28.6mm (for seat pillar 25.4mm)
- Head Tube Diameter: for 1 1/8" headset
- 120mm rear spacing

Sizing:
- S = 52cm
- M = 55cm
- L = 58cm

Weight - 2.8kg
Related products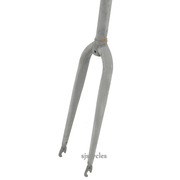 Steel Fork 1 1/8 Inch Steerer for 700c Wheel - Raw Finish
£11.99 Inc VAT
Quick view
Product Reviews (2)
Overall Product Rating 5 / 5
First class product at a great price.
08 Jul 2020
I recommend this product
Pros
Great product at a great price.
Cannot fault the product and extremely fast delivery. First class service.

amazing product
11 Feb 2020
I recommend this product
Cons
used parcel force for delivery so had to go collect it from post office
Pros
cheap, great quality, relatively light
at first glance i was a bit wary because it was ridiculously cheap and you know what they say about cheap products but i chanced it and im glad that i did. i used this to build my own fixie and it was sanded down and painted matte black. i took it down to raw metal and it revealed the pure quality of it. definitely would buy this again if my parents dont kill me for building another bike :)
What is the axle to bb drop please? can you measure it manually?
13 Oct 2020
No, I'm afraid we cannot measure this as we don't have any frames in stock currently to do this.

Thanks

JK 13.10.20
bottom bracket shell - higher than standard?
12 Oct 2020
does this frame have a higher bb shell than road frames etc to allow it to be used as a fixed gear, reducing pedal strike?
We do not really have access to this information, there is some frame sizing info but thats it.

Thanks - 12/10/20
Do you know the chain line measurements?
17 Aug 2020
Unfortunately we do not have this information, the chainline is determined by the components you fit.

Thanks - 18/08/20
What size seat clamps and seat posts fit this frame please?
01 Jul 2020
You mention some dimensions in the description but I'm still a bit confused, sorry. Ideally I'd like a seat clamp which includes rack mounts too.
- Seat Tube Diameter: 28.6mm (for seat pillar 25.4mm)

Seatclamp = 28.6mm
Seatpost = 25.4mm

Thanks - 02/07/20
Tyre clearance
16 Apr 2020
What is the tyre clearance on this frame?
Clearance between the chainstays at the indentation is 42mm so 35mm tyres will fit if your wheels are true. RT 17/04/2020
Is the bottom bracket threaded? Is it ready for groupset instal?
14 Apr 2020
Cheers
Hi, yes the bottom bracket is threaded. Thanks 15/04/2020
What ids the seat tube and head tube measurements on the medium and large please?
18 Feb 2020
Hi, seat tube center of BB to centre of top tube 49cm and 52cm respectively, overall length of the head tubes are 15cm (same on both frames). Thanks 18/02/20
what is the delivery charge on this frame forks
13 Feb 2020
Hi, £5 to mainland UK addresses. A bit more for Highlands and Islands. Thanks 12/02/20
Headset
03 Oct 2018
Would an FSA No. 10 headset be compatible with this frame?
Hi there,

As we do not stock that particular headset we cannot check with the frame im afraid.

Thanks.
Frame geometry?
24 Jul 2018
Is there a geometry guide that can be shared?

Specifically the head tube angle on a large.

Thank you.
Hi there,

Unfortunately we do not have any documents that will show you the geometry of the frame i'm afraid.

Thanks.
What is the exact length of the headtube on a small frame please? Cheers
02 Apr 2018
Hi there,

The head tube is 100mm top to bottom.

Thanks
Is the frame ready for installation of head and crown races?
23 Sep 2017
Hi,

Given the raw nature of the frame we would recommend some form of frame prep and for a finish to be applied to the frame before you install any parts.

Thanks.
Do You Have A Picture Of One Built Into A Complete Bike?
25 Jan 2017
Hi,

Unfortunately not, we only sell the frames mail order so have never built one up here to be able to photograph it.

Thanks.
What Is The Maximum Tyre Size You Can Use On This Fram
21 Jan 2017
Hi,

The largest sized tyre we would recommend fitting within this frame is 32mm wide.

Thanks.
What Size Bottom Bracket Do I Need?
09 May 2016
Hi,

This frame can take any 68mm bottom bracket with a British thread.

Thanks.
Top Tube Length For Large?
22 Nov 2015
Hi,

The top tube length on the large when measured from the centre of the head tube to the centre of the seat tube is 580mm.

Thanks.
Frame Material?
27 Feb 2015
Can you please tell me what steel this frame is made from? Thanks.
Hi

Unfortunately the manufacturer of the frame does not include what specific steel that the frame was manufactured from as part of its information.

Regards, Jamie
Top Tube Length
18 Feb 2015
Hi

Whats the top tube length on the Small 52 & medium 55 frame please

Thanks
Hi,

The actual top tube length measured from the centre of the head tube to the centre of the seat tube is 570mm for the medium and 560mm for the small.

Thanks.
Can You Leave The Frame Unpainted?
31 Oct 2014
I want to ride the bike unfinished. Will it rust? Stainless steel doesn't rust does it, but does the phosphated finish do the same thing? Cheers.
Hi,

This frame is made from basic steel not stainless steel so will rust, you can keep the raw finish but to prevent it form rusting or anything like that it will need clear coating with some form of lacquer or similar.

Thanks.
Can This Frame Take A Modern Cartridge Bottom Bracket?
22 Oct 2014
What is the thread size please of the bottom bracket shell. What bottom bracket would fit it? Thanks very much.
Hi,

Yes this frame can take a modern cartridge bottom bracket, it uses the English standard for the threads which is 1.37" x 24TPI.

Thanks.