Gilles Berthoud Twister for Rohloff Hubs - Silver
Diameter
Manufacturer :
SJS Cycles part number :
Manufacturer part number :
Details
Beautifully crafted twist shifter for use with Rohloff 500/14 Internal Gear Hubs.

The shifter is made in three parts to allow fitting on drop bars and other bars with curves. It can be mounted on a classic MTB bar.

Removing the cables is very simple. Disconnecting the cables does not require that the shifter be disassembled.

Gear changes are very easy, thanks to the ergonomic shape of the twist shifter. Full CNC Aluminum construction. Available in diameters 22 mm and 24 mm for standard MTB bars and road bars.

Weight: 140g
Similar products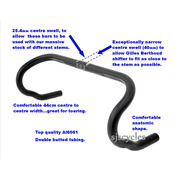 Thorn Drop Handlebars for Gilles Berthoud Rohloff Shifter - 25.4mm Clamp - Black
Now from

£19.99

Inc VAT
Typical RRP: £29.99
Quick view
Product Reviews (4)
Overall Product Rating 3 / 5
Nice!
28 Oct 2016
Gilles Berthoud Twister for Rohloff Hubs - Silver
I recommend this product
Looking Good!
Gilles Berthoud Rohloff Shifter
20 Mar 2016
Gilles Berthoud Twister for Rohloff Hubs - Silver
Replaced the original rubber shifter with this one. Was hoping for better grip seems not. Quite (too) narrow for cold and/or wet hands, difficult enough shifting when dry. The black plastic shroud around the gear # is cheap & out of place with the other aluminium parts. Somewhat disappointed considering the huge cost.
Mr
10 Oct 2012
Gilles Berthoud Twister for Rohloff Hubs - Silver
Nice looking and the only shifter available that would fit my preferred 23mm bars and is the only reason I bought it. The only complaint I have is it isnt supported against the bar at both ends. There is an unsightly gap and damaging it by downward pressure is a risk.
Berthoud Tister
22 Jul 2012
Gilles Berthoud Twister for Rohloff Hubs - Silver
I recommend this product
I originally had the Rohloff shifter mounted on a Minoura Light bar mounted on the top of my drop bars. This was ergonomically pretty good but the bar was not strong enough to take steering forces.

So I bought a Giles Berthoud Twister with 24mmm adapter.

The design is good but could so easily be made much better if the inner adapter collar were a twopiece construction it would be much tidier to fit. Also if the 24mm were widened to 24.75, it would then fit most 26.0 mm clamp bars. I first tried to fit it to a set of Deda Piega bars but their forming distortion made them too big to allow the collar to fit within the housing. It fitted fine to a set of Cinelli Via bars.

It works well and I prefer its feel to the original. I have suspicions about its long term serviceability as it is unsealed and the rotation relies on one anodised aluminium surface sliding on another I would prefer a proper bearing arrangement. So far it is good though.

Hi!
08 Jan 2018
Can I fit this item with the Thorn Drop Bar (28185W44) if I purchase the Ø24mm Gilles Berthoud Clamp Ring for GB Twister for Rohloff Shifter (32760d22)?

Otto87
Hi there,

Yes that combination of products should all work together no problem!

Thanks,
Road Bars For Rohloff Twister. Do You Sell Bars In Silver? If So What Sizes?
07 Oct 2016
Hi,

We're not aware of any silver drop handlebars that this shifter will successfully fit to I'm afraid. The only drop handlebars we currently recommend for this shifter is the Thorn ones we designed specifically for it, these are SJSC part number 28185.

Thanks.