11 Speed Versa VRS11 V4 STI Levers for Internal Gear Hubs
Colour
Manufacturer :
SJS Cycles part number :
Manufacturer part number :
Related products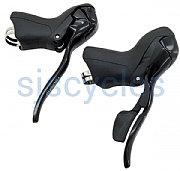 11 Speed Microshift Inter11 STI Levers for Shimano Internal Gear Hubs
£199.99 Inc VAT
Quick view
Product Reviews (2)
Overall Product Rating 3.5 / 5
Do The Job.
14 Oct 2012
I recommend this product
As Gt puts it, if you want drops on an Alfine hub these are your only choice. Quality is reasonable, not as good as the Sram Rival I have, and now fitted they do the job.
The Versa's come over as more of a tradition design, the way the internals are exposed when operated was quite a suprise as compared to the Sram's.
They came with no fitting instructions, moot point really as the online copy I found was totally unreadable. Aligning the gear cable exit hole did require a search of the internet for a technique, involves a small screwdriver and some patience!
Refer to the Shimano tech doc for the Alfine and make a note of cable lengths at the hub end before dismantling your old setup and you should be Ok. Compared to setting up my brakes the Versa / Alfine part was easy.
Up shifting is good, down shifting does, as others have noted, have a long throw. I have small hands, just need to make sure changes are done with thought.
Versa 11 Speed
26 Apr 2012
I recommend this product
Work perfectly with alfine 11 hub, nice to see and easy to install
Alfine 11 Spacing
16 Feb 2017
Can I Use A Versa Alfine 11 Shifter On A Alfine 8 Hub? I Understand I Will Have 3 Extra Clicks But Is The Spacing The Same?
Hi,

Unfortunately the spacing is not the same so you would not be able to use an 11spd shifter with an 8spd hub.

Thanks.
Shimano T445 Hydraulic Disc Brakes
21 Apr 2015
I am thinking of converting my Marin Faifax from straight to drop bars. Can you tell me if Shimano T445 disc brakes with 6 '' rotor are compatible these levers?
Hi,

I'm afraid these levers are designed to work with cable operated brakes and therefore will not be suitable for use with your Hydraulic disc brakes.

Thanks.
About The Postage
07 Jan 2015
The address is Yokohamashi, Kanagawa how much the postage is if possible whether the shipment is possible to Japan
Hi,

For a shipping quote just add all of the items you are looking at into your basket. The website should automatically provide you with a shipping quote. If it doesn't you may need to sign in and provide a delivery address.

Thanks.
Disc Brake Compatibility
03 Jul 2014
Can you tell me which disc brakes are compatible with these levers? I'm building up a bike with an Alfine 11 hub and want to put disc brakes on it.
Hi,

You'll need a set of disc brake callipers that use the same pull as road brakes. The only compatible ones we stock are the Avid BB5 and the BB7, just make sure you select the road versions as the MTB ones will not work.

Thanks.