Cinq5 Shift:R Thumb Shifter for Rohloff Hubs - Flat Bar 22.2mm
Manufacturer :
SJS Cycles part number :
Manufacturer part number :
Details
It is what many Rohloff Speedhub riders have waited for. The thumb shifter.

The Shift:R combines the legendary durability of the Rohloff Speedhub 500/14 with shifting comfort of a modern derailleur drive train system. Now some unique technical innovations allow you to choose a new ergonomic option for Speedhub equipped bikes.

- EasyShift: The simplified shifting logic with separate levers for low and high gears makes it easy to get used to
- Improved ergonomics: with the Shift:R you can now use full-size grips on both hands
- Flexibility: The Shift:R can be aused on multiple bar types, e.g. drop bars (31.8mm) or conventional flat bars (22.2mm)
- Easy adjustment and fine tuning through the EAS system: cable tension can easily be adjusted right at the shifters
- Easy installation: due to the ORS technology (Optimized Remount Sequence) the gear position of the Shift:R and the Speedhub don't require synchronization
- Using ICM (Inverse Cable Mount) technology an extremely compact shifting mechanism can be integrated in the Shift:R box
- NOTE: Product is NOT supplied with outer gear cable, you will need item #11347

FOR USE ONLY WITH EXTERNAL SHIFTING HUBS

For the drop bar 31.8mm fitment, please see SJSC Product Number 37020
Related products
Cinq5 Shift:R Thumb Shifter for Rohloff Hubs - Drop Bar 31.8mm
£278.99 Inc VAT
Quick view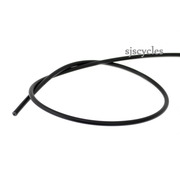 Shimano 4 mm SP41 SIS Gear Outer - BLACK - Per Metre
£3.49 Inc VAT
Quick view
Product Reviews (1)
Overall Product Rating 5 / 5
Huge improvement
03 Apr 2019
I recommend this product
I have personally installed the Cinc5 shifters as an upgrade in two of my bikes, a Co-Motion Americano and a Riese Muller ebike. If done right you can effortlessly shift 1-2 speed per press. They are easy to install. Make sure to use shift housing as brake housing is not as efficient and only allows I shift/press
Are the shift levers available as a spare part?
28 Aug 2021
Hi
Thank you for your enquiry. As far as we are aware there are no spares of this type available, the UK supplier does not bring anything in for the shifters, it may be worthwhile contacting Cinq5 directly to see what they say.
Kind Regards. JP 01/09/21
Do I need caps too?
24 Jul 2021
Hi. It says on the info that shimano sis gear outer is needed/recommended. Do I also need the matching end caps or are those part of the Cinq5 system?
Thank you for your enquiry, outer cable and caps are not included

WD 26/07/21
The shifters are designed to fit a grip area with an outer diameter of 22.2mm.
26 Dec 2020
My handlebars are 23.8mm. Can the shifter's brackets open wide enough or would they simply not create a snug fit? In July you suggested to a customer to use a shim, but that doesn't make sense. He was trying to attach a small bracket for 22.2mm to a large bar of 23.8mm. A shim wouldn't work.
There is nothing to convert these to 23.8mm, sorry!

Thanks
Do you have any plans to restock the Shift:R for 22.2mm handlebars
23 Nov 2020
...and if so, when? I provided my email address for when you restock, but haven't heard back.
We do have them on order however due to delays we expect these to be in stock in the next 6-12 weeks.

JK 23.11.20
Hello, can the cinq5 thumb shifter for Rohloff be used with 23,8 mm bars, best regards, benny
15 Jul 2020
You would need to use a shim from 22.2mm to 23.8mm - we have nothing to suit, sorry.

Thanks - 16/07/20
Can I use these with any speedhub
02 Feb 2019
I want to use them with this one

https://www.sjscycles.co.uk/hubs-internal-hub-gear-brake/rohloff-speedhub-50014-ts-nutted-14-speed-gear-hub-36-hole-68040-silver/
Yes you can use with Rohloff speed hub

Many thanks
04/02/19
Cable Outer for Cinq5 thumb shifters for Rohloff
22 Jul 2018
You suggest #11345 - Shimano BRAKE outer , surely #11347 Shimano SIS GEAR outer would be more suitable - it is the same price?
Due to a physical problem I have difficulty using my thumbs - if I swap the shifters around in order to use two finger operation - do you think this might work?

Rohloff advise to use brake outer and the shifters etc. are designed for the 5mm cable/ferrules, but for the Cinq5 shifters you need gear housing. Yes you can move the position of the shifter on the handlebar.
Thanks
Suitability For Pinion Gearbox
08 Apr 2017
Looking for a trigger shifter for my Pinion 18 gearbox - do you have any experience of this working with the Pinions?
Hi Sorry we have no experience of Pinion gear systems so can't advise on suitability.