Jtek 8 Speed Bar End Shifter for Shimano Alfine & Nexus Internal Hubs
Manufacturer :
SJS Cycles part number :
Manufacturer part number :
Details
- Super light weight only 64 grams making it the lightest bar-end shifter on the market
- 24mm & 22.2mm clamp-on design. Easy installation eliminates the need for disassembly to install
- High quality CNC precision machined parts.
- Sealed ball bearings and ultra smooth ramped profile indexing

Finally a shifting solution for people who want to use internal hubs with drop-bar, road bike style handle bars. It features a clamp-on mounting design which will fit standard diameter 24mm or 22.2mm handle bars with included spacer clamp shim.

our Jtek 8s shifter comes with a new Inner Cable Fixing Bolt Unit for the cable at the hub end which fits the OLDER hubs (SG-S501, SG-8R) only.
For the newer hub (SG-S7000) you wil need SJSC part # 38501 if you don't already have it.
Similar products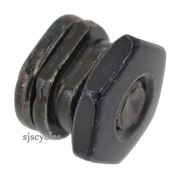 Shimano Alfine SG-S700 CJ-S700 Inner Cable Fixing Bolt Unit - Y6TV98070
£3.99 Inc VAT
Quick view
Product Reviews (4)
Overall Product Rating 5 / 5
Nicely engineered piece of kit
09 Dec 2017
Jtek 8 Speed Bar End Shifter for Shimano Alfine & Nexus Internal Hubs
I recommend this product
Pros
Good, solid construction
Nice shifter that feels solid and as if it will work effectively for a long time. Fitted to my Genesis Day One (Nexus 8 hub) to replace the original lever which went floppy after less than two years!
Works Really Well
31 May 2013
Jtek 8 Speed Bar End Shifter for Shimano Alfine & Nexus Internal Hubs
Using on Salsa Cowbell bars with an Alfine 8. Since getting the cable properly adjusted (not a trivial task) it's been working really well. Love the ability to swipe through the gears. For info, I've routed the cable fully around the bars under the bar tape and it's been working well (and looks nice and tidy too).
Jtek And Alfine 8 Combo Really Works!
09 Nov 2012
Jtek 8 Speed Bar End Shifter for Shimano Alfine & Nexus Internal Hubs
I recommend this product
Cons
Seems expensive BUT great quality product!
Pros
Faultless reliable shifting and indexing!
Wow! Love this!

I'm using a base bar/bull horn bars on my single speed and I wanted to make it into my winter bike! Going out with a group on a single speed is exhausting so I plumped for an alfine 8 hub but wanted to keep the bull horns! Not only is the jtek aesthetically pleasing but it is a sturdy alu machined unit, even the lever. The indexing is really good consistent, light and responsive but stiff enough not to change by accident. I have done a number of rides with it mainly in raining and wet/dark conditions. Hill reps, fast group riding and chilled longer rides...and it has performance faultlessly!

I think any issues others have had cant be put down to the Jtek it is after all a pivoted lever just pulling a cable. These are issues with the hub itself. Highly recommend!
Jtek Shifter
28 Jan 2012
Jtek 8 Speed Bar End Shifter for Shimano Alfine & Nexus Internal Hubs
I recommend this product
Pros
Well engineered a must have when using drops
Application Surly Cross Check / Nexus hub

Great very well engineered product, don't understand why Shimano don't produce one,

Big delta between US and UK retail price,
Compatible With Aerobrake?
24 Oct 2015
Hi,

I really wonder if the shifter is compatible with Jtek Aerobrake system (integrated one)? If so which of them (Shimano/Campa)? Does the shifter work with newer shimano hubs like nexus 6010?

Thank you.
Hi,

I'm afraid the construction of the Jtek bar end shifters is much different to that of Shimano or Campagnolo so the Jtek aero brake levers can not be used with them. This shifter should be compatible with all 8spd Shimano hub gears.

Thanks.
Does The Jtek Work With A Sturmey Archer X Rk8 (W) Hub
29 Mar 2015
Hi,

This Jtek shifter will not work with Sturmey Archer 8spd hubs as they use a different cable pull to Shimano hubs. Jtek do actually produce one specifically for Sturmey 8spd hubs which is SJSC part number 19964.

Thanks.
Compatibility With Alfine Sg7000 Hub
25 Mar 2015
Any idea if this shifter works with the new SG7000 Alfine hub? I asked JTEK themselves and they said they didn't know. Has anyone tried it yet?
Thanks!
Hi,

We haven't tried it yet, but as far as we're aware the cable pull is still the same for the SG-7000 as it is for the other Shimano 8spd hubs so it should work fine.

Thanks.
Bowden Cable
02 Aug 2014
Hi there, does the shifter include a bowden cable? If not, does it require a specific one or do i just use my standard Alfine?

Regards,
Denis
Hi,

This shifter does not come with a gear cable but you can use any Shimano type gear cable including your previous one from your Alfine shifter.

Thanks.