Shimano Ultegra SL-6480 8 Spd Bar End Shifters
Manufacturer :
SJS Cycles part number :
Manufacturer part number :
Details
- Bar end shifters offer convenient & reliable shifting for sport & recreational road riders
- Designed for use with 8-speed drivetrains, they will also work on 7-speed
- Clear coated aluminium finish
- Suitable for double or triple chainsets
- Inc cables & frame stops
Related products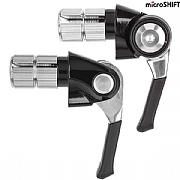 MicroShift BS-T08 8 Speed Bar End Shifters - Shimano Compatible
£59.99 Inc VAT
Quick view
Product Reviews (3)
Overall Product Rating 3.7 / 5
Noisy
24 Mar 2020
I recommend this product
Indexing is not great. One of the shifters rattles like crazy.
Great shifters
06 Dec 2019
I recommend this product
Mounted on Velo Orange shifters mounts for my commuter, working great with my Dura Ace derailleurs and a 8 speeds cassette.

Finish is great, precise and smooth
Retro High Quality
04 Jul 2017
I recommend this product
Bought to replace brake shifters, to work in conjunction with non aero brake levers to build a twenty yr old bike back up, will work with other items not named by Shimano in their instructions.
Do you sell the bar end fixings separately?
11 Oct 2018
I have some down tube shifters I want to re-use.
I would like to go to bar end shifters, looking at picture 3 the fittings are separate? So you could use the actual levers in either configuration I guess.
Unfortunately we cannot source the fittings.

Thanks - 12/10/18
Are they compatible with 8speed LX?
21 Mar 2018
Are these shifters compatible with an early 90s 3/8 speed Shimano LX?
Hi there,

Yes this should work no problem.

Thanks
Friction Mode? Also Downtube Or Bar End?
20 Mar 2017
Do these levers have a friction mode for both? Also the picture on 20/03/2017 shows a pair of downtube levers but the description is for bar end - which are they?
Hi,

The front lever is permanently friction but the rear lever can be switched between friction and indexed modes. These are bar-end levers, they are just pictured separate to the bar end fittings (which are shown separately in the 3rd photo) as Shimano supplies them like this.

Thanks.
7 Speed Compatibility Sl-6480 8-Speed
08 Sep 2016
For the moment, I have a 7-speed cassette mounted on the rear wheel I intend to use. Is it possible to adjust the derailleur for 7 speeds and have one inoperative indexed position on the right-hand bar-end shifter?
Hi,

You should be fine to run this set up, there is no issues with running an 8spd shifter with a 7spd derailleur and cassette.

Thanks.
Do They Fit In 22,2 Or 23,8 Mesuring Bars? Regards!
06 Feb 2016
Hi,

These bar end levers are designed for drop bars so they fit 23.8mm bars.

Thanks.
Included In The Product
09 Feb 2015
Hello,
I found these suitable for my 8spd bike, but I was wondering if it's a complete package shown in one of the images or if it's just the levers?

Regards,
Kaj Bergkvist
Hi,

Everything shown in the pictures is included in the package.

Thanks.
Will These Work With A 10 Speed 105 / Ultegra Rear Mech?
29 Sep 2014
Also, will they run with with a modern 10 speed ultegra front mech / XT model front mechs?
Hi,

In theory you could run these shifters with a 10sdp set up but you would have to run them both on the friction setting, so the gear shifts on the rear would not be indexed, to get them indexed you would need to go for a 10spd specific set of shifters.

Thanks.