Shimano Sora ST-3400 Name Plate & Fixing Screw - Y6LS98030
Manufacturer :
SJS Cycles part number :
Manufacturer part number :
Details
This Name Plate & Fixing Screw can only be used with Shimano Sora ST-3400 9 speed shifters.

Genuine Shimano replacement part.
Related products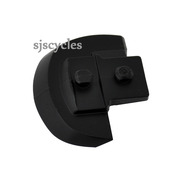 Shimano Sora ST-3400 Adjustment Block - Left - 8 Deg - Y6LT24000
£4.99 Inc VAT
Quick view
Shimano Sora ST-3400 Adjustment Block - Left - 4 Deg - Y6LT25000
£4.99 Inc VAT
Quick view
Product Reviews (1)
Overall Product Rating 5 / 5
Perfect fit
04 Nov 2020
I recommend this product
My left hand one broke when I came off. Within a few days of ordering, they arrived
Tenes cobertor de goma para sora st 3400.hacen envíos a Argentina
21 Jun 2019
Unfortunately the rubber covers are now discontinued!
Yes we ship worldwide.
Thanks - 24/06/19
Do you send Spain? In that case, how much do you cost me?
12 Oct 2018
All of our postage information is found here - https://www.sjscycles.co.uk/delivery-information/
Prices are calculated in the basket.

Thanks - 15/10/18
Is this still available? Can this be ship to Singapore?
30 Nov 2017
Hi,

Yes we have plenty in stock, please just select Singapore during check out.

Thanks
Is the left same as right?
21 Oct 2017
Hi. I see you don't specifically detail this out as left or right, does that mean if I buy one of this, it can fit either of the both left or right?
Hi,

This is correct, these name plates are the same on both the left and right so this product can be used for either.

Thanks.
Shimano Sti Name Plate
21 Apr 2017
Will the st 3400 fit the Specialized Allez Sport Compact 2012 Road Bike?

I purchased the st 3500 and this did not fit, Looking to purchase if is right park for my bike

Thanks
Hi,

Looking at images online of your bike, it does look as though the ST-3400 will be the correct one. If you want to check for sure you can roll the rubber hoods on your bike forward and it will be stamped into the plastic body underneath on the side of the shifter.

Thanks.
Suitability
16 Apr 2017
Hi there, would this piece fit on my 13 intrinsic beta road bike?
I am unsure as to what series sora shifters it has.

Thanks
Hi,

Unfortunately we don't have access to any details on your bike so you will need to physically check which series of Sora it is you have as these names plates will only fit to the correct series. To check all you need to do is roll the rubber hood on the lever forward and the code should be printed on the side of the plastic body underneath.

Thanks.
Pieces Number
17 Jul 2015
Hello, does this include the two pieces (left and right) or only one piece? If it's only one piece, how much for the two?

Best regards
Hi,

These are sold individually so the price is just for one. There is no discount for buying a pair so the cost for two would just be double the cost of one.

Thanks.
Shimano Sora Double Name Plate
25 Jun 2015
I'm looking for the above for a Boardman CX Comp bike. It's not the one listed on your site ( SL3400) I've tried that and it doesn't fit.
Written on the front it's Shamano Sora
Double
Thanking you in anticipation.
John.
Hi,

There has been more than one series of Sora, so it is possible you have the newer ST-3500 shifters. The name plate for the left-hand ST-3500 shifter is SJSC part 32227.

Thanks.