Joseph Kuosac Handlebar for Bromptons - Mid Rise - 25.4mm - 600mm - Carbon
Manufacturer :
SJS Cycles part number :
Manufacturer part number :
Details
Designed to raise or lower the front end to suit the rider.

- Made from Carbon
- 25.4mm Clamp
- Ergonomic handlebar with curve in design
- 600mm Wide
- 100mm Rise
- Weight 170g
- Standard 130mm handlebar grips compatible - Brompton bars use 100mm (ensure grips are safe for use on carbon before installing)

When fitted to an S type stem the height position is the same as an M type. – Use M type cables.
When fitted to an M/H type stem the height is lowered by 30mm. – Use original cables.

If fitting to a Brompton that does NOT have a rear rack / larger easy wheels, you will most likely need to trim these down a little so they do not hit the floor when folding.
Related products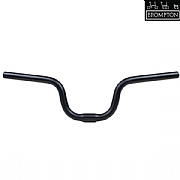 Brompton Handlebar M / H Type [2] - Low Rise - 2017 Onwards - Black
£47 Inc VAT
Quick view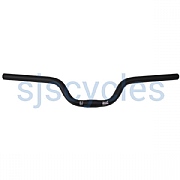 Joseph Kuosac Handlebar for Bromptons - Mid Rise - 25.4mm Clamp - 600 mm - Black
£32.99 Inc VAT
Quick view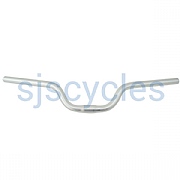 Joseph Kuosac Handlebar for Bromptons - Mid Rise - 25.4mm Clamp - Silver
£32.99 Inc VAT
Quick view
Product Reviews (2)
Overall Product Rating 4.5 / 5
Perfect height! Lighter & strong material!
26 May 2021
I recommend this product
Pros
Strong & light carbon material
I have replaced my original H handlebar to JK mid-rise. The height is now perfect for me (5'5) & my riding style. Lighter material but still very strong is another benefit.
Good handlebar but with a little problem
06 Dec 2019
Cons
The thickness varies from side to side, some grips are unusable
Pros
Lighter weight, more reasonable angle
Good handlebars, but there is a problem, maybe I am out of luck.
There are different thicknesses on the left and right sides of this handlebar.
One side barely installs and removes my brooks grips but the other side is almost very difficult which makes it easy to hurt the handlebar surface.
What's is the correct torque for mounting this to the stem?
18 Jun 2023
Hello & thank you for your enquiry.
Max torque of 5Nm for the stem clamp area.
Kind regards PC 20/6/23.
Flat or mid-rise?
02 Sep 2021
I have a 2021 M and have equipped the bar with GP3 Gripshift handle. Love them. But when the bike is holded the GP3 will touch the ground. I am looking at replacing the original M bar with one of the JK handlebars. I am very comfortablewith the current M bar when riding and prefer sticking to a rise bar. Would the JK mid-rise having the same issue as the original Brompton M bar when folded?
You just need to trim the JK bars 20mm then it will clear.

Thanks
Can I use this on a S bike
06 Jul 2021
Can I use this to replace a S-type handlebar without having to trim it? Also, do I need to replace the cables (4?) by M cables?
If you have a rear rack / larger easy wheels, no trimming required.

Yes, you need M type cables.

Thanks - 06/07/21 RH
in case if I need to trim the bar, can I use pipe cutter to trim it?
08 Apr 2021
No would not recommend this, you will crush the bar.

WD 08/04/21
Do you provide the pre-cutting?
01 Mar 2021
Hi there,

I would like to upgrade S6E-X's handle with this one. Could you pre-cut it before you send it to me for clearance?
Hi there,

We cannot offer this service, sorry!

Thanks
Will it fit 2020 M bar without trimming any cables?
29 Jun 2020
I wonder if I can do a straight swap with my 2020 M bar, though I realise that the handlebar needs to be trimmed. Also, do you know when will you have it again in stock?
The bar only needs to be trimmed if you do NOT have a rear rack / larger easy wheels.

The cables do not need to be trimmed, unless you cut the bar down to under 540mm.

Thanks - 29/06/20
Would It Need cable trimming on a 2017 M model?
24 Dec 2019
What Is the rise difference with an M model from 2017?

Will the lesser rise compensate the higher length of the bar when folder? (I am mounting ergon grips).

Thanks
M.
Hi
The Brompton handlebars from pre-2017 have a rise of 150mm meaning that these would be 50mm lower. Because of the difference you shouldnt encounter any issues when folding the bike.
Kind Regards. 27/12/19