Tranz-X JD-TB01 Tri Aero bars
Manufacturer :
SJS Cycles part number :
Manufacturer part number :
Details
These are excellent entry level Aerobars, the clearance price is due to excess stock!
Black Aluminium
Fully adjustable reach and width for a custom fit, these tri bars are excellent value for anyone wanting an aerodynamic riding position for triathlon or looking to equip an all weather training bike.
6061-T6 Alloy construction, they come supplied with shims to fit drop or straight handlebars of 31.8, 25.4 & 26.0mm diameter. They can be used with bar end gear shifters.
Weight 460g including pads and shims.
The clip on design makes them very easy to fit.

Note: The drop handlebars shown in this image are not included.

For replacement arm rest pads, please see item #34034

Conforms to EN 15194 EPAC (25km/h e-bike)
Related products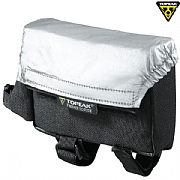 Topeak TriBag c/w Rain Cover - Black - 0.57 Litre
£14.99 Inc VAT
Quick view
Product Reviews (19)
Overall Product Rating 4.9 / 5
Brilliant value
11 Jan 2020
I recommend this product
Pros
Easy to fit & adjust, comfortable and good price
Been looking for tribars for long distance riding that were not massively too expensive. These are not only very comfortable but easy to fit/adjust with quality bolts. Price is spot on too and will probably buy another set for N 1
18 Aug 2017
I recommend this product
First pair of aero bars so didnt want to spend too much.arrived quickly and easy to fit.seem good quality for the money and would recommend.
Great!
14 Jun 2017
I recommend this product
Pros
quality, easy to fit & align
These go on easily, & work a treat. I hadn't used aero bars before & wanted to try some out - these seem excellent quality at a bargain price so took a punt. They are really good quality & a pleasure to use - highly recommended
Good Quality And Great Price
22 Aug 2015
I recommend this product
Pros
Quality, ease of fitting, price
My 14 year old daughter fitted these unsupervised in 5 mins. Great quality, good range of adjustment. Fantastic price.

When I followed her down our local long downhill she tucked in and pulled away !
Mr
08 Mar 2013
I recommend this product
Pros
Cost, adjustability, lightness, quality
Bought and fitted these to my road bike 2 weeks ago. Very easy to fit and adjust in any direction. Did a 22mile TT on Sunday and knocked 6 minutes off my pb! Great value with solid quality feel.
Great
08 Sep 2012
I recommend this product
Pros
Quality, adjustments, comfort, price
I wasn't too sure what quality to expect at such a low price, however, I was very surprised at both the quality, and large range of calibrated adjustments offered, which was superb. After several different settings the "perfect" position was arrived at. the bars fitted the handlebars perfectly and the forearm pads are very comfortable.
All in all an excellent product and very good delivery service by SJS.
Incidental I bought my Coppi bike from SJS in 2001 and received the same excellent service. The bike is still in perfect condition and has never had any issues.
Trans X Jd-Tb01 Tri-Bars
03 Sep 2012
I recommend this product
Ive bought these bars previously from another supplier and when searching for them again I found them on this website.
I found them to be an easy fit and fully adjustable to suit .
Tri Bars
22 Aug 2012
I recommend this product
Pros
good price, well made,fully adjustable
These are a great low cost set of tri bars. Very adjustable and well made. Both my wife and I have fitted a set and once you've done your bit of adjusting you can get into that nice tuck position. Very happy with my purchase and they were shipped very fast so all in all 5* to product and seller
Newbee Triathelete
02 Jul 2012
I recommend this product
Pros
Value for money, comfort, ease of fitting
Was looking for cheap tri bars to try out with me only been a novice and come across these beauty's. They were value for money and even friends have ordered the same one's after seeing mine fitted, super super buy and will not change them now.

Cheap Great Value Clip On Aero Handlebars
12 Mar 2012
Pros
cheap, good value, great quality
Bought these for £25 and I have not been disappointed! these bars were lower than my old ones and lighter. I had trouble at first, with them moving when I put weight on them, I have a 25.4 handlebar, so you will need to put an extra shim on. As these fit an oversize bar (31.8) and have a shim for 26.0 bars.
Super Value
30 Nov 2011
I recommend this product
Pros
Cheap, Easy to install
Bought 3 sets of these for myself and friends. Super easy to install and works great! Just make sure you tighten the bolts to the specified torque, get very scary very quickly....

Super service from SJS, shipped in 5 days to South Africa
Fantastic Value Bars
21 Nov 2011
I recommend this product
These aero bars are great for the price. They are good quality and fairly light. They are also comfortable and look great. Highly recommended!
Superb Value
28 Jul 2011
I recommend this product
Pros
Excellent value, lightweight and easy to fit
These bars are excellent value for money and 'do exactly what it says on the tin'. Quick and easy to fit and fully adjustable. Excellent speedy delivery by SJS.
Exceptional Value For Money
23 Jul 2011
I recommend this product
Pros
Inexpensive, quality, adjustable
I absolutely love these bars, and aside from those made from carbon, I can't see why you'd need to spend more for aluminium bars!

They are very east to set up and adjust, are quite comfortable even with my large forearms, and look good too. You do need to ride after after each adjustment to review your new set up, but I did it all in one go by bringing the allen key with me and stopping when something wasn't quite right. Now they're perfect!

The pads are velcro and removable, so you can give them a clean. Need I say more? You won't be disappointed.
Fully Adjustable Tri Bars For Less Than £25!
07 Jun 2011
I recommend this product
Pros
Cost,easy to fit and well made.
I put these onto my trekking bar and i thought i would have trouble,but no problem with these,cheapest and best value for money i saw on internet,easy to fit and velcro arm pads perfect.
i always get a good service from sjs and will continue to shop with them.
Experienced Cyclist
03 Jun 2011
I recommend this product
Pros
Price, Quality, Adjustment
Long story short answer. I bought these to fit a straight handlebar Boardman Hybrid which I am using to do End 2 End in June 2011. I wanted something cheap which would allow me to get a few different positions on the bike during the long hours of riding. I am amazed at the quality of these bars for the price. Easy to fit lots of adjustment capability and look and feel very good quality. I am not disappointed and would strongly recommend these bars for any level of riding.
Bargain Tri Bars
21 Feb 2011
I recommend this product
Excellent value for money and fairly light too. Good solid clamps, pre greased threads. Fitted okay on tapered bars, just needed a couple of turns of bar tape for the clamps to sit on/bite into. Being adjustable you can remove bars and arm rests when not in use and just leave the clamp on ready.
Fully Adjustable Tri Bars For Less Than £25!
20 Feb 2011
I recommend this product
Pros
Cost, ease of fit, prompt service
I was looking for some entry level tribars to fit to my road bike. I expected to pay £80+ for adjustable oneswhich was over my budget. I found these and thought they looked like a bargainand worth a gamble. So far I have not been disappointed. They arrived promptly and were of much better quality than expected for the price. Threads were even pre greased. So far they are exactly what i wanted but for a fraction of the price I'd expected to pay.
Novice Triathlete
04 Oct 2010
I recommend this product
Pros
Cost, lightweight, easy to fit
These bars are excellent value for money. They're relatively light and easy to fit. Purchase was easy and delivery was prompt . Overall, very pleased with the product and the service.
Tranz X Jd Tb02
06 May 2015
Hi,

I a´m looking for TB02 handlebar . Do you have it in stock?
What´s the price and package to Portugal?

Best Regards

Paulo Gomes
Hi,

We do not currently stock these bars, but we are able to order them in on a special order for you. For more information regarding cost of both the item and the postage as well as the lead time please email ed@sjscycles.com.

Thanks.