Shimano FH-M525-SL Complete Freehub Body - Y3SP98060
Manufacturer :
SJS Cycles part number :
Manufacturer part number :
Details
This Complete Freehub Body can only be used with Shimano FH-M525-SL rear hubs.

Genuine Shimano replacement part.
Related products
Shimano FH-M525-SL Rear Complete Hub Axle - 146mm - Y3SP98030
£18.99 Inc VAT
Quick view
Shimano FH-M525-SL Rear Left Lock Nut Unit - Y3SP98050
£7.99 Inc VAT
Quick view
Shimano FH-M525-SL Rear Right Lock Nut Unit - Y3SP98040
£6.99 Inc VAT
Quick view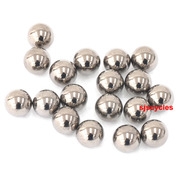 Shimano 1/4 Inch Steel Ball Bearings - 18pcs - Y00091310
£2.99 Inc VAT
Quick view
Be the first to write a review
Feel free to leave a review of this product, good or bad it helps other customers with their buying decision.
Which freehub would I require for a FH-M615 Disc CL hub please?
22 Nov 2020
Hi, for the Shimano FH-M615 freehub you need SJS part: 22596

JK 23.11.20
What is the length and width of this freehub body thanks
27 Oct 2020
Hello, if you are trying to replace a Shimano freehub body we suggest contacting
[email protected]
and let us know the FH code printed on the hub shell. From this, we can work out which of the freehubs we stock will be a suitable replacement. Length and width will not allow you to accurately determine which freehub is required hence why Shimano does not supply this information.
Hope this helps,
JK 27.10.20
11 speed freehub for FH-M525-SL
07 Jul 2020
Will this freehub take an 11 speed cassette?

FH-M525-SL
Hi, no this is 8 or 9 speed. Thanks
Hi I have FH-M525 VIAM Hub (Yelow disc says la/JH) I use it with 10 speed- Is it ok
12 Aug 2018
Hi

The correct freehub body for the FH-M525 hub is our item number 6390, if you input this number is the search box it will take you straight to it. This freehub body is 8, 9 & 10 speed compatible.

Regards
Fits M525A? Thanks.
05 May 2018
Sorry no, you need Y3SP98100 which is deleted by the supplier.
Deore hub compatibility
23 Feb 2018
My rear hub is a Shimano FH-M535 Disc CL.
This product looks correct but is it compatible?
Hi there,

Yes this is the suitable replacement.

Thanks
Hi. My Hub Is A 9 Speed Shimano Deore Fh M525 Viam.
19 Feb 2016
The yellow disc says la FH. Will this fit or do I need the part number 6390 as per the first question? Thanks
Hi,

The "FH" is just Shimano's code for freehub but it is used to describe all of their rear hubs as well. As your hub is not the SL version, it will be the SJSC part 6390 that you need.

Thanks.
Does This Fit The Fhm525 Hub ? If Not Do You Have The Correct Freehub
27 Dec 2015
Hi, you need our part number 6390
Is This The Correct Fh For The 2010 Spec Fsr Comp?
10 May 2015
the spec describes the FH as Custom Shimano M525SL
Hi,

If it is definitely a M525-SL hub you have then yes this is the correct freehub body. It should be printed on the hub body itself, so it may be worth checking exactly what's printed on the hub shell before making an order.

Thanks.