Shimano Deore FH-M595 Freehub Body Unit - Y3SW98060
Manufacturer :
SJS Cycles part number :
Manufacturer part number :
Details
For use with Shimano Deore FH-M595 rear hubs.

This Freehub Body Unit can also be used on the following:

Rear Hubs
- Shimano Deore XT FH-M756-A
- Shimano Deore FH-M6000
- Shimano Deore FH-M615
- Shimano Deore FH-M590
- Shimano FH-M529

Rear Wheels
- Shimano WH-MT35-R-275
- Shimano WH-MT35-R-29
- Shimano WH-MT35-R

These are an "A" match which indicates that the parts are the same in materials, appearance, finish & size etc.

Genuine Shimano replacement part.
Related products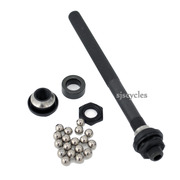 Shimano Deore FH-M595 Rear Complete Hub Axle - 146mm - Y3SW98010
£13.99 Inc VAT
Quick view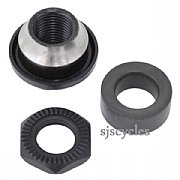 Shimano Deore FH-M595 Rear Left Lock Nut Unit - Y3SW98030
£8.99 Inc VAT
Quick view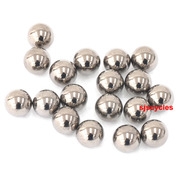 Shimano 1/4 Inch Steel Ball Bearings - 18pcs - Y00091310
£2.99 Inc VAT
Quick view
Product Reviews (4)
Overall Product Rating 5 / 5
Does what its meant to
15 Nov 2022
I recommend this product
Rear wheel running smoothly again. You'll need to reuse the drive side bearing cover, so remove old one carefully.
Brilliant - retro fitted onto an old 600 Ultegra FH-6401
06 Apr 2021
I recommend this product
I had an old 7 speed Ultegra (600 tricolour) FH-6401 hub, with a dead freehub body.

Having the appropriate spare longer axle (for 130mm OLD) and a range of spacers, in my box of bits, I grafted this new 8/9/10 speed freehub body onto the old hub shell, and rebuilt with correct width spacers on both sides. Obviously had to use the old dust cap etc.

Not a hitch at all. Easy project, and have injected a new lease of life to a classic vintage hub. Therefore, by definition, these freehub bodies WILL work on older road hubs such as FH-1055, FH-1056, FH-6401, FH-6402, as well as the RX100 and RSX hubs and probably a lot more too - maybe even the older 6 speed freehubs too. So long as the hub shell has the older 10 splined star-fitting, you should be fine. Good for hubs, up to say the 5500/6500 era.

These aren't supplied with dust caps or 10mm fixing bolts, so you'll have to re-use your old ones. Be prepared to do some spacer adjustments!!
Great
05 Mar 2021
I recommend this product
Had exactly the obscure part I needed and at a sensible price.
Just what I needed
23 Oct 2019
I recommend this product
I needed a replacement freehub.
SJS had it in stock at the cheapest price available and had it dispatched in double quick time.
Please do you have a replacement freehub for Shimano FH M737 XT hub
03 Aug 2022
Please do you have a replacement free hub for a 1996 FH M737 XT hub. This is the original as fitted to a M2 Stumpjumper Pro - Thanks
Sadly the freehubs have now been discounted and are no longer available.

JK 04.08.22

Hi, Is this a steel body unit?
15 Apr 2021
Thank you for your enquiry, yes it is a steel body

WD 16/04/21
Can't this body fit a shimano xt freehub fh m737
13 Apr 2021
NO, this part will not suit.

JK 14.04.21
Can this be a replacement for M475, 9 speed?
10 Jan 2021
The Freehub on my 2004 Kona Cinder Cone is having issues, possibly sticky or damaged pawls. Will this work?
Thanks
For the FH-M475 you need SJS part: 6382. No other part will suit.

Thanks, 11.01.21
How do you fit a right seal ring/dust cover/O-ring?
29 Jun 2020
The O ring is fitted simply by press-fitting it in, take care to press it in evenly.


Will this fit a very old hub. Deore DX FH-M650?
07 Apr 2020
i doubt it, like you I can find no data apart from the part number 3te 9802 which I can not locate, buy a new hub or a 2nd hand FH-M650 and swap the bodies.