Shimano FH-RM40-8 Complete Freehub Body - Y3SL98030
Manufacturer :
SJS Cycles part number :
Manufacturer part number :
Details
For use with Shimano FH-RM40-8 rear hubs.

This Complete Freehub Body can also be used on the following rear hubs:

- Shimano FH-2200
- Shimano FH-M475
- Shimano C-Series FH-C201

These are an "A" match which indicates that the parts are the same in materials, appearance, finish & size etc.

Genuine Shimano replacement part.
Related products
Shimano FH-RM40-8 Rear Right Cone - M10 x 15mm - Y30G03000
£4.99 Inc VAT
Quick view
Shimano FH-HG20 Rear Hub Axle - M10 x 146mm - Y30K01200
£6.99 Inc VAT
Quick view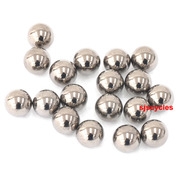 Shimano 1/4 Inch Steel Ball Bearings - 18pcs - Y00091310
£2.99 Inc VAT
Quick view
Product Reviews (9)
Overall Product Rating 4.7 / 5
Quality parts
13 Jan 2023
I recommend this product
Cons
Mounting bolt not supplied
Pros
Cheap and good quality
Good quality shimano part,doesn't come with mount bolt
Perfect fit
20 Sep 2022
I recommend this product
Pros
Perfect fit in every way.
The hub that was on the bike was badly wore and needed to be replaced. I ordered one from SJS and got it in a timely manner all the way to USA. I installed it and it was like a new bike all over again. Fit perfectly did what it was supposed to do, I'm very happy with my purchase.
04 Feb 2021
I recommend this product
I recommend this product
First Class
27 Jul 2017
I recommend this product
Great item,and delivery time thanks
11 Apr 2017
I recommend this product
Fitted perfectly. Highly recommended.
21 Feb 2017
I recommend this product
Excellent item at a great price
Excellent. Perfect Fit.
22 Jun 2016
I recommend this product
Pros
Helpful item description. Quick delivery. Fair price (including shipment)
Bought to upgrade my 24 years Marine bic to 8s cassette. Fits perfectly & smoothly, minor adaptions. Great store.
Mr
16 Mar 2013
I recommend this product
Pros
fast delivery, well reccommended
Received my part and well happy, ready to order more bits now to do more of a service on my MTB.

Many thanks
Clear Website, Correct Part
12 Dec 2012
I recommend this product
good website description and photos let me work out this was the right part. good price and prompt delivery
Can I use this (Y3SL98030) with an 11-Spd Cassette?
27 Jul 2021
I see 2 different answers on this page so I wanted to ask again. I have a 2x9 and want to convert to a 1x11. Thank you!
Thank you for your enquiry, this will work with an 11spd MTB cassette but not 11spd road.
What freehub
16 Jan 2021
I'm trying to find a freehub for shimano hub FH-MC 38A,
STX RC Parallax 8speed.
Do you stock this item
For the FH-MC38 you need Shimano part 30R 9801.

Sadly we don't stock this freehub as it is now discontinued.

Thanks 18.01.21
Will 11 speed cassete work on this
19 Sep 2020
Yes, 8-9-10-11 MTB is all the same!

Thanks
will this freehub fit a Carrera Vengeance mtb.
21 Aug 2020
We would have no idea without knowing the exact make / model of the rear hub.

Thanks - 21/08/20
Hub dust cap
05 May 2020
Is it possible to just purchase the dust cap since this is the only part that I need to replace? Could you offer any suggestion for a cap that might fit this hub?
Hi, unfortunately there is no dust cap listed for the FH-RM40 hub. Thanks
Shimano FH-M475
04 May 2020
Hi. Can you confirm that this item replaces the freehub body on a Shimano FH-M475. The current hub is a 9 speed but running an 11 speed cassette - I need to make sure that there is enough space.
Thanks
Can I safely convert an FH-RM40 to an FH-RM40-8?
02 Mar 2020
I have a wheel set built with an RM40 hub set. The rear is the 7-speed variety. Can I safely install this freehub body to convert the rear hub to the 8-speed model?
Sorry no, even if it fitted the hub (which it might) it will make the OLN wrong RT 050320
What size hex wrench would I need to remove and install this freehub?
30 Nov 2018
You need - SJS Cycles part number : 23519 and a 10mm Allen key.

Thanks - 03/12/18
Compatability
15 Apr 2016
Will your Shimano FH=RM40=8 Cassette Freehub body work with a 7 speed cassette .The Derailleur is a Shimano ACERA X. The rear hub is a Shimano FH=M475.Thanking you in anticipation of your reply
Hi,

You can use a 7spd cassette with that freehub body, you'll just need to fit a small spacer first. We sell these and they are SJSC part number 3888.

Thanks.
9 Speed Compatibility
30 Mar 2014
I have the FH M475 rear hub on a 9 speed cassette. Just wondering if this will fit the 9 speed cassette or just an 8 speed. Thanks.
Hi,

Yes, 8/9 and 10spd all use the same width free-hub body so they can be used only the same hub.

Thanks.
I Need 15 Teeth This One Has 10 Teeth
09 Jan 2014
I have a Dawes Horizon Plus bike and the hub of my wheel is HB RM40 8 speed. My freehub body has 15 teeth whilst this one appears to have 10 teeth. Do you have a compatible freehub body in stock.
Hi,

The hub code you have provided is for a front hub, the rear would be FH RM40 8. This free hub body is the correct free hub body for the FH RM40 8, which means that your rear hub must not be the FH RM40 8 I'm afraid. If you can find out the correct model of your hub, then I should be able to find the correct replacement free hub.

Thanks.