Shimano Ultegra WH-6700-R Complete Freehub Body - Y4FP98050
Manufacturer :
SJS Cycles part number :
Manufacturer part number :
Details
For use with Shimano Ultegra WH-6700 rear wheels.

This Complete Freehub Body can also be used on the following rear wheels:

- Shimano Ultegra WH-6700-G-R

This is an "A" match which indicates that the parts are the same in materials, appearance, finish & size etc.

Genuine Shimano replacement part.
Related products
Shimano Ultegra WH-6700-R Rear Complete Hub Axle - 141mm - Y4FP98010
£21.99 Inc VAT
Quick view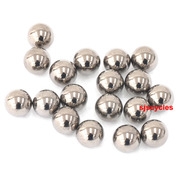 Shimano 1/4 Inch Steel Ball Bearings - 18pcs - Y00091310
£2.99 Inc VAT
Quick view
Shimano Ultegra WH-6700-R Rear Right Lock Nut Unit - Y4FP98020
£8.99 Inc VAT
Quick view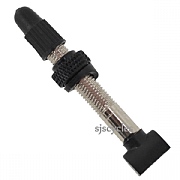 Shimano Dura-Ace WH-7850-SL-R Rear Valve Unit - Y4DS98060
£11.99 Inc VAT
Quick view
Product Reviews (1)
Overall Product Rating 4 / 5
Re: Ultegra Wh-6700 Freehub
06 Apr 2017
I have two sets of the old Spinergy Rev-X wheels, and from time to time replaced the original 6402 (Shimano 600?) freehub - which is very difficult to find anywhere. Many Shimano freehubs will fit the wheel 'spline', BUT, the problem for many(?) is that the locking bolt's 'lip' can (just!) interfere with the ball bearings - it's only subtle, but in time, this causes the freehub to loosen. So I took a chance with the Ultegra WH-6700 and it's been fine so far. The accompanying locking bolt appears to be different here - the lip of the bolt is flatter finished and so protrudes less into the ball bearing chamber. I hope SJS Cycles will be able to source another in time.

All these design variables are very annoying - but the cynic in me says it's all part of the marketing strategy.

I recommend this with caution.
8 speed on Ultegra 6600
10 Jul 2020
Looking for freehub which might allow me to use 8 speed DA cassette on a Ultegra WH 6600. I have a feeling there's no such thing but I see you've solved similar tricky problems. Thanks.
Yes, you can fit an 8-speed HG fitted cassette on this.

JK 13.7.2020
Rear Hub WH9000 C50 wheel
28 Apr 2020
Morning, looking for a rear hub for my wheel want to make sure I order the correct one. The wheel is a Dura Ace c50 marking on wheel hub is WH9000 it is a 10 speed. Also if you have none in stock is there a compatible which could be used many thanks.
Regards
Mr RN Cornfield
Hi
Thank you for your enquiry. The correct freehub body for your rear wheel is our part number 31374, if you input this number in to our search box it will take you straight to it.
Kind regards. 28/04/20
Which freehub for Ultegra wheels 10 years old?
06 Feb 2019
Hi, I have some great wheels you built for me ages ago with an Ultegra rear hub. I need a replacement freehub. Do you know how to tell what rear Ultegra hub you have, or as 6700 sounds like it is earlier than 6800, is that the more likely freehub for a hub that's over 10 years old? Wheels were bought for 8 speed but now being used with 10 speed cassette. Thanks!
On Shimano hubs the number is imprinted on a hub's body.
This helps to pinpoint which hub do you have, and the search the net for replacement free hub.
Many thanks
06/02/19
Can I use this with Dura Ace 7900 C24 wheels please?
26 May 2018
Hi there,

The only suitable freehub is SJS Cycles part number : 29203

Thaks
Could you please measure the height of this please?
26 Feb 2018
I've tried one shimano freehub but it was too long so I couldn't put the cone locknut on. Many thanks, (I want this one as it's going on a spinergy wheel)
Hi there,

The length of the body is 38.1mm.

Thanks
Compatibility With Dura Ace
03 Nov 2015
Is this compatible with Dura Ace WH7850?
Hi,

I'm afraid these freehub bodies use a slightly different to the fitting on your hub. The correct replacement for the hub on your wheels is SJSC part number 29201.

Thanks.