Shimano WH-R500-R Complete Freehub Body - Y4BG98070
Manufacturer :
SJS Cycles part number :
Manufacturer part number :
Details
For use with Shimano WH-R500 rear hubs.

This Complete Freehub Body can also be used on the following rear hub:

- Shimano WH-R500-A-R

This is an "A" match which indicates that the parts are the same in materials, appearance, finish & size etc.

Genuine Shimano replacement part.
Related products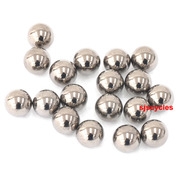 Shimano 1/4 Inch Steel Ball Bearings - 18pcs - Y00091310
£2.99 Inc VAT
Quick view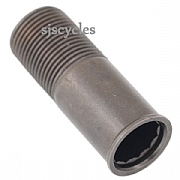 Shimano Deore FH-M510 Freehub Body Fixing Bolt - Y3BL03000
£2.99 Inc VAT
Quick view
Shimano Deore FH-M510 Rear Freehub Body Washer - Y3AN10000
£3.99 Inc VAT
Quick view
Product Reviews (1)
Overall Product Rating 3 / 5
Freehub
23 Mar 2013
I recommend this product
This was a cheap set of wheels a while ago, so that the freehub failed didnt really surprise me, and to be honest at 20 odd pounds really quite cheap, easy to fitt and new one works fine, little surprised shimano dont supply with it a set of 8 ball bearings, but hey stuck the old ones in with loads a grease, and polished the cone, and all ok, nice item, will prob now last as long as the wheels
Hi, Can I Use This Free Hub Body On My Rear R550 Also....Thanks In Advance.
06 Jul 2016
............
Hi,

This freehub body is not listed as compatible with the R550 as well I'm afraid as the hub design is very different. The correct freehub body is no longer available for the R550 either I'm afraid.

Thanks.
Hi, Exists There Any 11Spd Hub Body Solution Compatible With Shimano Wh-R500 Rear Wheel?
28 Jun 2016
*
Hi,

There aren't any solutions that we're aware of allowing you to convert your WH-R500 wheels to 11spd I'm afraid.

Thanks.
Can This Freehub Take A 10 Spd Sprocket Set
11 Dec 2013
Hi,

Yes it can take a 10spd cassette. 8, 9 and 10spd free hubs use the same width overall spacing.

Thanks.