Zenith 8/9/10 Spd Rear Tandem Cassette Hub for Arai - 145mm - 40 Hole
Manufacturer :
SJS Cycles part number :
Manufacturer part number :
Details
Shimano HG / Drum Brake Compatible (Threaded)

- Colour: Silver
- HG Compatible
- Holes: 40H
- Large Flange
- 8/9/10 Speed Comapatible
- 145mm OLN
Related products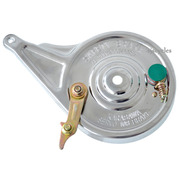 Karasawa Screw on Tandem Drum Brake Replaces Arai
£49.99 Inc VAT
Quick view
Be the first to write a review
Feel free to leave a review of this product, good or bad it helps other customers with their buying decision.
Will this fit with Aria drag brake in a 135 OLN frame.
10 Jun 2019
This is to replace a mid 1990's Hope hub in a135 OLN Cannondale tandem frame with Aria drag brake fitted.
Can you supply me with the flange dimensions,
ie flange dimension from centre line,threaded shoulder from C/line , spoke hole dia & pcd,
& do you think it will be suitable.
From my memory of cannondale tandems from that time, some were 135mm ONL and had the drag brake boss but it was not possible to get the drag brake to fit using any (even modified) hub, I thought one had to spring the frame out to at least 137.5 and even then that meant machining something off the inside of the aria brake. To modify this hub to anything less than 145mm will need a lathe/engineering shop, the alloy ends come out and can be modified. Is it not possible to service and renovate the Hope hub? Regards robin@sjscycles.com, please reply (if you wish to) by email.
Is the freehub Shimano 3 pawl or...?
15 Oct 2018
Bit concerned about spares. Is the freehub Shimano's 3 pawl tandem style or...? If generic, do you carry spares please?
Hi there,

Unfortunately, without taking it apart it would be hard to tell what kind of freehub this has im afraid.

Apologies.
18/10/18
Hub strength vs Shimano Deore LX
12 Sep 2018
Hi there
Last year I was using one of your custom built rear wheels. It was a 36 hole Sputnik rim with a Deore LX hub. While on a short expedition and while carrying some very heavy loads on the rear rack, I managed to damage this hub. Would this tandem hub be able to take my weight (100 kg) plus up to another 70-100 kg on the rear wheel ? I was using the super strong Tubus stainless steel rear rack, which was able to take double its rated weight, which is 40 kg. No doubt the Tubus would break if more than 100 kg was on it ?
Hi, I wouldn't guarantee this hub or any cycle hub for 200kg, you are highly likely to break your rack too if you don't shear the bolts first. Our recommendation would be to use a trailer for such heavy loads. Thanks
Does this hub have cartridge bearings or loose bearings?
22 Aug 2018
Thanks
This is a sealed bearing hub.

Thanks
Will you provide a skewer to fit 135mm?
31 Jan 2018
Thanks for answering my first question. If I order this hub to fit my 135mm OLD frame, will you provide a skewer to fit 135mm? Or in my case, would the extra spacers then go on the outside of the frame, with a bit of skewer overhang?
Hi there,

There is a skewer provided, you will need to refit the spacers on the end of the axle- outside the dropout, so will use the same skewer.

Thanks
Is there an Arai-compatible hub at 135mm O.L.D?
30 Jan 2018
Hi, this product is almost exactly what I want, although I need one that fits in 135mm. Does this product perhaps have removable spacers, so I might convert it down to 135mm?
Hi there,

Yes this hub will convert to 135mm as its axle is spaced.

Thanks