Sturmey Archer S-RF5 5Spd Hub
Holes
Manufacturer :
SJS Cycles part number :
Manufacturer part number :
Details
Hub Shell Material - 6061 Aluminum
Axle Diameter - 13/32" Slotted
Over Locknut Dimension - 28h = 111mm. 36h = 119mm
Axle Length - 148mm/ 175mm
Right Axle Protrusion Length - 18mm / 24mm
Left Axle Protrusion Length - 18mm / 32mm
Spoke Holes - 28 or 36
Pitch Circle Diameter - 67mm
Flange Width - 53mm
Spoke Compatibility - 13g or 14g
Sprocket Teeth - 13T through 22T
Chain Line: 1/8" Flat 45.6mm
Chain Line: 1/8" Dished 44mm, 47.4mm
Chain Line: 3/32" Flat 45.3mm, 45.9mm
Chain Line: 3/32" Dished 43.5mm, 47.7mm
Indicator Chain - HSA585 Mark Yellow
Weight - 1090g

NOTE: Includes SLS-50T 5 Speed Thumbshifter HSJ959 with Inner Cable and 18T Dished Chrome Plated 1/8" Sprocket HSL838
Related products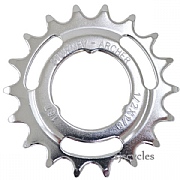 Sturmey Archer 18T Sprocket - 1/8 Dished C.P. - HSL838
£2.99 Inc VAT
Quick view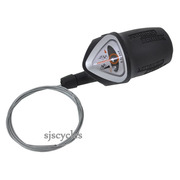 Sturmey Archer Twistgrip 5 with Inner Wire - TSS56 HP
£26.99 Inc VAT
Quick view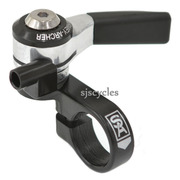 5 Speed Sturmey Archer SLS50-T Thumbshifter - HSJ959
£15.99 Inc VAT
Quick view
Product Reviews (4)
Overall Product Rating 4.5 / 5
Very Good replacement
05 Jun 2019
Sturmey Archer S-RF5 5Spd Hub
I recommend this product
Pros
Lighter than older units of 5spd
Bought to replace a 20yr old original, and all is well. Just waiting for powder coating and new paint job on the Brompton before fitting.
Wide Range Hub Gear
08 Apr 2012
Sturmey Archer S-RF5 5Spd Hub
I recommend this product
Cons
Range of gears a bit random
Pros
Well built, looks sparkly
Bought to replace a standard AW 3 speed on my wife's bike go give better towing and hill climbing ability. The instructions are a bit lame (Step 1 build hub in to a wheel....), but you would only buy this if you knew what you were doing (you would hope).
Quality of the alloy hub looks excellent, and the shifter feels high quality and well thought out, if a bit retro. As with the other review the left axle nut does not fit, this is because the axle is designed for the hub with brake, or the wider versions. There are a number of solutions to this, be inovative! The cable routing has 2 options the traditional one unchanged from 1902, or a new plastic covered version, that hides the fully funtioning old school way of doing things. As noted in the other review this might get in the way out your shoes, but it does protect the cable / selector chain interface that can get damaged. Oh the instructions tell you to put the cover on last, but you actually need to thread it over the outer cable, so you can modify with a hack saw if you want to make it easier, or heed this advice and thread it through earlier. Adjustment is a bit more fiddly than the AW 3 speed, but once sorted shifting is good.
The only odd thing about this is that even with a 38 / 22 the top gear is massive, the bottom gear could do with being a bit lower (if you like somewhere hilly) and the steps are quite strage. If you live somewhere generally flat like London the gearing would be more than sufficient almost every situation.
Great Hub. I Love It.
05 Apr 2012
Sturmey Archer S-RF5 5Spd Hub
I recommend this product
Cons
Subtle but constant ticking noise in most gears.
Pros
Wide gear range, no wheel dish, great hub!
The hub is great. It was easy to build up into a wheel, and the wheel is obviously much stronger than a dished wheel. If you are interested in converting a 120mm track frame into a multispeed bike, this is the way to go. Setting up the shifter and getting the hub set up for use was tricky, but certainly doable. Before you set up your bike, check out Sheldon Brown's gear calculator for the hub and make sure you have a good cog/chainring combo. The hub makes a bit of chatter in all but the direct drive gears, even when correctly adjusted. It sounds kind of like a gear on a derailer bike that needs to be trimmed. It is easy to get used to, but if that sort of thing is a deal breaker for you, you should be aware that internally geared hubs are not silent. Five gears is plenty for me, and the range is wide enough to take you through all kinds of situations. I actually plan to take my bike on a tour this summer, which would never have been possible in it's previous incarnation as a track bike. Anyway, great hub. I would recommend it to anyone.
Sturmey Archer S-Rf5 (W)
03 Jan 2012
Sturmey Archer S-RF5 5Spd Hub
I recommend this product
Cons
left axle nut is too short
I recently bought this hub at SJS Cycles and used it to replace a very old 3 speed hub. I laced it with 2.3 mm/ 13g spokes so the large spoke holes were a must for me. Mounting is very easy, but one has to choose between the old (with a special nut) and new way (with this roller under a big plastic cover). I tried both ways and found the new one much easier to adjust. The only problem is the big cover which can interfere with large shoes.

The hub itself is great. Shifting is very easy and fast. The standard shifter works very well. First and fifth gear are somewhat coarse, but it will probably run in.
Of course I can't judge the ruggedness after only about 150 km/ 100 miles, but I'm very confident.

The gear range is sufficient for urban cycling. I normally use four gears and have one "hill" gear in reserve".

The only problem I had was the left axle nut, which is to short, so I had to use additional washers.

Great hub, I loved it from the first meter.
Could I use this on my 6 speed Brompton?
04 Aug 2019
So, to change it from a six speed to five speed. What other parts would I need? What else would I need to think about? Mine is the 6 speed 8% and would like a similar range. Thanks
This would fit, but the range is smaller and we do not feel this is as reliable as the 6 speed set up,

Thanks - 05/08/19
Spoke selection for wheel build
11 Jun 2019
I want to build a 16" wheel for this using a Brompton rim. Can you tell me what spokes to use? I'd be using the 28h model.
We would use Jtek spokes for this size of wheel.

Thanks - 11/06/19
Can I use this with 26859
11 Jun 2019
The Sturmey Archer 5-speed bar-end shifter?
Yes this would be suitable.

Thanks - 11/06/19
Is the internal interchangeable with X-RF5(w)?
20 Apr 2019
My X-RF5(w) has broken, but since it has been discontinued I cannot find any replacement parts for it. As a very close relative, is this gearbox compatible to X-RF5(w) - i.e. if I remove SRF5(w) internals, will they fit into my X-RF5(w)?

Thank you very much in advance!
Hi there,

Unfortunately, as we have never tried to swap out the internals we would not know if this would work I'm afraid.

Thanks.
Brompton 5-spd
21 Oct 2018
follow up: thanks for earlier answer, you say I need the shifter too, I still have the original 5-spd 'Sprinter' shifter is the spacing different?
Sorry yes, the w hub will ONLY work with the 24028 Shifter, not any older ones. RT 24/10/18
Brompton 5-spd
13 Sep 2018
I have old 5-spd brompton with poor shifting etc, can I build this into the rear wheel in place of the SA original? Anything else I need to change? Or I believe I may be able to just swap the hub internals, which would be easier - is that true?
Yes you can use this hub, no the internals will not fit. You will also need - SJS Cycles part number : 24028

Thanks
S/A 5 Speed for 2018 Brompton
09 Sep 2018
Please can you tell me firstly can you get a Black Hub 5 Speed, and secondly what would be the cost to build this wheel with a Sun SR18 ABT 349 Rim with 14G black SS Spokes please.
Thanks
Nigel
We are unable to source this hub in Black, but we could certainly build the wheel for you, simply check out our wheel build options in the category Wheels then Wheel Build.

Thanks
Sturmey Archer 13T Sprocket - 1/8 Flat - HSL854, with the Sturmey Archer S-RF5 5Spd Hub.
09 Aug 2018
Hello, I have a question if I could use the Sturmey Archer 13T Sprocket - 1/8 Flat - HSL854, in combination with the Sturmey Archer S-RF5 5Spd Hub.
Yes this would fit.

Thanks
Suitable for sprockets with more than 22 teeth?
15 May 2018
The spec sheet says Sprocket Teeth - 13T through 22T but is there any reason why one can't use a larger sprocket like this one

https://www.sjscycles.co.uk/sprockets/sturmey-archer-24t-sprocket-18-dished-cp-hsl876/
Hi there,

When the hub/spec sheet was released there was no 24t sprocket option, so unless the sprocket size is too greater to physically fit in your bicycle, then it should be fine.

Thanks
The Same or Different?
04 May 2018
I was told that The SRF5 (w) and TS-RF5 where the same hub. I am building a trike and I need a Dual sprocket hub. TS-RF5 does have the Flange sprocket. No where does it say the SRF5 (w) has a option for a flange sprocket making it a dual sprocket hub. Leading me to believe they are different hubs. Can you help me understand. Can you also provide both part#'s so I can research from my end. Thank you for your help in this Confusion of mine. ps I hope I explained it properly.
Hi there,

The SRF5 and TS-RF5 are built around the same hub; there is no dual sprocket option for the SRF5 as it is simply known and produced as the TS-RF5.

At factory an SRF5 hub is taken, and fitted with the dual sprocket and re-listed as a TS-RF5, they do not change the graphic on the hub as these hubs are produced in such small quantities it is uneconomic.

The SJS Cycles part number for the SRF5 is - 23913H36
The TS-RF5 is a special order only hub and not on the website, we simply have an internal code for it.

Thanks
Can I use this hub with a Pashley Tricycle
03 Nov 2017
I need to replace the one that is currently in there which had an adjuster cable on each side. Unfortunately one of these adjuster chains has snapped and they no longer appear to be available
Hi,

As long as the hub spacing/OLN measurement matches then there is no reason as to why you can't use this with your bike. You would however need a new shifter to go with it though.

Thanks.
36 Hole and 111 OLN Possible?
07 Jul 2017
Is this hub available with 36 spoke holes and the shorter 111 OLN axle? If not, can this be achieved by substituting available parts?
Hi,

In theory as the flange widths are the same you could just remove the extra lock nut from the axle to reduce the spacing but this would leave you with extra axle protruding from the frame. The only other option would be to purchase the shorter axle along with the 36H hub. We stock these and they are SJSC part number 34746.

Thanks.
Is This The (W) Version?
04 Jun 2017
Hi,
Is this the (w) version, as shown in the photos? The model number in the description does not have the (w) suffix. Could you also confirm, does the (w) version have 33% steps between gears, and the non-(w) version have 25% steps? Do you sell both versions?

Many thanks!
Hi,

This is definitely the (W) version with the wider steps between the gears. The older narrow range version is no longer available.

Thanks.
What Else Is Required For This Hub?
12 May 2017
Hi,
What else is required for this hub apart from the sprocket & shifter? e.g. do I need to buy a chain, cables, cable stops etc? Or are they included with the hub?

Also, is silver the only colour or do you have black?

Many thanks
Hello,

The only things that come with this hub is in the image above. More information can be found in the instructions attached.

Thanks
Is This Hub The Only Option To Upgrade A 3 Spd.
16 Apr 2016
Dropout width 120mm.
Hi,

You could also go for one of Sturmey Archer's 8spd hubs which are also available in 120mm OLN spacing.

Thanks.
What Are The Gear Ratios?
16 Apr 2016
What chainwheel / sprocket combination would I need with a 700C wheel? Lower end more important than top.
Hi,

The actual gear ratios depend on what size sprocket and chainring you run and this is completely personal, I'd recommend checking with a gear ratio calculator like the one from Sheldon Brown to work out which sized sprocket and chainring you want. The hub itself uses 3rd gear as direct drive with +25% and +25% for gears 4 and 5 and then is -25% and -25% for gears 2 and 1.

Thanks.
Compatible Parts
08 Dec 2015
Hi, I'm looking to get this to upgrade an old single speed bike: could I know what sprockets and shifters are compatible?
Hi,

Any 3-notch hub gear sprocket (aside from any listed specifically for 8spd) will be compatible with your hub. All of Sturmey Archer's 5spd shifters will be compatible with this hub so you just need to decided on the type you prefer.

Thanks.
How Much Does This Weigh: 1090 Or 1540G?
05 Mar 2015
Hi,

The 1090g weight is for just the hub (28H) where as the 1540g weight is for the whole unit with all of the fittings, shifter and sprocket.

Thanks.
Which 16" 349 Braketrack Rim For Sjs Wheel Build
27 Jan 2015
I found and purchased a pristine vintage 1987 singlespeed coasterbrake Dahon (114mm rear dropouts) folding bike that takes 16" 305 wheels which I want to convert to a 5 speed internal gear rear hub bike with caliper brakes for urban riding with hills. (Parts of bubble wrap still on bike, I like vintage items.) There are major issues finding quality name brand rims, tires, etc. for 305 wheels I have found, with much more variety available for the 349, so assuming issues moving to a bigger 349 rim (brake reach, etc.) can be solved, I think this is the way to go for me. I plan on using a Marathon Plus on the wheel, keeps width down to maintain frame clearance too. I think I can solve the brake issues, but my quesion here involves the rims. This hub in 28h (111mm OLD) is the highest speed internal gear that I can find that fits within the rear dropouts, the 119mm OLD 36h version being a stretch even though I would prefer more spokes. I am a very heavy rider (seat stem and folding frame integrity worries as well as wheel) so I really wish Rigida made a 16" rim I could use. You offer the 16" 349 Sun CR18 28h and a velocity Aeroheat rim is also available elsewhere in 16" 349. Both have their followers and seem to be good. Why do you not carry the Aeroheat as well? Do you feel that the Sun would be better than an Aeroheat for my needs (emphasis on durable, reliable, strong, stays true, weight less important, etc.). Would you be able to build the wheel with an Aeroheat, or only with the Sun? Any additional advice or comments you can offer would be greatly appreciated.

PS I am also saving up for a RididaAndra/Rohloff 26" SJS wheel build for my full sized bike for trail touring later.
Hi,

Velocity parts are not available from any of our usual suppliers and we are happy enough with the performance of the CR18's that we have never needed to look for any alternatives. As we have never sold the Aeroheat rim we are unable to compare them directly to the CR18 rims but for your use the CR18 rims should be more than strong enough. If you were to supply the Aeroheat rims we would be able to build with them yes.

Thanks.
What 3/32" Sprockets Of 19T To 22T Are Compatible W/Hub?
20 Jan 2015
Hi,

Any sprockets that use the 3 notch fitting (apart from the 8spd specific ones) can be used with this hub.

Thanks.