Sturmey Archer S2 2Spd Duomatic Kick Shift Hub
Colour / Holes
Manufacturer :
SJS Cycles part number :
Manufacturer part number :
Details
- Duomatic Kick Shift 2 speed hub without brake (freewheel)
- Kick shift to change gears
- No shifter cable or associated wear issues
- Gear Ratio of 138%
- New double anodised finish available in Black, Silver, Gold, Red and Tourquoise Blue

Specification:
- Hub Shell Material: 6061 Aluminium
- Axle Diameter: 13/32" Slotted
- Axle Length: 160 mm
- Over Locknut Dimension: 120 mm
- Right Axle Protrusion Length: 20 mm
- Spoke Holes: 36
- Pitch Circle Diameter: 67 mm
- Center to Flange Right: 28.3 mm
- Center to Flange Left: 28.3 mm
- Flange Width: 53 mm
- Spoke Compatibility: 13g or 14g
- Sprocket Teeth: 13T through 22T
- Chain Line: 3/32" Flat 42.3 mm, 43.1 mm
- Chain Line 3/32" Dished 40.6 mm, 44.8 mm
- Weight: 930g

Does not include sprocket
Related products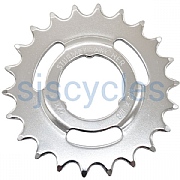 Sturmey Archer 22T Sprocket - 1/8 Dished C.P. - HSL830
£2.99 Inc VAT
Quick view
Product Reviews (4)
Overall Product Rating 4.3 / 5
Sturmey Archer Duomatic 2 Speed Review
07 Feb 2015
I recommend this product
Pros
simplicity, reliability
This is an effective and simple and inexpensive hub gear for urban cycling and for a winter training bike. I use this hub gear on a road bike that was converted to use as a fixed wheel bike with track dropouts. So far it has logged some 1500 miles during two Manchester winters without a hitch.
The key is not to overgear the hub. I use 39 x 24 (a SRAM sprocket that fits on the SA lugs, as 22 is the largest SA sprocket available in the UK). This setup gives me about 60 inches in overdrive and 43 inches in direct drive. That will get up most hills even with a load and I can spin along at 15 to 20 mph in overdrive.
Shifting is more accurate when sitting in an upright position (north road bars or porteur bars) and, as the gear wears in, the speed of the shift becomes more accurate. It does take a little getting used to, but no more than the first hundred miles or so.
I have been really impressed by the performance and reliability of the hub. Besides, no one needs more than two gears, do they? One to go up hills, one for the flat, and then freewheel downhill!
Simplicity
29 Oct 2014
I recommend this product
Cons
just the locknut issue
Pros
simple to use, better than one gear
It's possible to get this into 4.5" dropouts with a bit of fiddling so have used one on my SE Racing OM Flyer. Works really well although one of the shaft lock nuts inside came loose which prevented gear changes but was easily fixed so not a big deal. Having looked inside I would say build quality is pretty good. Oliv73 is confused. How can 138% be the direct drive? Direct drive is the higher gear.
Sturmey Archer S2 - Not So Satisfied
19 Nov 2012
I try to use the duomatic S2 on my old single speed bike with 700C wheels.
Warning 1: contrary to what is stated in the previous comment, the higher ratio (138%) is the direct drive.
I have selected the sprockets (42 chainring, 18 sprocket) to get a development of 7,08 m in direct drive and 5,13m on the lower ratio (reduced by the gearbox).
In this configuration, the ratio change is to quick! When you stop pedaling, it is difficult to avoid a small backward pedaling that will cause an undesired changing of the ratio.
Warning 2: The duomatic is delivered with a sprocket of 22 tooth 1/8" thickness (incompatible with a 3/32" chain line) and a sprocket circlip. Thanks to SJS to indicate this on the website.
Conclusion: I am now a little bit disapointed. I will try to lower the develoment.
Sturmey Archer S2 Review
19 Mar 2012
I recommend this product
Cons
Takes practice to use
Pros
Ease of fitting, reliability of seal gearbox, elegant looking bike
This gearbox is fitted to my daily commuting bike which is an old racing frame with 700c wheels. The low ratio is a direct drive and the higher ratio is a %138 step up gear. The sprockets have been selected so that there is 51 gear inches in the low ratio and 71 in the higher ratio allowing the higher gear to be used for the majority of riding and the lower ratio as a crawler gear for steep hills. This means I am not using the direct drive a lot of the time which is the most efficient gear, but the gearbox is so smooth and slick that this doesn't seem to matter.
This set up is proving very reliable and it is a joy to click between gears without the use of cables and hand controls. Changes take a certain knack but there is a distinctive change in the freewheel clicking noise which enables the rider to know which gear they are in whilst freewheeling. I purposely avoided the coaster brake model as I have tried coaster brakes before and didn't like them there is also the downside that you can't apply the back brake without change gear. However the S2 without the coaster brake allows you to freewheel and pedal backwards as normal.
SJS provided prompt despatch and help in selecting the correct spoke length to lace my wheel – thanks.
Recommend this gearbox if you ride a single speed and want and easier life for the steep hills or those days when the wind is in you face.
What size sprocket would you recommend?
12 Jul 2020
I currently have a fixie with 44T at the front and 16T at the back, I would like the lower gear of this hub to be similar to this and the higher gear to give me a bit more power on the flats and downhill. I'm a bit confused by the contradictory reviews whether the direct drive is the higher or lower gear? Thanks
From the Sturmey documents, 1st is 1.0, 2nd is 1.38.
http://www.sjscycles.com/Instructions/Sturmey_Archer/Sturmey_Archer_S2_Duomatic_Kick_Shift_Hub_Instructions.pdf

Thanks - 14/07/20
Can I use it with Soma Buena Vista 2019 (rim brake) - 132.5 mm hub spacing
10 Jan 2020
- Over Locknut Dimension: 120 mm
You would need to work out the best way to space out the hub to 130/132.5mm

Thanks - 13/101/20
Can you supply the S2K hub with 36 holes in black?
04 Mar 2019
I am searching for the Sturmey Archer S2K kickshift hub with 36 holes and disc-brake.
Unfortunately these are not currently available in the UK!

Thanks - 04/03/19
How much supplied complete?
29 Aug 2018
Please advise cost for duomatic hub laced to 20
This will depend on the spokes/rim you require as seen here - https://www.sjscycles.co.uk/wheel-build/ + https://www.sjscycles.co.uk/rims-700c-29er-622/

Thanks


Hi I am seeing twoweights here 1163g and 920g? Which is correct? Is 1163 the shipping weight?
18 Aug 2018
The black 32h model I have just weighed is 982 grams.

Thanks
Fitting to a brompton
17 May 2018
I have seen these on a brompton, does anyone know which version would be best (32/36 hole) and what cog/chainring setup would be best. Looking to build a really minimal brompton for sunny days (I have a standard for normal commuting). It would be this or a standard 2 speed.
Hi there,

You will need to do some modifying as the OLN does not match the Brompton rear spacing. Brompton wheels use 28H and we think that is enough due to the size of the wheel.

In general, the 2speed is a great option as there is no modifying or guess work, and its a lot lighter. We would then consider the 3 speed as its a very simple set up with a slightly wider range.

Thanks
What Spoke Length For Sturmey Archer S2 36?
24 Sep 2016
Hello. I need a spoke length. I'll be buying the rear hub off you. Would you sell the spokes as well? Sapim CX ray? Two Wheels.

1. 700c Son H plus Archetype rims 36
Sturmey Archer s2 36

2. 700c Son H plus Archetype rims 32
Schmidt Son Delux 32

Hi,

We would need to have both the hubs and the rims here to be able to measure them both to accurately to determine the correct spoke length I'm afraid and we don't stock those rims. The only Sapim spokes we sell are the Race model as we normally built with DT Swiss spokes on wheel builds we do here.

Thanks.
Can I Use These Nuts?
17 Feb 2016
SJSC Part: 29175
Hi,

Unfortunately you will not be able to use this Pitlock nut set as its designed for 10mm axles and these Sturmey Archer hubs use a 13/32" axle.

Thanks.
What Is The Axle Diameter?
17 Feb 2016
What is the axle diameter?
M9? 3/8"? M10?
Hi,

As it says in the description, the axle diameter for this hub is 13/32".

Thanks.
Tools Required
19 Sep 2015
What tools do you need or are recommended to fit the Sprocket.
Hi,

No tools are really required, the sprockets just slide on and then the cir-clip snaps over the driver to hold the sprocket in place.

Thanks.
Hello Does This Item Come With Sprocket?
09 Sep 2015
is it possible to get directly somewhere in London?
than k you
Hi, the sprocket for this hub is not included however we do keep the sprockets in stock.

Sorry, One More! Do You Stock/Get The Disk Brake Version
09 Jan 2015
Hi,

I'm afraid the disc versions of these hubs are currently not available in the UK.

Thanks.
Do You Stock The 13T Sprocket For This Product. Thanks
09 Jan 2015
Hi,

Yes we do stock the 13T sprocket for this hub, it is SJSC part number 19322.

Thanks.