Shimano Nexus SG-C6010-8RV 8-Speed Rear Hub without Fittings - Black - 32 Hole
Manufacturer :
SJS Cycles part number :
Manufacturer part number :
Details
- Premium 8 speed hub is light weight and runs on needle bearings for smooth operating internal mechanics
- Superior weatherproof functionally with labyrinth seals
- Inter-8 hubs use pedal power to aid down-shifting resulting resulting in fast and accurate shifts with an exceptionally light feel
- Shimano's precise manufacturing abilities construct Inter-8 rear hubs with significantly less drag than previous models in combination with quick, smooth, silent shifting
- Rim brake / roller brake compatible (not disc brake compatible)
- 132 mm O.L.D.
- Please order fitting kit, sprocket and shifter seperately
Related products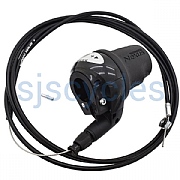 Shimano Nexus 8 Speed Revo Shifter - Black - Right Hand
£9.99 Inc VAT
Quick view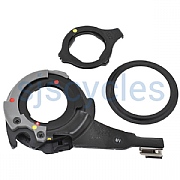 Shimano Nexus SG-8R35 CJ-8S20 Cassette Joint Unit - Y74Y98120
£9.99 Inc VAT
Quick view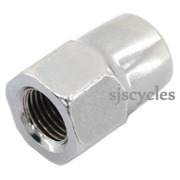 Shimano Alfine SG-S501 Cap Nut - 3/8" - Y31414010
£2.99 Inc VAT
Quick view
Product Reviews (2)
Overall Product Rating 5 / 5
Nexus
26 Jun 2020
I recommend this product
Cons
Not all parts available
I tried to rebuild a Nexus hub, couldn't because the part required was out of stock,
The team had also tried the importer to source the part- not available, thank you team, saved me a job.
As the bike was a Hire Fleet bike the only option was to purchase a new Hub.
Great price, Prompt delivery and after a wheel rebuild, back on the road within 2 days.
Thank you SJS for a great Service.
works well
14 Jan 2020
I recommend this product
fit with my bike n works well
What fittings would I require?
03 Sep 2020
What fittings would I require to convert my bicycle from derailleur gears to internal hub gears using the Shimano Nexus SG-C6010-8RV 8-Speed Rear Hub without Fittings - Black - 32 Hole?
We would need to see photos of your bike before we can advise- as depending on the dropout style etc different parts will be required.

This is remarkably cheap!
25 Jul 2020
What is the warranty period? If the hub fails after some months will you replace/repair/refund or leave me walking?
The warranty is fulfilled by Shimano, and is a 2 year warranty.
Can I use it as a replacement for SG-8R20
13 Jul 2020
Hello
I am looking to upgrade my old SG-8R20 on a Specialised Crossroads I was wondering if this would be suitable.
Thanks
Andy
This would work, however, you would need to check that this will fit in your bike.
Can I use this with Early rider belter 16
21 May 2020
Hi I'm trying to find a internal gear hub for my sons single speed bike because we ride a lot of hills. He has a Early rider Belter 16. I wonder if this one will fit his bike. From the bike spec, I see the original hub is a four bearing cassette free hub, and i would prefer to keep the original sprocket as it's a belt drive system. The OLD is 120mm or can be 135mm without the little metal plate. The belt line (chain line) is about 46mm.

If this one doesn't fit, which other internal gear will fit?

Thanks a lot
Unfortunately we do not have much experience with belt drive / converting hubs to belt drive! We would be unable to offer much assistance with this.

Thanks - 22/05/20
Will this replace my current nexus 8 hub
12 Apr 2020
Hi I have a marin nacasio rc and my hubs all locked up, so i was thinking to replace the whole thing as repairing would end up costing near the same (in london). Will this simply replace what I already have in ? (Shimano Nexus 8-Speed Internally Geared Hub, Centerlock Disc, 32H)

Cheers
sorry, no, this is not disc brake compatible RT 13/04/2020
Final price
11 Mar 2020
Hi there,
Can you help me with the price on a full kit for roller brakes :shifter, cable, washers ,nuts?
Planning to swap older Shimano Nexus 3 gears for a Batavus Proffesional.
Thanks
We estimate the kit would cost around £160 + postage.

Thanks -16/03/20
Will this hub work with a 36 spoke wheel?
18 Jan 2020
Hi, no you need a 36 hole hub for a 36 hole rim. Thanks 20/01/2020
Is a sprocket included with the nexus hub
09 Aug 2019
Hi, a sprocket is not included. Thanks 09/08/2019
Is it a specific UK version (inches) ?
30 Jul 2019
Or can I combine with standard Shimano parts (e.g. roller brakes) available in the Netherlands ?
Hi, this hub is not UK specific. You should be able to use it with Shimano parts from the Netherlands. Thanks 30/07/19
can i use this with elipitigo 8c ?
21 Jul 2019
I have elipitigo 8c with shimano alfine sg-s501 gear, the gear was broke and I need to buy another gear.

does it work ? do I need more parts ?

regards
Hi,

both products have different widths, so therefore we would advise replacing it with the same gear you had before for added reliability.
Can I use this to replace a SG-8R31 on a Gazelle Innergy?
20 Jun 2019
I was looking for a SG-C6011-8R, ideally in "Silver"
Its for a 36 spoke 28" wheel e-Bike, I think the 6011 is the premium version?
But will this do the job well?
I know its black but it is cheaper than the others :)
Hi,

yes this should be a suitable replacement
What fitting kit, sprocket and shifter would be best with this? Please supply links.
12 Jun 2019
The twistgrip, and fitting kit are shown further down the page, you could also use (for drop bars) our part Jtek 8 Spd Bar End Shifters Mk2 for Shimano Alfine & Nexus Internal Hubs (search for 47352) you will need washers (search for: non turn) for sprockets search for: Sprocket for Nexus Geared Hubs
What is the 32 hole disc made of? Is it steel?
11 Jun 2019
The hub shell is aluminium.

Thanks - 11/06/19
Why is it so heavily discounted? Are there been issues with that particular version?
07 Jun 2019
Hi, no issues. We purchased some over stock from a cycle manufacturer at a knock down price hence the bargain. Thanks
i have to buy a roller brake for 3/8axles or M10 axles with this
11 May 2019
These use a 3/8th axle.

Thanks - 14/05/19
My old internal shimano hub is SG8R31, v-brake 32 hole, is the SGC6010 fit to relace it?
12 Feb 2019
What's the meaning of without the fittings, or should i order seperately. Or the fiiting is only use the installation tools, many thanks
This hub comes as pictured you might need some additional item to your setup, for example:
17421 - Shimano Nexus SG-8R35 CJ-8S20 Cassette Joint Unit
23812 - Shimano Alfine SG-S501 Cap Nut - 3/8
33208 - Shimano Nexus 8 Speed Revo Shifter - Black - Right Hand
and Non-Turn Washers all depends on your dropouts

many thanks
12/02/19
What is the correct shifter to use with the SGC6010 nexus hub?
12 May 2018
We recommend - SJS Cycles part number : 33208

Thanks