Sturmey Archer S5C 5Spd Hub with Coaster Brake - 36 Hole
Manufacturer :
SJS Cycles part number :
Manufacturer part number :
Details
- 5 speed low flange, steel shell, internal gear hub with coaster brake
- EN approved coaster brake
- New wide gear ratio of 256%

Specifications:
- Hub Shell Material: Steel
- Axle Diameter: 13/32" Slotted
- Axle Length: 175 mm
- Over Locknut Dimension: 127 mm
- Right Axle Protrusion Length: 24 mm
- Left Axle Protrusion Length: 24 mm
- Spoke Holes: 36H
- Pitch Circle Diameter: 65 mm
- Flange Width: 66 mm
- Spoke Compatibility: 13g or 14g
- Sprocket Teeth: 13T through 22T
- Chain Line: 1/8" Flat 49.8 mm
- Chain Line: 1/8" Dished 48.1 mm, 51.5 mm
- Chain Line: 3/32" Flat 49.4 mm, 50.2 mm
- Chain Line: 3/32" Dished 47.7 mm, 51.9 mm
- Indicator Chain: HSA585 Mark Yellow
- Weight: 1600g

Gear Ratio:
- Overall Range: 256%
- Gear 1: 62.5% (-)37.5%
- Gear 2: 75% (-)25%
- Gear 3: 100% Direct Drive (Gear 2 +33%)
- Gear 4: 133.3% (+)33.3% (Gear 3 +33%)
- Gear 5: 160% (+)60% (Gear 4 + 20%)

NOTE: Does not include sprocket or shifter. Please purchase seperately.
Related products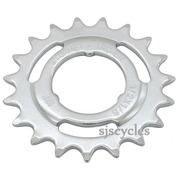 Sturmey Archer 19T Sprocket - 1/8 Dished C.P. - HSL836
£2.99 Inc VAT
Quick view
Sturmey Archer DLS52 5 Speed Trigger Shifter
£29.99 Inc VAT
Quick view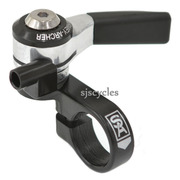 Sturmey Archer SLS50-T 5 Speed Thumbshifter - HSJ959
£15.99 Inc VAT
Quick view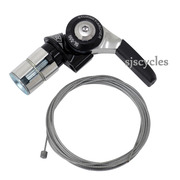 Sturmey Archer HSJ960 5 Speed Bar End Shifter
£14.99 Inc VAT
Quick view
Be the first to write a review
Feel free to leave a review of this product, good or bad it helps other customers with their buying decision.
Can you fit this with a trike Gear?
21 Dec 2019
Can you fit any 5-speed Hub with a trike Gear?
We cannot, we would need to confer with our supplier to see if this is something that can be attained.

Thanks - 23/12/19
I have a Kansi 1 twenty folding bike.
07 Jul 2019
Hello, is it possible to fit your SC2 hub to this bike, it currently has a single speed coater hub, thanks.
We do not sell or have any experience of Kansi, we would not be able to confirm whether this would work as we do not have any information about the bike, sorry!

Thanks - 08/07/19
S2C Hub Conversion
15 Dec 2016
Hi

I have S2C 2 speed kick shift hub with coaster brake and are considering an upgrade for more gears and wondered if its possible to change the hubs internals for S-RC3 or S5C instead of getting a new wheel built around a new hub as the external hub looks the same.

Many Thanks
Hi,

Unfortunately this is not possible, although the shells look similar they are in fact different dimensions. Also the internal machining of the hub shell is different between different models so even if the hub shell was the same size the internals cannot be swapped over.

Thanks.
Will This Work With Brompton
01 Feb 2014
I'm looking to have Brompton custom built. And I want maintenance free as possible so this hub with coater brake seems to be perfect. Will it fit?
Hi,

No I'm afraid this won't fit a Brompton as the over locknut spacing on a Brompton is only 110mmm and this hub has a 127mm over locknut spacing.

Thanks.
What Shifter Should I Buy To Go With This Hub?
03 Jan 2014
Hi,

We have 3 that are directly compatible with that hub, they are a:
Bar end shifter: SJSC part number 26859.
Trigger Shifter: SJSC part number 26423.
Thumb shifter: SJSC part number 24028.

Thanks.