Sturmey Archer S-RC5 5 Speed Sprinter Aluminium Coaster Brake Hub - 36 Hole
Manufacturer :
SJS Cycles part number :
Manufacturer part number :
Details
- 5 Speed low flange, internal gear hub with coaster brake
- EN Approved coaster brake
- New wide gear ratio of 256%
- Available now with high polish hubshell

Specs:
- Hub Shell Material: A356 Aluminium
- Axle Diameter: 13/32" Slotted
- Axle Length: 175mm
- Over Locknut Dimension: 127mm
- Right Axle Protrusion Length: 24mm
- Left Axle Protrusion Length: 24mm
- Spoke Holes: 36H
- Pitch Circle Diameter: 67mm
- Center to Flange Right: 32.4mm
- Center to Flange Left: 35.9mm
- Flange Width: 65mm
- Spoke Compatibility: 13g or 14g
- Sprocket Teeth: 13T through 22T
- Chain Line: 1/8" Flat 49.8mm
- Chain Line: 1/8" Dished 48.1mm, 51.5mm
- Chain Line: 3/32" Flat 49.4mm, 50.2mm
- Chain Line: 3/32" Dished 47.7mm, 51.9mm
- Indicator Chain: HSA585 Mark Yellow
- Weight: 1510g

Gear Ratio:
- Overall Range: 256%
- Gear 1: 62.5% (-) 37.5%
- Gear 2: 75% (-) 25% (Gear 1 + 20%)
- Gear 3: 100% Direct Drive (Gear 2 + 33%)
- Gear 4: 133.3% (+) 33.3% (Gear 3 + 33%)
- Gear 5: 160% (+) 60% (Gear 4 + 20%)

PLEASE NOTE: Does not include Sprocket or Shifter
Related products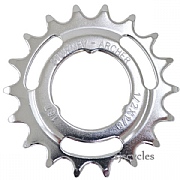 Sturmey Archer 18T Sprocket - 1/8 Dished C.P. - HSL838
£2.99 Inc VAT
Quick view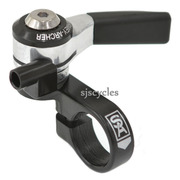 Sturmey Archer SLS50-T 5 Speed Thumbshifter - HSJ959
£17.99 Inc VAT
Quick view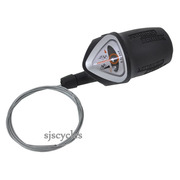 Sturmey Archer Twistgrip 5 with Inner Wire - TSS56 HP
£31.99 Inc VAT
Quick view
Be the first to write a review
Feel free to leave a review of this product, good or bad it helps other customers with their buying decision.
What Type Of Shifter(S) Can I Use With This Hub?
06 Oct 2016
I read that the SLS-5B shifter is good for sprinter hubs, but i don't know if this SRC 5 hub is a sprinter, is that what the 'S'RC stands for?

In the explanation on a question on the SLS50-T shifter is explained it's specifically fit for the 'W' series, which this hub is as well.

Then there's still the possibility of the SLS50-S5 Braze On Thumbshifter and the HSJ960 5sp Bar End Shifter.

My question is: what's best/ right fit and wat not, and what do all the letters specify (S, W...)
Hi,

The sprinter shifter would not be suitable but either of the SLS50 shifters or the HSJ960 shifter will be suitable for use with this hub. You just need to decide where you would like the shifter to be mounted.

Thanks.
Is This Compatible With A Pashley Princess?
15 Apr 2015
I may need a replacement for an elite sprinter hub gear
Hi,

Providing your frame has a rear axle spacing of between 125mm and 130mm then this hub will fit fine.

Thanks.