Sturmey Archer XL-RD5 5Spd Alu Rear Hub with 90mm Drum Brake - 36 Hole
Manufacturer :
SJS Cycles part number :
Manufacturer part number :
Details
- 5 Speed internal gear hub with 90mm drum brake
- New wide gear ratio of 256%

- Hub Shell Material - A356 Aluminum
- Axle Diameter - 13/32 Slotted
- Axle Length - 175mm
- Over Locknut Dimension - 130mm
- Right Axle Protrusion Length - 24mm
- Left Axle Protrusion Length - 21mm
- Spoke Holes - 36
- Pitch Circle Diameter - 109mm
- Center to Flange Right - 31.9mm
- Center to Flange Left - 43.8mm
- Flange Width - 72mm
- Spoke Compatibility - 13g or 14g
- Sprocket Teeth - 13T through 22T

- Chain Line: 1/8 Flat 50.9mm
- Chain Line: 1/8 Dished 49.3mm, 52.7mm
- Chain Line: 3/32 Flat 50.6mm, 51.2mm
- Chain Line: 3/32 Dished 48.8mm, 53mm
- Indicator Chain - HSA585 Mark Yellow

- Weight - 1760g

- Overall Range - 256%
- Gear 1 - 62.5% (-)37.5%
- Gear 2 - 75% (-)25% (Gear 1 + 20%)
- Gear 3 - 100% Direct Drive (Gear 2 + 33%)
- Gear 4 - 133.3% (+)33.3% (Gear 3 + 33%)
- Gear 5 - 160% (+)60% (Gear 4 + 20%)

NOTE: Does not include sprocket or shifter
Related products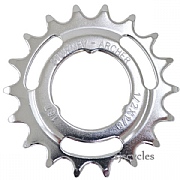 Sturmey Archer 18T Sprocket - 1/8 Dished C.P. - HSL838
£2.99 Inc VAT
Quick view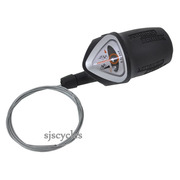 Sturmey Archer Twistgrip 5 with Inner Wire - TSS56 HP
£26.99 Inc VAT
Quick view
Product Reviews (3)
Overall Product Rating 4.7 / 5
Worthwhile Upgrade
17 Jul 2012
I recommend this product
Pros
Reliable, protected mechanism, good gear range
As a 3 speed owner on a charge steamer I am unfortunately an experienced rear wheel changer (It's always the rear wheel that puncutures) and leaving it on is impossible, especially for touring style bikes with mirrors, (cannot turn upside down to balance) BUT, that aside and rare as it occurs, nothing beats a good hub for speed of change, gear spacing and cleanliness (you do not need to stop pedaling....just reduce pressure and instant change). So due to a need for greater versatility I have converted to a 5 speed and have found no road circumstance where any more gears would be needed (including high speed downhill)
Beautiful Engineering.
02 May 2012
I recommend this product
Cons
not much use if you want ot enter the Tour de France.
Pros
Wide gear spacing, sealed gear mech, sealed brakes, well engineered
These really are beautifully engineered. They're far better than the offereings from SRAM(SACHS) these days.
In response to the previous review though, of course removing the rear wheel isn't fast, NO hub gear ever is! However you DON'T need to remove a wheel to repair a puncture, just lever the tyre off with the wheel in situ and repair the tube with is still looped through the frame, simple.
I thought the wide gear spacing was a good thing (and they do advertise it as having wide gear spacing) it's for a commuter bike not a racing machine, close ratios would be pointless. So you get a 5 speed hub that offers the almost the same gear range as a mountain bike. Fitting an appropriate rear sprocket for your needs will help you get the best out of it.
Solid Hub Gear
09 Aug 2011
I recommend this product
Cons
Wheel removal, wide gear spacing
Bought this for my wife's commuting bike. Gear shifting is reliable although you do have to briefly stop pedaling in order to shift down. The brake is OK, could be better but then it is on a drop handlebar bike which isn't how it is designed to be used, and of course it works equally well wet or dry. Wheel removal is quite a faff, disconnect gear changer, undo brake torque arm bracket, disconnect brake cable, undo wheel nuts... Best with a reliable tyre so you don't puncture often. Julie commented that the gears seemed quite spaced, but it does make gentle hills possible with 40lbs of child trailer on the back.
Can I use this on a Pashley Mailstar?
19 Sep 2018
Wondering if upgrading the 3 speed SA to this would work and make life easier riding up hills?
Hi there,

We would have no idea whether this will fit on your bike as we do not stock it so we cannot check im afraid.

Thanks.
Is this hub comparable to the RXL-RD5 in terms of heavy duty use?
23 Apr 2018
Hi there,

Either hubs are good quality, the main difference being this uses the older style indicator chain and the RXL-RD5 uses the rotary gear change system.

Thanks
Hi. Weight under specification is 2144, but is listed in details as 1760. Which is it please?
22 Apr 2018
Hi there,

The hub alone is 1760 grams. The fitting kit etc takes it up to about 2150 grams.

Thanks
Could This 5Speed Hub Be Used On A Pashley Guv'Nor
26 Dec 2016
I have a 3speed Guv'nor & find I need more gears & would like to convert into 5 gears (as the pashley speed5).many thanks , trev
Hi,

Providing your current hub has a 130mm OLN measurement as well then there is nothing stopping you fitting this 5spd hub to your bike in stead. You can re-use your current sprocket but you will need a 5spd shifter as well as the hub.

Thanks.
Can You Run This Hub With 135 Old Frame What Spacing Washers Do I Need
06 Jun 2016
spacing
Hi,

The axle is not long enough to be used with a 135mm OLN frame I'm afraid.

Thanks.
1º Cable 2º Sprocket
14 Feb 2016
Hi again. 1º The brake cable is in there but is the gear cable also included? 2º Does the sprocket need any kind of ring to fix it? Thanks
Hi,

The outer gear cable is supplied but not the inner, the inner cable is supplied with the shifter however. The sprocket is fixed into place with a circlip, this is supplied with the hub already though.

Thanks.
Thumbshifter
14 Feb 2016
Hi hello to all! can you tell me which Thumbshifter should i order for this 5 speed hub? Best regards
Hi,

The standard thumb-shifter for use with this hub is SJSC part 24028.

Thanks.
Dls50 Trigger For 5 Speed?
27 Feb 2014
XLRD5 can you ship this hub with the trigger shifter instead of the thumb shifter at extra cost obviously?
Thanks

Will
Hi

Unfortunately we cannot swap the shifters over, your best option would be to order the shifter (SJSC #19286) as well when you place the order for the hub.

Regards

Jamie