Sturmey Archer X-RD5 5Spd Hub w/ 70mm Drum Brake - 36 Hole
Manufacturer :
SJS Cycles part number :
Manufacturer part number :
Details
- 5 Speed Internal Gear Hub with 70mm Drum Brake
- Hub Shell Material - A356 Aluminum
- Axle Diameter - 13/32" Slotted
- Axle Length - 175mm
- Over Locknut Dimension - 130mm
- Right Axle Protrusion Length - 24mm
- Left Axle Protrusion Length - 21mm
- Spoke Holes - 36
- Pitch Circle Diameter - 89.8mm
- Flange Width - 73mm
- Spoke Compatibility - 13g or 14g
- Sprocket Teeth - 13T through 22T
- Chain Line: 1/8" Flat 50.9mm
- Chain Line: 1/8" Dished 49.3mm, 52.7mm
- Chain Line: 3/32" Flat 50.6mm, 51.2mm
- Chain Line: 3/32" Dished 48.8mm, 53mm
- Indicator Chain - HSA585 Mark Yellow
- New wide gear ratio of 256%
- Weight - 1460g

Includes 18T Dished 1/8 Inch Sprocket and SL-S50 5 Speed Thumbshifter.
Related products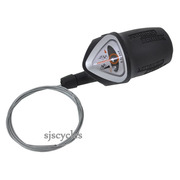 Sturmey Archer Twistgrip 5 with Inner Wire - TSS56 HP
£26.99 Inc VAT
Quick view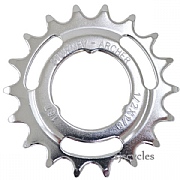 Sturmey Archer 18T Sprocket - 1/8 Dished C.P. - HSL838
£2.99 Inc VAT
Quick view
Product Reviews (2)
Overall Product Rating 4.5 / 5
Less Is More
27 Jun 2012
I recommend this product
Pros
quality, smooth ride, easy to like
on my bike this hub does a good job. top quality, straightforward fitting with the kit supplied. the bike feels better, smoother in use than before. the gears have a good spread of ratios. I have big tyres rack and dynamo and the bike rolls along sweetly. I can pedal and it goes now! i got the wide ratio version (38/19 combination) the hub brake is just right and i may try one on the front. my cheap rims are horrible with v brakes but the hub brake works perfectly. the hub is a doddle to set up and i'm very pleased with it. i removed a carrier bag full of bits and have a great set up now.
Some Installation Probs, But Great On The Bike
08 Mar 2011
I recommend this product
Cons
issues with "thick" frames
had been planning to switch from derailleur to hub gears on my 15 year old converted mountain bike, and an axle break after a particularly salty winter was the impetus required.

i had originally planned on the 8 speed version, but was convinced by dave that the 5 speed would be more reliable for the trailer towing child carrying duties required.

installation was fairly straighforward. however if you have a aluminium frame with even slightly vaguely thick chain stays, be prepared for the brake arm bracket not to fit i ended up using one for a front dynohub instead. also, you should be aware that the brake hardware (lever, cable, adjuster and fend fastener) are not included you'll need to order separately.

now that it's on the bike, though, it's performing beautifully (like having a brand new bike after the rusty derailleur), and the ratios are just what i was looking for (i went for the wide ratio version, with a 34/20 combination).
I'm finding this hub hard to calibrate for gears 2 and 3. What can I do?
25 Feb 2021
If you are happy the components are correct, in good condition and the cable routing / fitting is not compromised, we van only suggest visiting your local bike shop.

Thanks
Tipologie spedizione
18 Nov 2020
Buongiorno. Ci sono metodi alternativi di spedizione in Italia oltre a quello espresso indicato nel check out che costa £52? Non c'è qualcosa di più economico?
Un altro sito olandese mi spedisce a €9,95....
We only ship our export sales with DHL currently at a cost of £52. at this time we cannot offer a reduced shipping price.

JK 18.11.20
Inclusione fornitura
18 Nov 2020
Buongiorno. Chiedo se tutti gli accessori di montaggio visibili nelle varie foto sono compresi con l'acquisto. Grazie.
All items pictured are included.

JK 18.11.20
Inclusione fornitura
17 Nov 2020
Buongiorno. Chiedo se la fornitura comprende il mozzo col cambioninternona 5 rapporti completo di freno a tamburo e tutti gli accessori di montaggio presenti nelle ultime 3 foto dell'annuncio (cavi del filo del freno e del cambio, dadi, rondelle, perni regolazioni, fascette, ecc..).
Grazie mille!
Hello, the hub is sold with all items as seen in the product photos.

JK 18.11.20
Do you rebuild gear hubs?
25 Jul 2020
I have a wheel it has a X-RD5 hub on it butr there are parts missing in the nub so the gears do not work I also think there are parts missing and connecting link on it.
Can you give me a rough price of this.
I am willing to come over to you if your open.

Many thanks

Pete Atkins
Unfortunately we do not offer rebuild services on this hub.
Is this the correct model I need to replace the one on my wife's Pashley Princess Sovereign. Mark
08 May 2020
Hi, no according to the spec on Pashley's website you need RXRD-5 our part 39524. Thanks
Spacing snd hub differences
17 Mar 2020
Hi, i need to purchase a 5 spd hub with drum brakes to build into a vintage frame. I've 2 questions I'd be grateful if you could answer: 1) rear dropout spacing is 126mm butSA hubs seem to be 130 or 135mm. Can i use thinner cone lock nuts or simply pull dropouts apart by hand for the 130mm hub (its a 531 steel frame)? 2) pleasr can you clarify differences between the x-rd5, rx-rd5 and rxl-rd5 hubs please? Thanks!
Hi, we suggest using the narrower Sturmey Archer X-RD5 hub 130mm oln our part 19020 and you could use Sturmey Archer Cone Lock Nut - 5mm - HMN132 our part 19079. This would reduce the amount of dropout spread you need to achieve. Yes you can pull the dropouts apart by hand with caution, or take the frame to a frame builder. The differences - X-RD5 is trigger shift with 70mm drum brake. RX-RD5 is rotary shift with70mm drum brake and the RXL-RD5 is rotary shift with 90mm drum brake. Thanks 19/03/20
X-RD 3 swap?
27 Nov 2019
I have a Pashley Guv'nor with a X-RD 3 hub - can I swap it over to a X-RD 5 hub? And, is the 5 speed hub as unrealiable as some of the old reviews make out?
Yes, you could rebuild the wheel with a 5 speed hub etc.

Thanks - 03/12/19
What Is Included With 5 Speed Drum Brake Rear Hub?
19 Oct 2015
Hi,
Wanting to order the following Sturmey archer products:
1. 70mm front drum hub.
2. Rear 5 speed 70mm drum hub.
3. Sls 50 t shifter.

Could you tell me if I need to order any extra cables for the rear hub brakes?
Does the shifter fit on 22.2mm bars?

Thanks and best regards

Tony
Hi,

This rear drum brake hub comes with all of the required brake cabling, you will need to purchase a brake lever if you do not already have one though. The SLS50-T shifter will indeed fit to 22.2mm handlebars.

Thanks.