Sturmey Archer X-RF8 W 8Spd Freewheel Hub - 36 Hole
Manufacturer :
SJS Cycles part number :
Manufacturer part number :
Details
8 Speed Internal Gear Hub no Brake (Freewheel)
Hub Shell Material - 6061 Aluminum
Axle Diameter - 13/32" Slotted
Axle Length - 175.0mm
Over Locknut Dimension - 120.0mm
Right Axle Protrusion Length - 27.0mm
Left Axle Protrusion Length - 28.0mm
Spoke Holes - 36
Pitch Circle Diameter - 89.4mm
Flange Width - 58.5mm
Spoke Compatibility - 13g or 14g
Sprocket Teeth - 20, 23 or 25 tooth
Chain Line 1/8" Dished - 35.9mm
Chain Line 3/32" Flat - 39.7mm
Chain Line 3/32" Dished - 36.2mm
Weight - 1770g
Overall Range - 325%
Gear 1 - 100% (Direct Drive)
Gear 2 - 130% (Gear 1 + 30%)
Gear 3 - 148% (Gear 2 + 14%)
Gear 4 - 169% (Gear 3 + 14%)
Gear 5 - 192% (Gear 4 + 14%)
Gear 6 - 220% (Gear 5 + 14%)
Gear 7 - 250% (Gear 6 + 14%)
Gear 8 - 325% (Gear 7 + 30%)

Includes 25T 3/32 Inch Flat Sprocket and 8 Speed TSS86 Twist Shifter.
Related products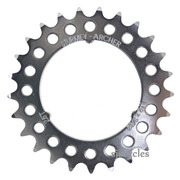 Sturmey Archer 25T Sprocket - 3/32 C.P. - HSL867
£3.99 Inc VAT
Quick view
Sturmey Archer Twistgrip 8 with Inner Wire - TSS86 HP (replaces HSJ980)
Now from

£23.99

Inc VAT
Typical RRP: £29.99
Quick view
Product Reviews (1)
Overall Product Rating 5 / 5
An 8 speed hub aimed squarely at small wheel bikes
16 May 2019
I recommend this product
Pros
A very wide gear shift area Perfect for folders & small wheeled bikes,8 gears
This is a Brilliant 8 Speed hub.Its Perfect for small wheeled bikes for example Brompton or the Moulton F - Frame Series I ,II and The Moulton MK 3.The Wide spread of gear shift makes it perfect for small wheel bikes where its quite difficult to get a high enough top gear and a low enough first gear because of the small wheels.The 120 mm OLD version Will fit the Brompton rear dropout with a little coaxing.
If you combine it with the Brompton 2 speed cassette you immediately have a 16 speed Brompton.Much Better than the standard Brompton suggested gearing option.It will work with all small wheeled bikes e.g. Dahon,Tern,Moulton etc.etc
Its available in several dropout widths.
Its quite noisy and quite heavy.But you Will have Far More gears.Well Worth a Go.If you are struggling with a 3 speed Brompton, Dont despair.Adding this bit of kit is a No brainer.
Brompton
08 Dec 2020
Is the review by Ian really correct that this hub will really fit a brompton
Yes, it can be done!

Thanks
10mm axle?
22 Jul 2019
My frame has track drop outs with 120mm oln and takes a 10mm axle, Will this hub fit?
13/32" is 10.3188mm so you may need to just file that 0.3188mm off the dropout.

Thanks - 23/07/19
Do I have to use the fulcrum lever HSJ956?
26 Nov 2018
Bought the X-RF8. And trying to fit it. About the fulcrum lever HSJ956, is it totally necessary to fit, or can it be left out and just connect the cable pinch bolt to the cable pulley and then to the secured barrel adjuster? Reason for asking is that my folding bike has an angled (120degree) rather than horizontal chain stay bar and I can't seem to get the fulcrum lever to point in the direction needed.
Hi there,

As we have never fitted this hub without the fulcrum lever we would have no idea whether this would work or not im afraid.

Thanks.
29/11/18
Can You Place This Internal Gear On The Wheel ?
10 Apr 2017
Hi,
Is it possible for you to place the xrf8 w on a wheel 650C and send it?

Thank you,
Xavier



Hi yes, you need to add the rim you want and a wheel build to your order, we will assemble and send it to you.
32 Hole Version Available?
27 Sep 2016
I Would Like To Have The 32 Hole Version. (I Only See The 28 Or The 36 Hole Version). Is It Possible To Order It. Thank You Very Much In Advance, Ruediger
Hi,

Although Sturmey Archer do appear to make a 32 hole version it is not available from Sturmey archer's UK distributor which probably means its not available from Sturmey Archer Europe as they don't stock everything that Sturmey Archer produce. This means we're not able to get hold of it I'm afraid.

Thanks.
Hi, Is The 8-Gear Hub Compatible With The Versa Vrs-8 Shifter For Road Bikes? Best Regards
20 Jun 2016
http://www.sussex.com.tw/versa.html
Hi,

Unfortunately not, the Versa shifters were designed for use with Shimano hub gears which use a different cable pull ratio that the Sturmey Archer hubs. If you're looking to use one of these hubs with a drop handlebar, the best shifter option is the Jtek bar end shifter for Sturmey Archer hubs, these are SJSC part number 19964.

Thanks.
Are The Spoke Flanges Equal About The Centre Line
10 Aug 2015
If not what are the dimensions
Hi, attached below are the specification details which provide the measurements that you are looking for:

http://www.sturmey-archer.com/files/catalog/files/35/SPECIFICATIONS%20-%208%20SPEED%20HUBS.pdf

Regards
Can Fit Dahon Curve D3 And Dahon Ikon D3?
28 Nov 2014
will this hub fit the Dahon Curve D3(with Sram 3 speed hub gear) and the Ikon D3 (with sturmey archer 3spd)

Hi,

Providing those two bikes use a 120mm over lock nut spacing that this hub uses then I can't see any reason as to why they wouldn't fit.

Thanks.