SON Headlight Bracket for Delux - Milled - 31.8 mm Clamp
Colour
Manufacturer :
SJS Cycles part number :
Manufacturer part number :
Details
Headlamp bracket for Schmidt edelux.

Schmidt finally solves the problem of headlights for assembly on modern handlebars with up to ø31, 8 mm, especially for road bikes and mountain bikers there is now an ideal mounting soloution for the headlamp.

Handmade by Schmidt in Tübingen available in polished aluminum or anodized black.

Fits ø22.2-31.8mm
Related products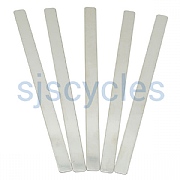 SON Tensioning Straps for Delux Bracket - Pack of 5
£6.99 Inc VAT
Quick view
Product Reviews (9)
Overall Product Rating 4.8 / 5
Good, not perfect
11 Aug 2023
I recommend this product
Cons
Requires T20 to secure, not simple to swap between bikes
Pros
Quality build, secure fit, position options
Quality product, secure fit but 2 shortcomings as I see it.
1-Torx (not T25 found on most multitools but T20) to fit to bars. Hex would be better. If it came loose (unlikely) or got dislodged I'd be stuck to without a T20 tool. I'm going to look for hex bolt to fit instead.
2 - No simple swap between bikes as metal strip is formed during fitting - likely need new strip (spares available I think?) if removed. Strip means it may not be suitable for bars that aren't round section. Perhaps a flexible section fitted into metal hooks either end would fix this - I may try a hack.

There are position options - can be rotated backward to place light slightly higher & further back to illuminate computer at night (saving charge by not running screen light) & might be better if you run a bar bag.
Probably also would mount to stem - can be secured at 90deg to position in photos.
24 Mar 2021
I recommend this product
Beautifully made. Excellent look. Very strong. Simple to attach. Great product. Love it
Really nice product.
31 Dec 2020
I recommend this product
Cons
Needs a Torx bit to tighten.
Pros
Very well made and easy to fit.
Really nice product, easy to fit and perfect for the Son light I'm using.
Excellent product - fit - detail work
25 Oct 2017
I recommend this product
Cons
A sloppy hand could mess up the installation.
Pros
Beautifully built / finished.
Although I was concerned about the flexible mounting strip it worked perfectly. It securely holds the light in place perfectly (and firmly). Five stars in all regards.
Does the job
06 Aug 2017
I recommend this product
Cons
Pricey for what it is
Item arrived promptly and as described. It's a perfect compliment for the Schmidt Edelux
Great Little Bracket
18 May 2017
I recommend this product
Cons
Maybe a tad pricey but good quality
Pros
Rotational adjustment
Compact bracket that is easy to fit and rotates to center the beam. Looks good with a Supernova Pro E3.
Geez...It'S Small!
30 Aug 2016
I recommend this product
Cons
None, except (possibly?) cost.
Pros
Solid, secure fit, looks good, works.
But that's good! Smaller than I expected but looks good, works well, fits easily and appears durable (too early to actually say, yet). Typical Schmidt quality.
Works Well
13 May 2015
I recommend this product
Pros
Leight weight, secure
Diminutive bracket, well engineered. Just make sure not to cut strap too short :)
Review Of Schmidt Headlight Bracket For Edelux
22 Apr 2011
Its looks match the lamp. It works very well but it is expensive.
Would this bracket fit a front rack with a diameter of 15mm?
21 Jun 2023
ie can it be
Hello & thank you for your enquiry.
Schmidt bracket to solves the problem of headlights for assembly on modern handlebars / racks with up to ø31, 8 mm.
As the bracket is designed to fits of 22.2 - 31.8mm I would not recommend attachment to rack of 15 mm diameter.
Kind regards, PC 21/6/23.
Can I use this with edelux 2, thanks
24 Jun 2022
Can i use instead of the one-light-holder to fix light to the carbon downtube of my Trek Domane
20 Nov 2020
https://www.sjscycles.co.uk/lighting-spares/additive-spacer-one-light-holder/
We would not recommend this- and cannot confirm fitting as we have never fitted one to the down tube of a Trek Domane.

JK 23.11.20
Can the clamp be adjusted to fit a tube of 20mm diameter
30 Jun 2020
Yes, it can be adjusted all to this size
son head light clamp
12 Apr 2019
hello can i get a replacement strap ?
Hi
Thank you for your enquiry, the replacement straps are available for this bracket on our part number 45903. You can input this number in to the search box & it will take you straight to it.
Regards. 16/04/19
Schmidt Headalight bracket for deluxe milled 31.8 mm clamp
28 Apr 2018
Hi , can this Schmidt headlight bracket be mounted on top the handle bar stem so as to be central on the bike.The strap would have to be rotated 90 degrees to pass under the handle bar stem Thanks
Hi there,

As long as your stem is less than 31.8mm in diameter then this will fit fine.

Thanks
Supernova E3?
30 Nov 2017
will this mount work with a Supernova E3 headlight?
Thanks!
Hi,

Yes your light should mount with no issues.

Thanks
Fitting Under Stem At 90'
04 May 2017
Would I be able to fit this upside down under the stem? That would require turning the fitting another 90 degrees. Many thanks.
Hello,

This should not be a problem, however we have not tested so cannot know for sure.

Thanks.
My Handlebars Are 10Cm Around Would This Product Fit My Bars
30 Oct 2016
Hi,

A circumference of 10cm gives a diameter of 31.8mm so this bracket should fit your handlebars fine.

Thanks.
Width
07 Apr 2014
Hi Sorry to be a pain but I don't suppose you know the width of the clamp which attaches to the light itself? As in inside to inside where the lamp sits? I was hoping to use for my dosun U1 light
Hi,

No worries, this distance between the two inside edges is 10.5mm.

Thanks.
Can I Fit A B&M Luxos Light Onto Your Part No 23929S?
21 Nov 2013
I am unable to use the B&M bracket supplied as the cable stops on my Serotta are on the sides of the head tube, resulting in the the cables being too close together to allow me to fit the lamp. So I am proposing to use a handlebar bracket, but I cannot find any made by B&M. The Schmidt one looks suitable, if the B&M lamp will fit in it.
Hi,

Yes your Busch and Muller light can be fitted to and used with the Schmidt handlebar bracket.

Thanks.