SON Edelux High Power LED Headlight - Black
Cable Length
Manufacturer :
SJS Cycles part number :
Manufacturer part number :
Details
- 3 Watt high performance LED
- Evenly distributed illumination across a large area of road surface
- Highly efficient by optimal cooling
- Watertight aluminium housing
- Standlight & Senso
- Automatic light sensor
- Rear light connection if required
- Includes Stainless Steel Fork Crown Bracket for V brakes, aditional bracket required for Caliper/handlebar mounting

Available in three different cable lengths; 36 cm, 60 cm and 140 cm. Please note that each size has connectors included and fitted, with the exception of the 140 cm version include connectors but they are not fitted so that the cable can be cut down by customers to the required length before applying connectors.
Related products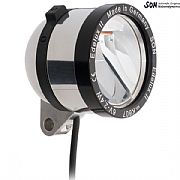 SON Edelux II High Power LED Headlight - Polished
£139.99 Inc VAT
Quick view
Product Reviews (9)
Overall Product Rating 4.9 / 5
Edelux Front Dynamo Light
06 Feb 2013
I recommend this product
Pros
can see where your going no batteries needed
very bright and good quality light.
The Best
06 Dec 2012
I recommend this product
I'm using this on a 26 inch wheel commuter bike, with Shimano DH3N71 dynamo hub. Very good light output and spread, even at low speed. For my commuting needs this is perfect, no complaints.
The Edelux Revelation!
01 Nov 2012
I recommend this product
Pros
Bright,small and sturdy.
Revisiting night riding after a 20 year lapse and am amazed at the
lighting developments.Aware that the edelux was rated as one of the best
Lights for a dynamo and previously was disappointed by other products I can say that the brightness and beam spread makes night riding a pleasure.

A Safety Must.
18 Oct 2012
I recommend this product
Cons
PERHAPS...a little pricey..but for the performance, with every penny.
Pros
All has been said in my comments.
I have just had one of these beauties fitted to my new 'best" bike. It is powered by an SP dynohub and the output is just stunning!
For safety reasons, I keep the lamp on at all times, like our motor cycle friends, so that motorists are alerted to my presence and with this sort of light output, even in daylight, there should be no excuse for not being seen!
The build quality is exemplary and it really looks the part.
Even at very low sub 5 mph speeds, there is albeit, flickering slightly, a VERY bright display of light.
This lamp is a real step forward when compared to my last halogen dynamo headlamp from the early 1980s.
Well done Schmidt!
I Have All The Dynamo Lights And I Like This One Best
09 Oct 2012
I recommend this product
Pros
looks great, bright, lightweight compared to supernova
Slight exaggeration to say "all" but at the moment I own a supernova e3 asymetrical pro on my tourer, a supernova e3 tripple on my nighttime MTB and one of these. Of the three, this is my favourite, at least for road use. It is much lighter than the Supernovas and for me just looks more sophisticated. There is plenty of light and the switch tops off a very nicely engineered product. Expensive perhaps but by cycling to work all winter I save much more on public transport than I have to spend on these lovely toys.
My First Dynamo Light
11 Sep 2012
I recommend this product
So this is the first dynamo light I have ever bought, and the bar has been set very, very high. This beats the hell out of any of the battery lights I have had up till now. It is as good a light (or better) as you see on some mopeds.
Easy to fit, easy to use and really, really bright. Standlight is good enough for all traffic conditions. A bit costly, but built as well as it is I expect it to last for years. Doesn't interfere with my wireless computer either.
Schmitd Edelux Lamp
01 Jun 2012
I recommend this product
I have a number of these lamps. Excelent for audaxing and country lane commuting. Solid and simple. Things are a little more complex now with choice of finished cable length, still had to cut and splice for optimum fitting, better with plain cable.
Suprised this lamp came complete with unwanted rear lamp hookup cable but no reflector.
Super Little Lamp
22 Jan 2012
I recommend this product
Cons
Wire unreplacable by user.
Pros
Beautiful design, pretty. Bright.
I have been using these lamps, fitted to all three of my bikes for several years now. All weathers. Bright and reliable. Works with Shimano and Dahon hubs no problem. OK for road use on its own. Good enough to see with and good range.
Schmidt Edelux
11 Dec 2011
I recommend this product
Pros
Solid. Bright, Easy to wire. Looks good.
The best dynamo front light in the world right now. Solid, reliable and looks good.
What's the differences between this and the Edelux II?
10 Nov 2019
The SHAPE is identical but Edelux 2 leaves the older model literally in the shadows. The light field is twice as wide and focused mainly in the distance, putting most of the light further down the road allowing you to better assess whats coming, whilst still not leaving a 'dim' patch infront of the rider. PERSONALLY i've got this older model and find it 100% fine for riding on roads and cycle tracks in all conditions. R
Can I use this with a SON 28 dynohub hub and another tail light?
29 Jul 2019
I have a Schmidt SON 28 dynohub, rated at 3 watts. I need to get kitted out with a headlight and tail light that can be powered from the same dynohub. My arithmetic suggests that if this Edelux light dissipates 3 watts of power, and that's the max output from the SON 28, the the dynohub would struggle to deliver enough current to this headlight plus an additional tail light - can someone possibly confirm this or otherwise please?
You can use ANY LED rear light with this set up, the headlamp has clever electronics, only at VERY slow speed would you notice a SLIGHTLY less bright front light if a rear light was connected.
Fitting Edelux high power LED light and Sinewave revolution.
21 Jul 2018
Hello, I am looking at buying a Son Edelux high power LED light (black 79.99 in sale) and a Sinewave revolution USB charger and a B&M rear dynamo light. What do I need to buy in addition to fit all these? Piggy back connectors? Shrink wrap? Any extra cable? My front wheel is built up with a Son Delux hub. Also does the Edelux light have an on/off switch so that during daylight I can choose just to send power to the Sinewave revolution charger?
Yes you will simply need some piggyback connectors, if you purchase the SON light in 140mm you will be able to trim the cable to your length and fit the connectors.
Pretty much all hub dynamos have on/off switches, so yes, you can turn the Edelux off.

Thanks.
What Is The Correct Cable Length To Fit A Thorn Sherpa 610S?
11 Feb 2017
Hi,

If you're planning to fit it to the fork crown the 60cm cable length will be enough, if you want to fit it to the handlebars you'll need the full 140cm cable.

Thanks.
Cable Options
06 Jun 2015
Hiya I already have one of these lights but a change of front rack and meant that I've relocated the light and although the cable does reach its rather tight. Is there an option to but just the cable?

Hi,

You can buy just the cable without any fittings per metre from us. If you order quantity 2 we will send you a single piece 2 metres in length, quantity 3 we will send a single piece 3 meters in length and so on. This is SJSC part 30248.

Thanks.
I Already Have A Rear Light On My Brompton.
01 Apr 2014
Do I need to order a new rear cable to connect it to the Edelux or can I use the same one I have now? I'm using a Shimano dynamo hub and the front light I want to replace is a Lumotech. Thanks.
Hi,

You will need a different cable due to the different fitting of the Edelux, fortunately the Edelux light comes with its own rear light cable so no further purchase is necessary.

Thanks.
Which Rear Lights Will Work Well With This?
27 Dec 2013
I am toying with moving over to a dyno hub. If I went for a schmidt sondelux and a supernova e3 would they work OK? Also, if used as a pair what do you think the stand time would be (I ride in and out of London a lot so I need to visible at traffic lights etc).

Thanks
Hi,

This set up should work fine. The stand light time would vary depending on how long you have been riding for beforehand, it won't however be affected by whether or not you have a rear light attached so it will work as well regardless.

Thanks.
How Can I Order Schmidt Edelux High Power Led Headlight With Rear Light Connection Please .
09 Nov 2013
Hi,

what you'll have to do is order the Schmidt light and order a rear cable set alongside it. The Schmidt specific cable is SJSC part number: 15905.

Thanks.
What Would Be The Correct Cable Length To Fit This On A Brompton?
10 Oct 2013
Hi,
The 36cm option provides sufficient length for a Brompton.
Thanks.