SON Edelux High Power LED Headlight - Polished
Cable Length
Manufacturer :
SJS Cycles part number :
Manufacturer part number :
Details
- 3 Watt high performance LED
- Evenly distributed illumination across a large area of road surface
- Highly efficient by optimal cooling
- Watertight aluminium housing
- Standlight & Senso
- Automatic light sensor
- Rear light connection if required
- Includes Stainless Steel Fork Crown Bracket for V brakes, aditional bracket required for Caliper/handlebar mounting

Available in three different cable lengths; 36 cm, 60 cm and 140 cm. Please note that each size has connectors included and fitted, with the exception of the 140 cm version include connectors but they are not fitted so that the cable can be cut down by customers to the required length before applying connectors.
Related products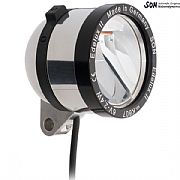 SON Edelux II High Power LED Headlight - Polished
£139.99 Inc VAT
Quick view
Product Reviews (3)
Overall Product Rating 4.7 / 5
Still a very good light
02 Nov 2017
I recommend this product
Cons
Beam is not as wide compared to new model and competitors
Pros
Good price, excellent quality, comes with cable for rear light
I have just taken this light for a test ride and it is a very smooth, bright light which obviously has good looks. I agonised whether to buy the original Edelux vs the Edelux ii, and I can honestly say I am happy with this one. The light is more focused in front of the bike compared to the wider beam of the Edelux ii, but there is more than enough light and width for city riding. I feel that if you want something mainly for night riding & country roads you should spend the extra and get the Edelux ii. If you're like me and want a cool headlight for a good price, and realistically spend most of your time commuting in the city, this one is for you.
Bright, Well Made Light
21 Aug 2012
I recommend this product
Pros
Construction, brightness
Good beam spread if mounted on the form crown of a smaller wheeled bike like the Brompton. Not much to add otherwise as there's already a wealth of information on this product. Beware that the bracket which comes with it is not the one shown in the photo or mentioned in the description. Mine came with the correct bracket for the Brompton instead, making the one I'd ordered additionally superfluous. SJS have offered a refund but not on the return postage so it's hardly worth the bother.
Excellent! At Last, A Bicycle Light Of Motor Vehicle Quality
18 Feb 2012
I recommend this product
Cons
I,dont,consider,the,light,sensor,important
Pros
Well,made,and,very,bright
The Schmidt Edelux headlamp is an important development in the history of the bicycle. The message needs spreading that cyclists can now have lights of comparable specification to the lights of motor vehicles i.e. running on an unlimited power supply and bright enough to very comfortably travel on unlit roads. The Schmidt Edelux is very well made with its robust and solid metal body that is a rarity in our world of plastic. My only criticism is that I think the light sensor is an unnecessary gimmick. The switch positions on and off are quite sufficient. It is not difficult deciding when to use your lights if they run on a free and inexhaustible power supply and also use LEDs that last the life of the lamp unlike filament bulbs. Considering how this is a very expensive product I think Schmidt would be well advised to produce a version without the light sensor and see how popularity compares. Thats why I dont give five stars for value for money.
will it work with my old hub?
07 Jul 2021
Do you think this light will work with a shimano HB NX60 6v 2.4w dynamo hub? Also can i just cut the 140cm cable to the length i need and stuff the wires in my lego block style plug to connect to the hub? Thanks.
Modern LED lights need less wattage at low speeds compared to ancient lights with halogen bulbs.
So, you will be fine with dynamos that are made for use without rear light connected, such as a 2.4 watt dynamo built in a 26" or 700c rim.
Our hub dynamos with SONdelux generator are of just the same electrical properties.

JK 08.07.21
Hi, how many lux is this light, or lumens?
07 Aug 2019
I want to compare the brightness with the Busch & Muller Lumotec Classic N Senso Plus Headlight which is 25 lux. thank you
SON are on annual shut down (as of today, 08/08/19) they no longer list this on their website (but still make fresh stock for us) I personally have one, it's noticeably less bright than the mk2 version (perhaps 10% less bright) which Illumination increases up to 100 Lux at high speed. Hope this helps, regards Robin
Does it have a guarantee?
18 Oct 2018
Hi there,

These will have a 5 year guarantee.

Thanks.
Switching on and off, compatibility & mounting
25 Jul 2018
Can I manually switch this light on/off, will the supplied connections fit straight onto a SPV8 dynohub,, If I use the suggested caliper brake mounting bracket will I need a longer brake bolt? Thanks
HI there,

Yes you can switch this light off manually, and the connectors supplied should fit on to that dynohub without an issue. In terms of the mounting, it is possible that you may need a longer brake bolt, depending the amount of room you have.

Thanks.
Can it be run with a bottle generator
23 Jul 2017
Hi,

Although this light was originally designed for use with hub dynamos it would be fine for sue with a bottle dynamo.

Thanks.
I Have A 26Inch Wheel Will The 36Cm Cable Fit My Set Up
04 Mar 2015
It will sit on the fork crown just above the wheel
Hi,

The 36cm cable option is only recommended for small wheeled bikes like the folding Brompton bikes. For use on a 26" bike even if mounting on the fork crown we'd recommend going for the 60cm cable option.

Thanks.
Brackets For Schmidt Edelux High Power Led Headlight
06 Jul 2014
Do you also supply the fork crown headlight bracket suitable for use with CALIPER brakes e.g. SON part 75500?
Hi,

Yes we stock all of the headlight brackets as well. Schmidt's part 75500 is part 15330 on our website, but this is not the correct version for calliper brakes, you need the same version as used for cantilever brakes. This version is Schmidt's part 75501 and part 23927 on our website.

Thanks.
Is This Product Equipped With Capacitor Standlight.
12 Feb 2014
1/. I have Brompton with a Shimano (for Brompton) dynamo. Will it work?
2/. Do I have to do the electric connectors by myself?
3/. Will I get an appropriate bracket for Brompton?
4/. Is this product equipped with a capacitor standlight?
Kind regards,
Geo
Hi,

Yes it will work fine, the 36cm version has sufficient enough cable length for a Brompton, you will have to alter the cable ends on the light but no extra connecters or fittings are required. This lamp will come with a standard bracket which is too high, as it will interfere with the Brompton's fold. The Suitable Brompton bracket is available separately and is SJSC part number: 31203. Yes this product has a standlight feature.

Thanks.