SON Edelux II High Power LED Headlight - Black Anodized
Cable Length
Manufacturer :
SJS Cycles part number :
Manufacturer part number :
Details
With a brand-new IQ Tec P mirror from the specialists at Busch and Muller the new Edelux 2 leaves the older model literally in the shadows. The light field is twice as wide and focused mainly in the distance, putting most of the light further down the road allowing you to better assess whats coming, whilst still not leaving a 'dim' patch infront of the rider.

- 3 Watt high performance LED. 90 lux at 15kph
- Highly efficient by optimal cooling
- Watertight 6082 T6 aluminium housing
- Standlight & Senso
- Automatic light sensor
- Discreet rear light connection if required
- Light Includes: Stainless Fork Crown Bracket (23928), white reflector (23917)

Available in three different cable lengths; 36cm, 60cm have the connectors included and pre-fitted. The 140cm version includes connectors but they are not fitted so that the cable can be cut down by customers to the required length before applying connectors.
Related products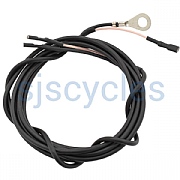 SON Coaxial Cable for Tail Light 190 cm Long Plugs Fitted - Black
£11.99 Inc VAT
Quick view
Product Reviews (6)
Overall Product Rating 5 / 5
Superb for expeditions and touring
24 Nov 2023
I recommend this product
Cons
Perhaps needs to be brighter for fast road users
This light is better performance than I expected. It gives a wide but sufficient beam of light for commuting and navigating off road in total darkness and it got hammered in the floods caused by storm Babet and still worked. Running this with an XP dynamo and very happy with results. Might not be long enough throw for fast road racing
Great light
31 Oct 2023
I recommend this product
Pros
Nice wide beam and easy to fit.
I changed my Brompton light for this Son Edelux and the difference is incredible. The last 4 miles of my daily commute is through country lanes without street lights so it's very dark. Although the Brompton light isn't bad the Son Edelux lights up the whole road from verge to verge and the light goes much further forward as well.
It's an easy swap for the Brompton light you only need to change one connector for the rear light (this is supplied) and reuse the plug that connects to your hub dynamo.
22 Mar 2021
I recommend this product
Cons
Well, overall expense of outlay is high. In my view worth it
Pros
Lovely light. Hassle free lighting once set up
After setting up dynamo lighting from a SON hub on my bike. My wife wanted the same on hers. Pretty much identical set-up on both bikes. Love it great to be free of batteries or USB charging faff. Great design, beautifully made. Appears robust. Straightforward to set up. Great light
And Son said "let there be light"
17 Jul 2020
I recommend this product
Cons
Can't think of a single one !
Pros
Absolutely bullet proof, great value for money considering how long they last.
If only all cycling components we as long lasting and reliable as these lights. Just fitted this one to my second bike. Have one on my work bike that is used every day in all weathers and it never ever fails (also with son rear light). Set it to sensor mode and forget about it - simple!!
Nice Bright Light, Looks Good
13 Oct 2016
I recommend this product
It's a really nice bright light. It's pricey, but I'm hoping it will last a lifetime. I'm thinking about fitting some sort of security bolt as it looks like something that would be attractive to thieves.

I also worry a bit about the the fact that the lead is hard-wired. There's a neat little connection for the rear light, it's a pity Schmidt didn't include something similar for the lead to the dynamo.
Great Little Light
19 Jun 2016
I recommend this product
Cons
Hard-wired lead (could be a plus for some)
Pros
Tiny. Excellent light output
Among the best and most usable headlamps for a variety of riding conditions. Decent light output but not blinding to traffic. Nice light spread. Tiny lamp (smaller than the photo) so takes up no space. Very well made. Comes with a mount that allows for a front-to-rear mounting bolt only (light pattern does not allow for mounting sideways) so mounting on a fork leg would require an additional bracket.

One thing that always bothers me about these lamps is the dynamo wire connection - it is hard-wired into the lamp (whereas the tail lamp connectors are removeable). That means if the wiring is damaged in any way, or if you move the lamp to another bike or a location that needs more lead, you will have to solder an extension on.

As to value, B&M has a lamp with similar output at about the same price but which offers USB charging. Slightly larger and lower quality, though
Connection with SON SL Fork/Hub
03 Feb 2020
Hello, Do you know how I make the cable from this light connect to the steel insert within the fork dropout? Does this light come with all the required parts?
The light comes with pre-attached wiring and the hub 2 spade connectors. The SL hubs do not have these connectors and you simply need to connect the wiring from the light to the drop out plate.

Thanks - 04/02/20
Shortening
04 Aug 2019
I understand the 140 is designed to be a custom fit however if I choose the 60cm which I'm quite sure is too long initially can that be shortened at a later date (if I simply choose to wrap the cables round at first and do it at a later date)?
Yes, there is nothing stopping you trimming the wires and refitting new connectors.

Thanks - 06/08/19
Can I use this with Shimano DH-3N31-NT hub?
15 Jun 2019
Tried installing on bike with Shimano DH-3N31-NT hub. When not in the bracket, it powers the light fine. Once in the (metal) bracket it doesn't work at all. Does the Shimano hub short via the frame? I tried installing with only one wire. This doesn't work either. Any ideas?
Yes, the Shimano hubs ground on the fork/frame, so you will need to use a plastic bracket.

Thanks - 24/06/19
Can I use this with a sp pd-8 hub ?
01 May 2019
Do these come with a mounting bracket?
21 Jul 2018
Light Includes: Stainless Fork Crown Bracket (23928), white reflector (23917)

Thanks
Using an E-werk usb charger from the rear light output connectors.
31 Oct 2017
Can I connect a B&M E-werk usb charger to the rear light output connectors to save putting double wires down the fork to the dynamo? It would be a tidier job.I would want to use it with a rear light as well. If the power to the rear light is simply a pass through from the dynamo this should't be a problem. But if regulated in some way it might cause problems?
Hello,

I cant see this being a problem, but we have never tried this so we cannot confirm whether it is a viable option or not im afraid.

Thanks.
Stand-light brightness
08 Aug 2017
I've owned the light for 8 months - I'm wondering about the stand-light brightness. Should there be an immediate drop in brightness when I stop? The light is on - but it isn't bright whatsoever.

This would also be the case if going up hill after a significant period of sustained cycling at a reasonable speed. The output on an incline reduces to a flicker.

It is only having read about a faulty stand-light battery that has made me question the output of mine.
It's normal for the standlight to be dimmer than main beam of course, it should work on "normal" at really quite slow speed.
Will It Work With My Brompton Shimano Dynamo
04 Aug 2014
will this headlight work with my brompton shimano dynamo ?
Hi,

Yes, this light can be powered by a Brompton Shimano dynamo. It will however require you to adjust the fittings on the end of the cables. The 36cm option is a sufficient cable length for the Brompton.

Thanks.