SON Edelux II High Power LED Headlight - Green Anodized
Cable Length
Manufacturer :
SJS Cycles part number :
Manufacturer part number :
Details
With a brand-new IQ Tec P mirror from the specialists at Busch and Muller the new Edelux 2 leaves the older model literally in the shadows. The light field is twice as wide and focused mainly in the distance, putting most of the light further down the road allowing you to better assess whats coming, whilst still not leaving a 'dim' patch infront of the rider.

- 3 Watt high performance LED. 90 lux at 15kph
- Highly efficient by optimal cooling
- Watertight 6082 T6 aluminium housing
- Standlight & Senso
- Automatic light sensor
- Discreet rear light connection if required
- Light Includes: Stainless Fork Crown Bracket (23928), white reflector (23917)

Available in three different cable lengths; 36cm, 60cm have the connectors included and pre-fitted. The 140cm version includes connectors but they are not fitted so that the cable can be cut down by customers to the required length before applying connectors.
Related products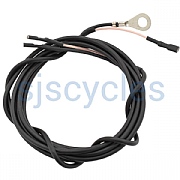 SON Coaxial Cable for Tail Light 190 cm Long Plugs Fitted - Black
£11.99 Inc VAT
Quick view
Product Reviews (2)
Overall Product Rating 5 / 5
Very good light
16 Mar 2023
I recommend this product
Pros
Powerful light. Light weight. Includes required bits.
Powerful, light weight. Includes mounting bracket and reflector. Green anodized to match my British racing green bicycle!
Excellent
12 Dec 2020
I recommend this product
I put one of these on my Brompton as I regularly have to go along an unlit canal towpath.

ve

Good beam
Can see far enough ahead for brisk travel
Doesn't need batteries!
I leave it on all the time including during the day
No problems with it
Light in weight

- ve

None really

Will this work with a B&M rear dynamo light?
24 Aug 2023
Hi,
I need to replace my front B&M dynamo light and would like to replace it with this light.
Can I attach the B&M rear light wire to this light as I can with the current B&M headlight?
Does this headlight have a separate port as B&M lights do?

Many thanks.
Yes you can use this light, however you will need to change the wiring contacts slightly, the Son uses a combination of a ring connecter to attach to the light mount and a smaller 2.8mm spade end connecter in the silver aluminium block at the base of the light. SK 25/08/23
What Is Output In Lumens?
09 Sep 2014
How many Lumens does this equate to?
Is there a rear light that would work well with this?
Hi,

Unfortunately there is no way of converting lux to lumens as they measure two slightly different things. Schmidt don't measure their lights in lumens so I don't have a value for it I'm afraid. All rear lights other than those made by supernova will be compatible with this light.

Thanks.
Hi Will This Fit A Brompton With Son Hub ?
25 Aug 2014
Will this fit a brompton with son hub ?
Is the colour similar to racing green on the brompton ?
Would I need to get a separate bracket ? What kind ?
Thanks
Hi,

Yes, this will work with a Brompton version of the SON hub. The colour is similar but unfortunately as the light is anodized its never going to be a perfect match, it would be the best you could get with an anodized product though. If you order the 36cm version (sufficient length for the Brompton) then it already comes with the Brompton specific bracket.

Thanks.