SON Edelux High Power LED Headlight - Red
Cable Length
Manufacturer :
SJS Cycles part number :
Manufacturer part number :
Details
- 3 Watt high performance LED
- Evenly distributed illumination across a large area of road surface
- Highly efficient by optimal cooling
- Watertight aluminium housing
- Standlight & Senso
- Automatic light sensor
- Rear light connection if required
- Includes Stainless Steel Fork Crown Bracket for V brakes, aditional bracket required for Caliper/handlebar mounting

Available in three different cable lengths; 36 cm, 60 cm and 140 cm. Please note that each size has connectors included and fitted, with the exception of the 140 cm version include connectors but they are not fitted so that the cable can be cut down by customers to the required length before applying connectors.
Similar products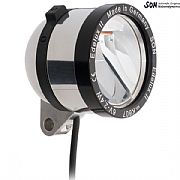 SON Edelux II High Power LED Headlight - Polished
£124.99 Inc VAT
Quick view
Product Reviews (1)
Overall Product Rating 5 / 5
Delux Is The Word
01 Nov 2013
SON Edelux High Power LED Headlight - Red
I recommend this product
Cons
not cheap, but what good lights are
Pros
compact, great light, looks,
I bought this as part of the set with the red Son20 disc hub for PBP and qualifying. Its a great light that is a slight improvement on the B&M version, which is not surprising as the light unit inside the case is the same. The Edelux includes a big chunk of copper, which together with its metal case keeps the LED cool, which means that the light output is maintained at its higher levels. The thrown light pattern is very much "letterbox" - wide and thin with a clear cut off along the top. This means that the light can be set to light the road ahead and cut off at driver dashboard level. There is also a good deal of sideways throw, giving a banded illumination of the verge and the middle of the road. Plenty to avoid potholes. One thing I have noticed is that the light produced is very white, with the effect that oncoming car lights look yellow and the "blinded by oncoming car" effect is much reduced. I guess your pupils are half closed due to the light you are looking at all the time? Its a big plus, anyway. The standlight is great, lasting a good five minutes. One feature you need to get used to is the short lag in the light starting up. I think this is due to the capacitor used for the standby charging up before the light illuminates? Only lasts a second or so, but the first time you think the light is bust! Oddly, the standlight runs down to "empty" when you turn the light switch off. With the B&M version, the standlight turns off and it holds the charge until the next time you use the bike.
Overall, a great light, looks good and reliable.
What Is The Lumen Or Lux
23 Nov 2016
what is the specs of this light

thanks
Hi,

The claimed LUX output for these lights is 80LUX.

Thanks.